A good opportunity went for a Burton when Vale chairman rejected Hasselbaink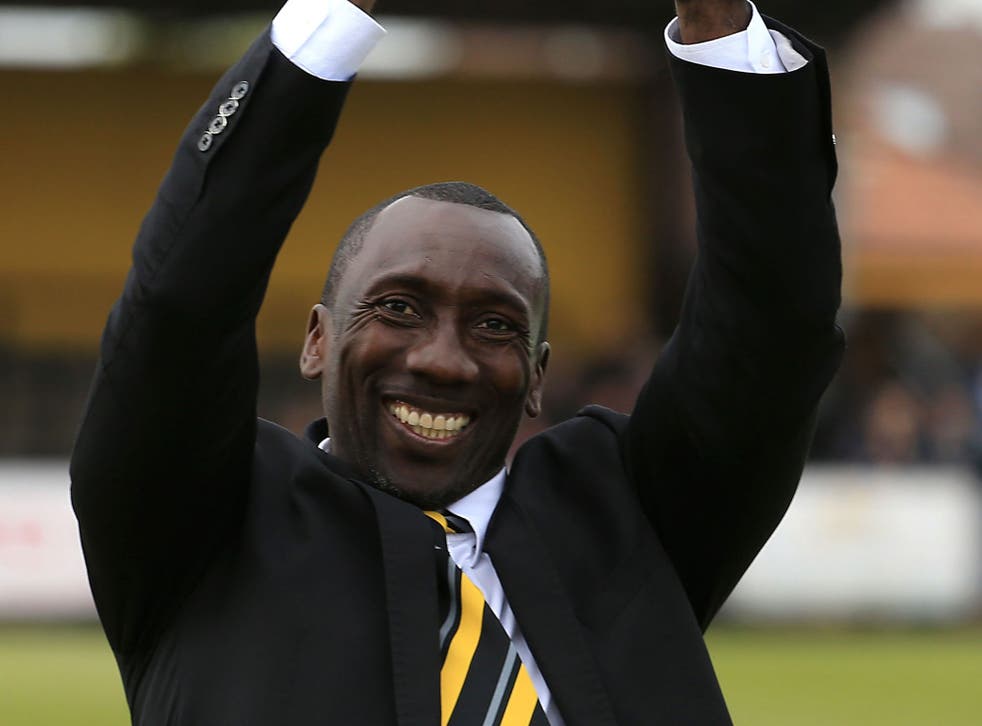 Any other type of port, left undisturbed in the dark for the past 40 years, would represent the most extravagant of Christmas presents. If its present owner is not careful, however, Port Vale Football Club may end up fetching only a bin-end price. For he has been making it sound as though there could be some pretty ghastly hangover issues.
Best stick to the kind of ale that made nearby Burton famous. Yes, that Burton. Top of League One, after promotion as champions in the spring. Not a bad year's work for Jimmy Floyd Hasselbaink, who took the enlightened decision last November to cut his teeth in the league's bottom tier and has just been rewarded with the job at Queen's Park Rangers.
To say that Burton were also enlightened, in taking him on, is akin to giving a brewer credit for permitting a colt with the pedigree of a Derby winner to tow the dray. Unfortunately, however, Hasselbaink had in 2013 represented too much of a risk for Norman Smurthwaite.
The chairman's explanation, in the week that he put Port Vale up for sale, sent its market profile straight back to 1975. "I didn't take him because of the racial issue the club had got," he confided to a local newspaper, The Sentinel, referring to an FA warning over crowd behaviour against Bradford in August 2013. "Can you imagine the poor bloke getting abuse, along with the normal abuse if results were going against him? He would have been right for the club, without doubt, but I don't think the club would have been right for him."
Now I wouldn't pretend to know the rights and wrongs between Smurthwaite and the Port Vale fans. He considers 99 per cent of them decent people, but also says that he lost a couple of teeth when set upon and beaten up by three men last year – apparently as a means of reinforcing their opinions about the extension of a striker's contract. And his claims that a minority of troublemakers have created policing issues are corroborated by an independent reviewer from Leeds University.
At the same time, Smurthwaite himself comes across as one of those helplessly provoking characters. After Vale's FA Cup defeat at Exeter last weekend, he boarded the fans' coaches to apologise for a team that had won four of their previous five league matches; he also humiliated Rob Page, freshly nominated for Manager of the Month, with a prolonged post-match carpeting on the touchline. "If the players had put the same amount of effort into playing as I do into paying them every month," he complained, "we would have knocked that club for six."
There would seem to be only two certainties. One is that it was bewilderingly impolitic suddenly to come up with this Hasselbaink story, which succeeded only in insulting the respectable majority of Vale fans and cheapening the very goods he wants to sell.
The other is that Smurthwaite, in the process, volunteered himself as the very incarnation of a collective failure, in those who appoint managers, to walk the walk on racism.
As a rule, social justice is achieved or preserved by cumulative, barely perceptible increments. Our daily lives seldom challenge us to make the kind of stand that matches our stated convictions with a display of moral courage. Even at a time like this, when a liberal society feels collectively shaken out of its complacency, defiance tends to be confined to riding the tube as normal or not cancelling a football match. The theatrical gesture, in fact, is typically reserved for freedom's enemies.
Now let's just set aside those specific dysfunctions at Port Vale that make it more pardonable for Smurthwaite not to see the bigger picture when he is already losing teeth over relatively trivial matters. But his ingenuous candour – in the unreconstructed nonsense that it would have been less "fair" on Hasselbaink to expose him to abuse than to recognise his qualifications as the best man for the job – may very well have disclosed a pernicious mindset elsewhere in the game.
In some respects, of course, football has been in the vanguard of such progress as has been made. But if sport holds up the mirror to society, both on the pitch and in the stands, then football is not yet holding the mirror at the right angle.
Even today, only four of 92 clubs have black or minority-ethnic managers. And we now know, for a fact, that some owners and directors are tilting the mirror too timorously to reflect the full spectrum of creeds and colours.
Hasselbaink represented a perfect opportunity for Port Vale to make a stand; to match glib intentions with bold deeds. Maybe a few bigots would have melted away. But whatever might have been lost, in the short term, would ultimately have been regained many times over by an environment that could foster interest across the community.
In a way, this week's embarrassments give Port Vale a chance to redress that missed moment. Perhaps they will bring the club to the attention of a redeemer with suitably Valiant spirit. Let's hope so. Otherwise you won't need a ghost to revisit Christmas past. Just a bus ticket to Burslem.
Join our new commenting forum
Join thought-provoking conversations, follow other Independent readers and see their replies