Ipswich vs Norwich match report: Old Farm derby fails to produce rich harvest
Ipswich Town 1 Norwich City 1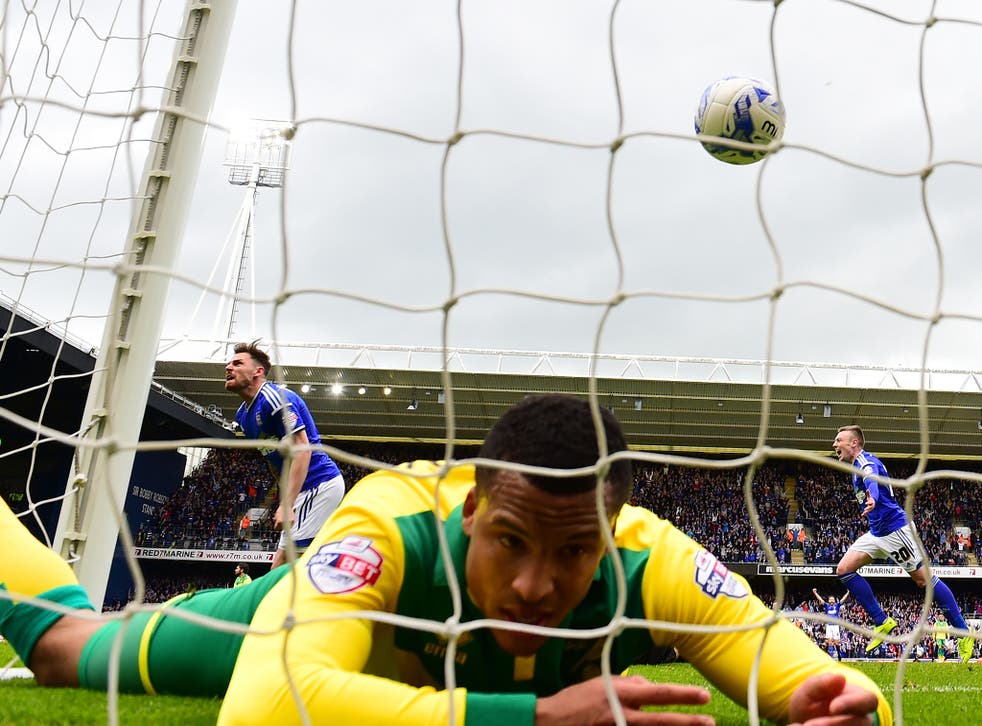 There wasn't a plastic flag-waving tourist in sight. Corporate grazing was kept to a minimum. The lack of Premier League pretention was matched by a lack of Premier League quality, but no-one was complaining. The dream remains alive.
A place in football's richest game, the Championship play-off final at Wembley on 25 May, remains tantalisingly within reach. The 129th edition of the Old Farm derby, the return leg at Carrow Road next Saturday, promises more of the same.
There will be frantic, urgent physicality, dutiful scuffling for the second ball. Fouls will be sly, cynical and taken without offence. The fervour will be transmitted to the stands, as one of the game's less celebrated rites of passage is re-enacted.
"It will be 100 miles an hour, scrapping and biting," predicted Norwich's assured manager, Alex Neil. "You can't protect them," reflected Ipswich's Mick McCarthy. "My lot will be at home thinking of it all week."
McCarthy has breathed new life into Portman Road, which still has a sepia-tinged tone. The walls are lined with yellowing cuttings which proclaim former glories; statues of knights of the realm Bobby Robson and Alf Ramsey represent proud reminders of the club's national service.
The insularity of rivals separated by 38 miles added to the intensity and rarity value of a single- carriageway scrap in a six-lane highway world. They ran out of programmes an hour before kick-off and wi-fi appeared to belong to the future, as alluring a prospect as a flying car.
It was none the worse for being remorselessly old-fashioned; even the nicknames, Canaries and Tractor Boys, had a Pathe newsreel, rosette and rattle feel. This was never going to reflect a rural idyll; the nature of the prize and the personalities of the managers saw to that.
Norwich have been given sharpness and focus by Neil, an earnest, emerging coach recruited from Hamilton Academical in January on the strength of statistical analysis of a database containing 250 of Europe's best young managers.
As if to underline his callowness, he rushed off at the end of the game to catch a flight back to Glasgow, where he is completing his pro- licence course at Lesser Hampden. "There's never a day off," he smiled, having left instructions for his players to avoid newspapers and local radio for the duration.
Neil has lost only three of his 23 games and has made the most of his inheritance, a team whose collective worth reflected their status as recent refugees from the Premier League. Ipswich, by contrast, are a testament to McCarthy's old-school skills.
He is typecast as a Championship specialist, a manager capable of mass producing silk purses from a job lot of sow's ears. His team is, by his own laconic admission, "horrible". No praise can be higher, since it infers the compliment of professionalism under pressure.
He has paid for only two players, striker Freddie Sears, a late developer signed for £100,000 from League One Colchester in January, and full-back Tyrone Mings, a £10,000 signing from Chippenham Town whose long-term potential as a left-sided centre-half has raised his asking price to £10m.
Arsenal and Chelsea are purportedly interested, even at that fashionably optimistic price. Teenager Teddy Bishop, whose maturity in central midfield was striking until his late substitution, will be a Premier League player soon, regardless of the outcome of next Saturday's second leg.
Sears had an early effort scrambled off the line by Steven Whittaker, but Norwich carried the greater initial threat. Alex Tettey, freed from sentry duty in front of the back four, advanced to hit the post from the edge of the box with a curling drive.
They played with greater poise and crispness, and it was no real surprise when they took the lead five minutes from half-time in a fashion designed to enrage McCarthy. Cameron Jerome, the epitome of the millionaire journeyman, bullied Tommy Smith down the right side of the Ipswich defence. His cross was early, well flighted, and invited Jonny Howson's controlled side-footed finish. The corner of the ground containing more than 2,000 visiting supporters glowed yellow.
The tribal howl of retribution, three minutes into added time at the end of the half, echoed across both Suffolk and Norfolk. Norwich keeper John Ruddy failed to hold a Sears shot, spilling it into the path of Daryl Murphy. His effort was blocked, but fell to substitute Paul Anderson, who scored from six yards.
Despite the sound and fury of the second half, that was to be the last significant intervention. Wembley beckons but, first, one of these prisoners of geography must break free.
Ipswich: (4-3-3) Bialkowski; Chambers, Smith, Berra, Mings; Skuse, Bishop (Parr, 76), Bru (Tabb, 70); Varney (Anderson, 30), Murphy, Sears.
Norwich: (4-1-4-1) Ruddy; Whittaker, Martin, Bassong, Olsson; Tettey; Redmond, Howson, Dorrans (Hoolahan, 69), Johnson; Jerome (Hooper, 85).
Referee: Anthony Taylor.
Man of the match: Bishop (Ipswich)
Match rating: 6/10
Join our new commenting forum
Join thought-provoking conversations, follow other Independent readers and see their replies