Kenny Jackett has halted Wolves 'runaway train' by getting rid of big earners
Life Beyond the Premier League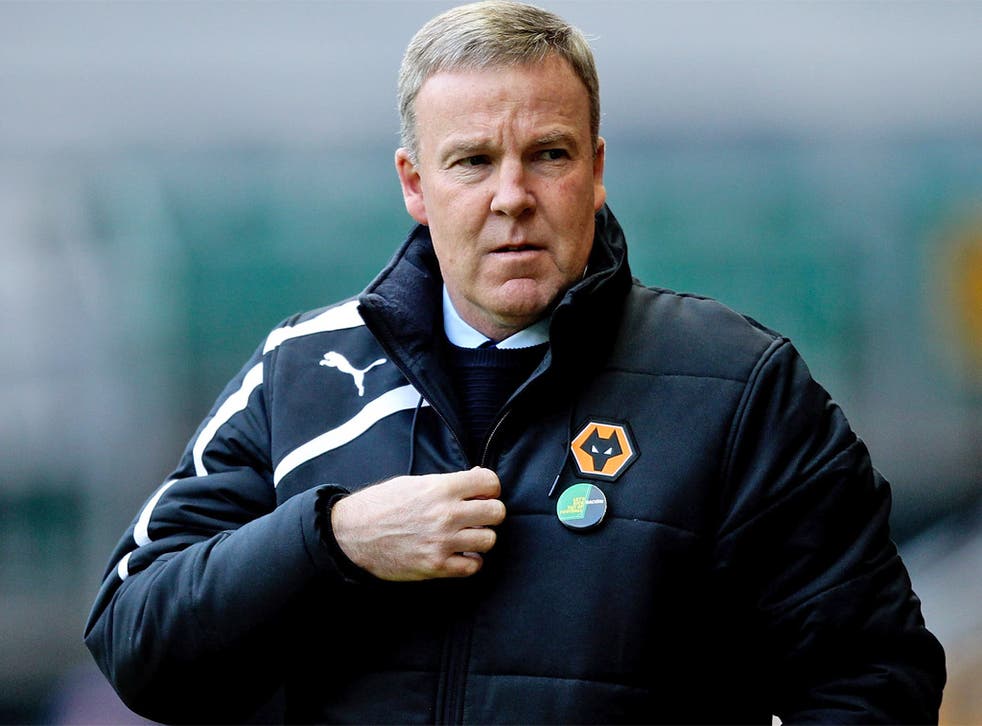 When Kenny Jackett took the Millwall manager's job in 2007 – becoming their sixth permanent appointment in a three-year period – he was told by David Moyes that if he could manage there, he could manage anywhere.
Perhaps those words came to mind last summer when he left The Den and took over a club described by his predecessor Dean Saunders as a "runaway train", Wolverhampton Wanderers.
Saunders, like Terry Connor and Stale Solbakken before him, had been unable to halt Wolves' downward spiral as they tumbled from the Premier League down to League One, yet Jackett's impact has been immediate. The last time Wolves suffered such a fall, in the mid-Eighties, they carried on dropping; now, by contrast, they are on the climb, after making their best start to a season. Beaten just once in 18 games, they returned to the League One summit on Tuesday with a 2-0 win over Tranmere Rovers.
So just how has Jackett stopped the rot? The first step, he says, was to rebuild the team's fractured relationship with the supporters – encapsulated by images of fans confronting players and punching a hole in the dugout after last season's final home game against Burnley. "I felt the relationship between the fans and the players had broken down, particularly at home, and that needed to change," says Jackett, speaking in his office at the Sir Jack Hayward training ground. "We needed to change the players around and the group of players realised they had to earn the supporters' respect and backing – it is not something that is given.
"Football clubs generally when they are unsuccessful they implode," he continues. "It is very unusual for clubs to go down twice in two seasons, so it was important we drew a line under that and got some freshness and enthusiasm into the group."
To do this, he offloaded big earners such as Roger Johnson and Karl Henry and exiled the unpopular Jamie O'Hara – recalled fleetingly this month but now on trial at Blackpool ahead of a possible loan move. In their place he has made some astute signings – defender Sam Ricketts, winger James Henry and central midfielder Kevin McDonald – and reintegrated players overlooked by previous regimes, notably centre-back Danny Batth and forward Leigh Griffiths, both 23. "Bringing young players in does give you more enthusiasm," says Jackett. Goals too, in Griffiths' case. Last season's Scottish Football Writers' Player of the Year when on loan at Hibernian, he hit his 12th of the campaign against Tranmere and forms a strong partnership with Kevin Doyle who, along with Bakary Sako, has stayed to add some class to the mix.
Jackett is not a man for the easy soundbite but is certainly a manager of substance. He won promotions with Swansea and Millwall and his work there and at Watford – all clubs rooted in their communities – means he appreciates the need for young players with whom fans can connect. "There definitely is a thread there and, with the financial fair play coming in, the youth policy becomes even more important," says Jackett, whose team ended the Tranmere game with three academy products on the pitch. Wolves have a Category One academy and have committed around £7m to building new youth development facilities beside their current training ground, an expansion which will put all the playing and coaching operations on one site.
Yet ultimately it is the here and now that counts. "One of the criteria was the first 30 days," Jackett notes. "After the two relegations we didn't [want] any type of hangover. I feel that you cannot get promoted by November but you can be out of it, and there are some big clubs near the bottom of our division. All the teams in this division see Wolves as a cup final and it is a cup-tie atmosphere every time they play us. We have had to overcome that and so far we've been successful but it has not been easy."
Not easy maybe but, after almost six years at Millwall, the 51-year-old is enjoying the fresh challenge. "I am proud of what I did there but to go to that next stage and take them up was a tough call. I felt it was time for a change." Citing a visit to the Wolves museum, he speaks enthusiastically about "the history and tradition and the size of the club", and adds: "Walking out down that tunnel at Molineux is exciting. It would be great if one day I could fill it as a manager – that is an ambition."
Join our new commenting forum
Join thought-provoking conversations, follow other Independent readers and see their replies