Martin Hardy: Lost your job as a manager? Think about psychology
Life Beyond The Premier League: Psychology and football have not hit it off. There has been mistrust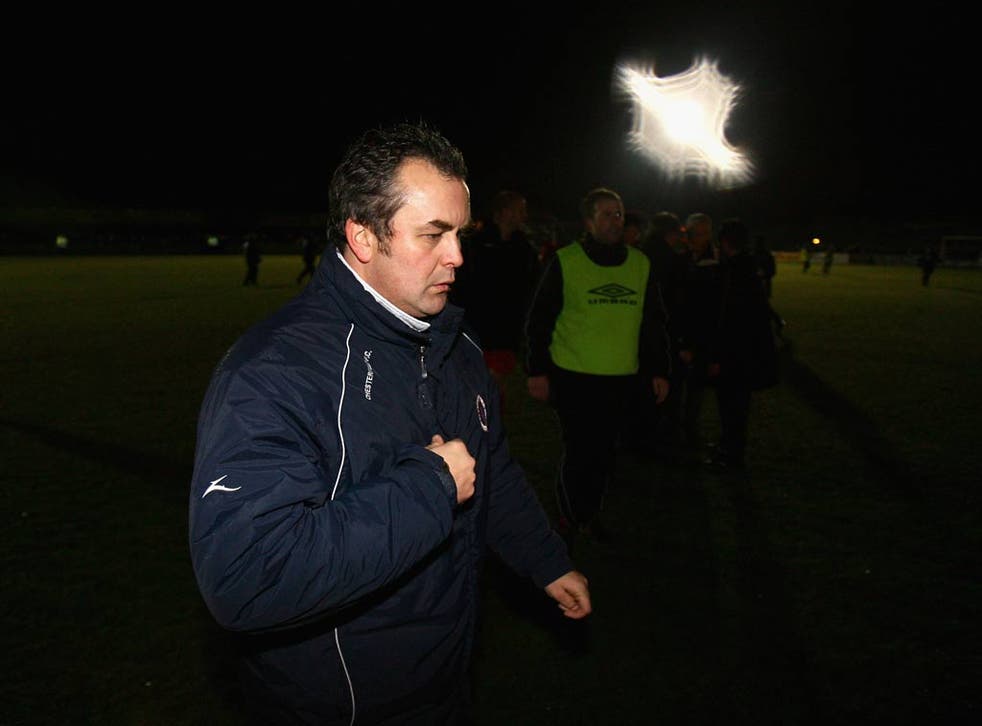 It is hard to imagine what Lee Richardson would have made of the following talk, should a careers adviser have taken him to one side when he first thought about becoming a football manager. "You'll get about 15 months in the job, son – enjoy it. The likelihood is it'll be your last."
Richardson got a bit more, at Chesterfield. He got two full seasons, and finished eighth and 10th. Then a new owner came in at the old ground, Saltergate, and his contract was not renewed. That was in 2009.
He tried for 12 months to get a foot back in the door, but it stayed shut. That is not news, at least not to the League Managers' Association. Its statistics show that 55 per cent of managers who take over at a Championship, League One or League Two side never get another shot. It is an incredible statistic.
There have been 12 new appointments outside the Premier League already this season. Three of those are having their first crack in the hot seat. Neal Ardley (AFC Wimbledon), Joe Dunne (Colchester) and Leam Richardson, no relation to Lee (Accrington Stanley) are all on a honeymoon that rarely ends well. All three will believe (and it is fundamental they do) that this is the start of something wonderful.
Statistically, one of Ardley, Dunne and Richardson (Leam) will never take charge of another League club. One of them will and the odds for the other are highly stacked against.
Lee Richardson (pictured) moved to Chesterfield as a player in 2000. His career had its highs at Blackburn (a Wembley play-off winner), Aberdeen and Oldham. From that role at Chesterfield, he went on to become assistant manager before the big job was his, in 2007.
"I'm quite proud of the job I did there," he said. "One, because I was a player there and then the assistant manager and then the manager, and that it is a hard transition from each role. You have to remould your identity within the environment.
"There was a high expectation, we had been relegated from League One. I believe myself we should have got promoted, if I'm dead honest. We finished eighth in the first year and then 10th, I was out of contract, a new owner was coming in and that was another factor.
"I enjoyed it. I had a mix of good stress and bad stress. I didn't like being out of work and I was out of work for a year. You have to experience that to appreciate it. As a manager, when you're out of work for the first time in your life, signing on in the dole is quite a challenge to your sense of who you are. That is the roughest part of the job."
Richardson, though, had shown foresight in his playing career, when he began a psychology degree. A door to something different was opening, a door to the Premier League as it would transpire. He kept up his studying in what he calls Plan B, and offered a unique perspective as he progressed in his new career. A former player, former manager and qualified psychologist do not usually come in one package.
He came close to getting a job at Blackburn with Sam Allardyce. He was recommended to Peter Moores and began working with Lancashire County Cricket Club. They won the Championship in his first season there.
Allardyce had followed his progress and when he himself re-entered management after a shambolic dismissal at Blackburn, a call went in to Richardson to join him at West Ham last summer.
"I love it," he added. "It's very much a blank canvas. There are no set guidelines to what the role entails. It is about trying to help, through marginal gains. Sam is all about that, getting one per cent more, and the players that work behind the players... On a match day it is observational.
"There are key areas. I work with the staff, the players, young players and with the Elite Player Performance Plan [the youth development scheme initiated by the Premier League], who have rightly acknowledged the need to employ a psychology education programme. I have devised my own, which I run at West Ham with Katie Evans Jones.
"We're at the beginning of the new horizon of football. Psychology and football have not always hit it off. There has been mistrust about what it can offer ... but I have the insight to make the areas relevant."
Join our new commenting forum
Join thought-provoking conversations, follow other Independent readers and see their replies