Millwall promise to hand life bans to any fans involved in violent clashes during League One play-off final defeat
A section of Millwall fans attempted to charge the Barnsley section in the top tier of Wembley Stadium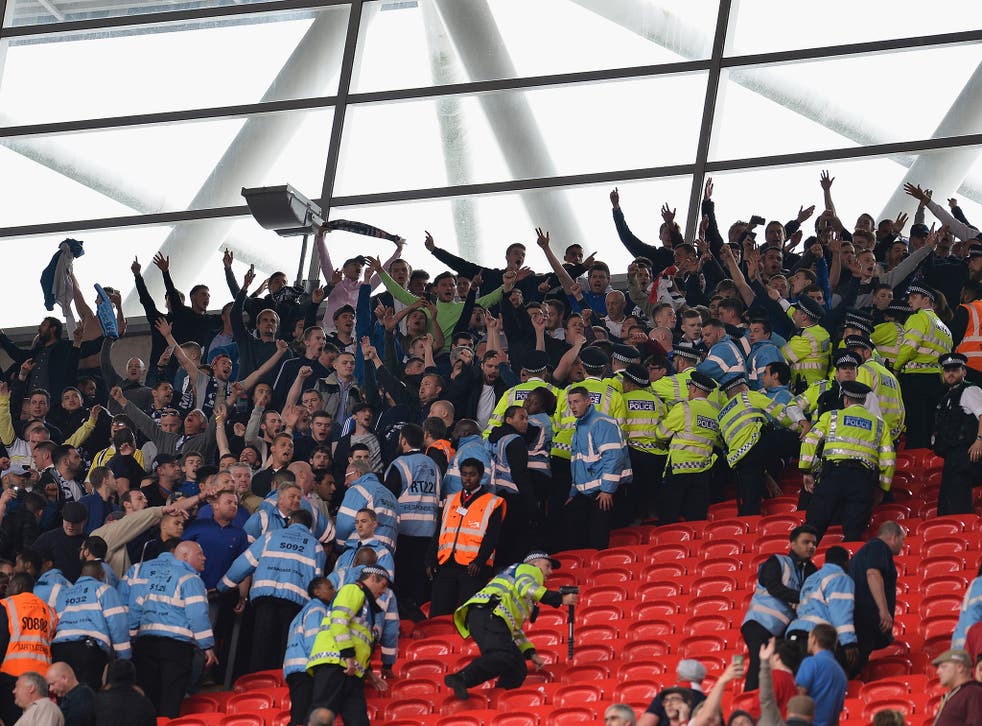 Millwall have promised to issue life bans to any fans found to have been in ugly scenes that overshadowed the League One play-off final at Wembley Stadium in which Barnsley secured promotion to the Championship.
A section of Millwall fans attempted to charge the Barnsley section after conceding a third goal in the 3-1 defeat, with some successfully able to break through the security barrier former by matchday stewards.
Clashes were seen to take place between rival fans, although the majority of those in the Barnsley section – which included families with young children – attempted to flee to safety around the stadium. Some Millwall fans also clashed with police, with one man seen with blood pouring from his forehead while being restrained by a policeman.
The club condemned the action of those involved, and promised to take severe action against anyone responsible for the unsavoury scenes.
"Millwall Football Club deplores the actions of a small minority of its fans during the second-half of Sunday's League One Play-Off Final," read a club statement.
"Such behaviour is unacceptable and anyone found guilty of disorder will face life bans from the football club."
Millwall manager Neil Harris said he did not know about the fan trouble – which also saw objects thrown onto Barnsley fans in the tier below while the Tykes players were also targeted on the pitch – but when asked if he condemned the actions of those involved, Harris answered "next question".
"I was only aware of that from what I've been told, but I hope it's not serious and I hope everyone gets home safely," Harris added.
The scenes come three years after Millwall fans caused similar scenes in the 2013 FA Cup semi-final, in which supporters began fighting among themselves.
The Football Association has also condemned the behaviour on show at the play-off final, and will work with the two clubs, the Football League and the Metropolitan Police in order to identify and punish those responsible.
"The FA condemns the disorder caused by a small number of fans at today's League One Play Off final between Barnsley and Millwall," the FA wrote on Twitter.
"We will work closely with the clubs, the Football League and the Met Police to identify those involved and take appropriate action.
"We would like to take this opportunity to praise the actions of our stewards and the police, who responded responsibly under provocation."
Join our new commenting forum
Join thought-provoking conversations, follow other Independent readers and see their replies