Ched Evans: Sheffield United deny offering new contract to convicted rapist after his release from prison
Evans was released from prison on Friday after serving half of his sentence
Agency
Saturday 18 October 2014 12:43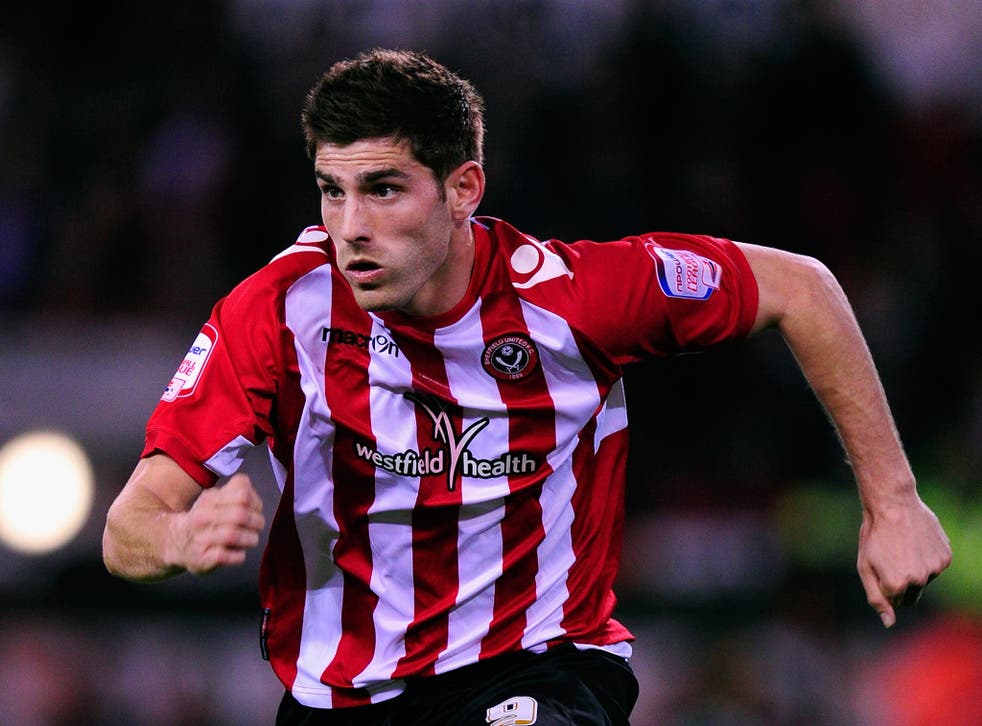 Sheffield United has vehemently denied reports that the club has offered a new contract to convicted rapist Ched Evans.
Evans, 25, was released from prison on Friday after serving half of his five-year sentence for raping a 19-year-old woman in a hotel and is at the centre of a nationwide debate as to whether he should return to his former club to resume his career.
It was reported on Saturday morning that the Wales striker had been offered a two-year contract by United worth more than £500,000.
But the club have refuted the report and a club statement read: "Sheffield United has become aware of speculative media coverage concerning the immediate future of its former player Ched Evans.
"An article in The Sun (on Saturday) that Sheffield United has offered a contract to former player Ched Evans is false and damaging to the club.
"We have made a statement on this matter previously and the lack of credibility and substance from this latest media report does not warrant any expansion from previous comments apart from noting that we are continuing to deliberate on any long-term decision about Ched Evans."
Many Blades fans have called for Evans to be rehabilitated but almost 150,000 people have signed an online petition urging the Bramall Lane club not to welcome him back.
Evans was jailed in April 2012 for raping a 19-year-old woman in a hotel room in Rhyl, North Wales.
The footballer denied the offence but was found guilty by a jury at Caernarfon Crown Court.
He admitted having sex with her but the woman told the jury she had no memory of the incident.
The prosecution said the woman, who cannot be named for legal reasons, was too drunk to consent to sexual intercourse.
Port Vale defender Clayton McDonald also admitted having sex with the victim but was found not guilty of the same charge.
An appeal against Evans' conviction was rejected by three judges at the Court of Appeal in 2012.
His girlfriend, Natasha Massey, has led a campaign to have the conviction overturned.
Evans' case is due to be reviewed by the Criminal Case Review Commission in the coming weeks.
Sheffield United have steadfastly refused to comment on whether they will allow Evans to play again.
Earlier this week manager Nigel Clough said the matter had been discussed by the club's hierarchy. He said the decision was not his to make but would be made by the club "in good time".
Deputy Prime Minister Nick Clegg said on Thursday that the owners of Sheffield United should "think really long and hard" before deciding whether to allow Evans back.
Meanwhile, TV presenter and Sheffield United patron Charlie Webster has said she will quit her role with the club if they re-sign Evans.
Webster, who revealed in an interview earlier this year she was sexually assaulted as a teenager, told BBC Radio 5 Live: "You will have young people cheering him on when he scores a goal. Not under my name, under my club or community."
She was immediately branded a "hypocrite" by Evans' sister Kylie. She retweeted a message Webster posted last month saying she wanted to get a photograph of former heavyweight boxing champion and convicted rapist Mike Tyson.
Miss Webster told BBC Radio 5 Live she felt it would be wrong to continue as a patron of the community foundation if Evans ever steps out in Sheffield United colours again.
She said: "He says he is innocent, he has shown no remorse."
Miss Webster, who is a member of the Justice Ministry's Victims' Panel which was set up so that those who have been affected by crime can tell ministers directly how the criminal justice system could better serve people in their position, said: "I feel like it is my duty and responsibility to stand up to this.
"Very few people would be able to walk back into the same job as they did before being a convicted rapist."
In response Evans' sister pointed to a tweet which Miss Webster posted on September 10. It reads: "Just bumped into Mike Tyson in the hotel lobby as I was randomly talking about him! I chickened out on asking for a photo...damn."
Ms Evans tweeted: "This is the same Charlie Webster that's just threatened to leave United. Hypocrite."
Tyson was convicted of rape in 1992 after an incident the previous year and subsequently served three years of a six-year sentence.
Evans progressed through Manchester City's academy and made 26 first-team appearances before joining Norwch on loan in November 2007.
He scored 10 goals in 28 appearances for Norwich before Sheffield United paid £3million to take him to Bramall Lane in July 2009.
Evans registered 48 goals in 113 games for the Blades before his imprisonment, including 35 in 42 matches during the 2011-12 season, which was cut short for him due to his trial and conviction. He has been capped 13 times for Wales.
PA