Steve McClaren back in England at QPR: Factfile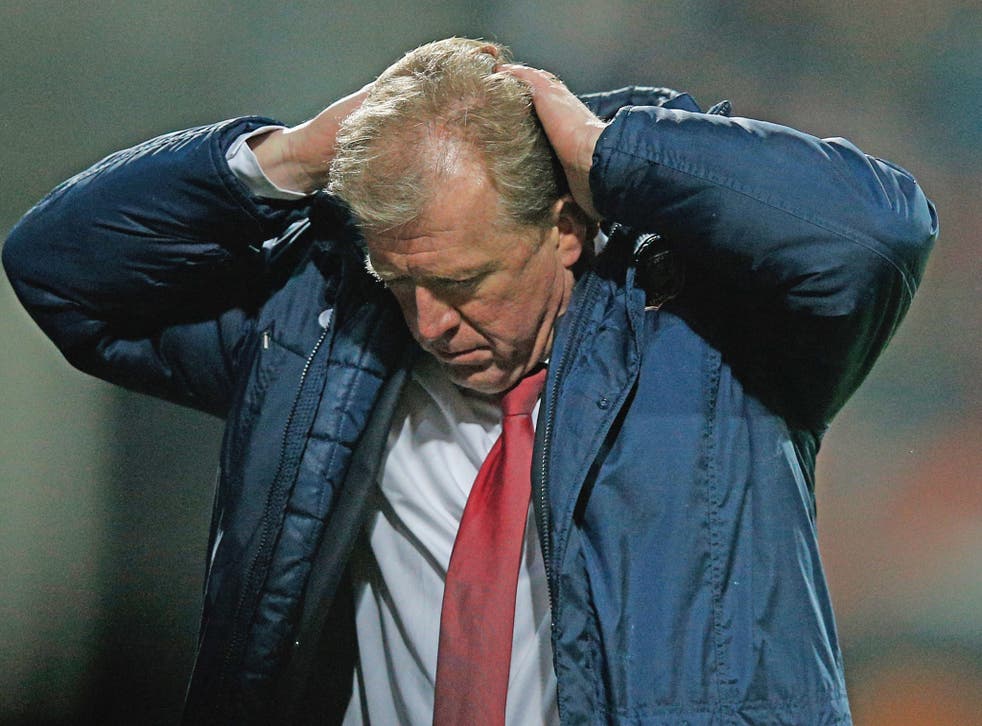 Former Three Lions manager Steve McClaren has returned to English football, after joining QPR's coaching staff.
1961: Born Fulford, York, May 3.
1978: Joins Hull City.
1985: After 178 games and 16 goals for the Tigers, joins Derby.
1988: After 25 games for the Rams - and eight on loan at Lincoln - moves to Bristol City.
1990: Joins Oxford.
1995: Becomes assistant to Jim Smith at Derby after quitting as Oxford youth team coach.
1999: Joins Manchester United as Sir Alex Ferguson's assistant manager.
2001: February - Member of new England manager Sven-Goran Eriksson's coaching staff.
March - Ferguson blocks any continued involvement for McClaren in the England set-up.
June - Becomes Middlesbrough manager.
2002: June - Part of England's coaching staff as England are knocked out by Brazil in the quarter-finals of the World Cup.
November - Leaves position as Eriksson's assistant to concentrate on Middlesbrough.
2004: February - Wins Carling Cup after 2-1 defeat of Bolton - the first major trophy in Boro's history.
May - Rejoins England coaching staff for Euro 2004.
2006: May 4: Named as Eriksson's successor as England manager.
May 10 - Middlesbrough beaten 4-0 by Sevilla in the UEFA Cup final.
August - Starts England tenure with 4-0 friendly win over European champions Greece.
2007: March - Pressure mounts as England draw with Israel and struggle against Andorra in Euro 2008 qualifiers.
October - England beat Estonia 3-0 at Wembley, but lose 2-1 away at Russia to leave qualification out of their hands.
November 21 - England lose 3-2 to Croatia at Wembley and fail to qualify for Euro 2008.
November 22 - Sacked by the Football Association after an emergency board meeting at Soho Square.
2008: June 20 - Returns to club management with Dutch club FC Twente.
2009: Leads Twente to second-placed finish in the Eredivisie and enjoys runs to the Dutch cup final and UEFA Cup knockout stage.
October - Signs contract extension after an excellent start to the 2009/10 season.
2010: May 2 - Leads Twente to their first ever Eredivisie title with a 2-0 win at NAC Breda on the final day of the season.
May 11 - Leaves Twente to join Bundesliga side Wolfsburg on a two-year deal.
2011: February 7 - Parts company with Wolfsburg following a string of poor results.
June 13 - Appointed manager of Nottingham Forest on a three-year contract, succeeding Billy Davies.
October 2 - Resigns following 3-1 defeat at home to Birmingham.
2012: January 5 - Appointed FC Twente boss for a second time.
May 6 - Twente finish sixth in the Eredivisie but lose to RKC Waalwijk in the Europa League play-offs.
2013: February 26 - Leaves Twente by mutual consent after a run of six games without a win sees them drop to fifth in the Eredivisie table.
July 2 - Joins QPR as part of manager Harry Redknapp's backroom staff.
In brief
Teams managed:
2001-2006: Middlesbrough
2006-2007: England
2008-2010: Twente
2010-2011: Vfl Wolfsburg
2011: Nottingham Forest
2012-2013: Twente
Manchester United role
• 1999: Sir Alex Ferguson's assistant at Manchester United
• Part of the treble winning side in 1999
• Won a total of 3 premier League titles, 1 Champions league & an FA Cup
Middlesbrough manager:
• Guided squad to 12th place in the League, 14th the previous year
• FA Cup semi-final in his first season
• Finished 11th the following season 2002/03
• 2003/04, he guided Middlesbrough to victory in League Cup final
• 1st time ever Middlesbrough play in Europe
• 2004/05: last 16 in the Europa league and 7th in the Premier League
• 2005/06: Suffered 7-0 loss at the hands of Arsenal
• Finished 14th but reached FA Cup semi-final & reached the Europa League final
• Most successful manager of Middlesbrough's history
England manager:
• McClaren announced as coach after Brazilian World Cup winning coach Luiz Felipe Scolari rejected role
• Appoints John Terry as captain
• England failed to qualify for the European Championship (1st time in 24 years)
• Sacked the next day: shortest tenure of any England manager (10 games)
Twente manager:
• Took job in June 2008
• 2008/09: Finished 2nd place, lost the final of Dutch Cup on pens
• 2009-10: Champions of the Dutch league (1st time ever), last 16 of the Europa league
• Awarded Dutch manager of the season
• Left to manage Vfl Wolfsburg
Vfl Wolfsburg:
• Appointed may 2010
• 1st Englishmen to manage a top flight German side
• Sacked February 2011 due to poor results.
Nottingham Forest:
• Took over June 2011 & made 5 signings
• 8 points from 10 games in the Premier League
• Resigned as manager: based on alleged refusal to sign loan deals
Return to Twente:
• Returns to club in January 2012 as manager
• Finished in 6th place
• February 2013 he resigned after receiving criticism from media and fans
Join our new commenting forum
Join thought-provoking conversations, follow other Independent readers and see their replies