The story of Tranmere Rovers: How one club survive and prosper in the shadow of such powerful neighbours
Long Read: How do Tranmere survive in an environment where two of the biggest clubs in England are so close that soon enough you'll be able to see both of their grounds from Prenton Park?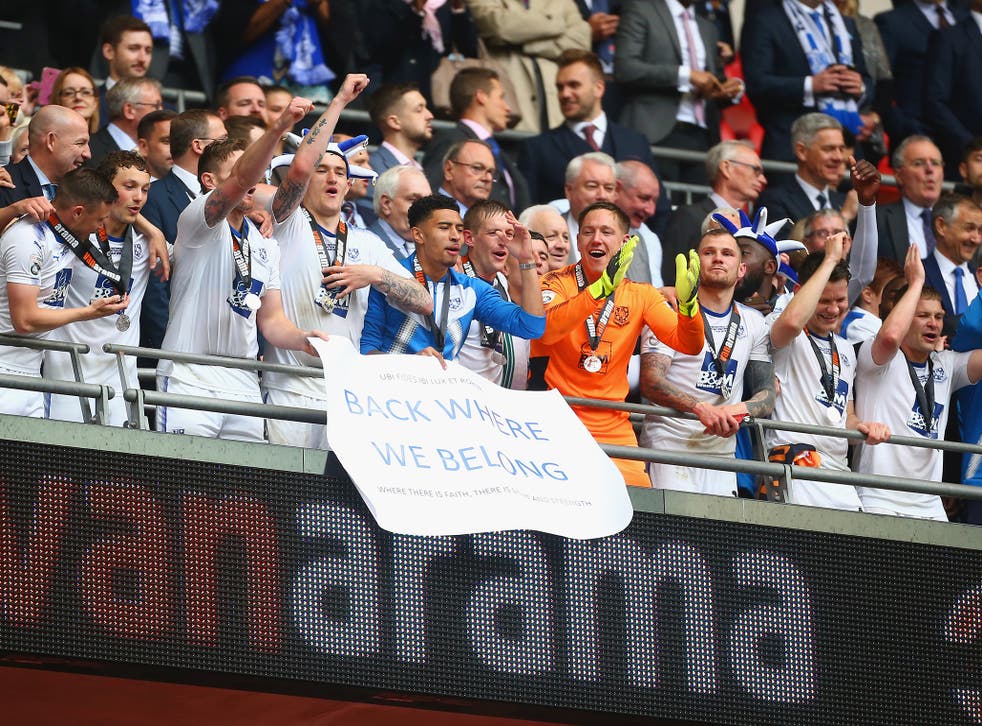 On Borough Road in Birkenhead, a parade of a dozen shops have their windows boarded by plywood. The signs above are peeling but you can still make out that, once, these were stores that served the streets around them. There had been a launderette, a butcher, a florist and a cobbler. They all seem long-abandoned but when I talk to a resident, she tells me the last on the stretch only closed eighteen months or so ago, having clung on like grim death all alone for a few years.
"The Tesco Express up there killed it," she says, head looking at the floor.
A couple of hundred feet away, from the top of the huge Kop grandstand at Prenton Park the scene stretches across the river Mersey. On a clear day, beyond the choppy brown waters you can see the old tobacco warehouse and the Bramley-Moore Dock where Everton's future stadium will be. The view rolls up the green hill that is Everton Valley and towards Anfield where the top of the new main stand, with its enormous cantilever roof, broods like a mechanical beast controlling an entire area.
How then do Tranmere Rovers survive in this environment, an environment where two of the biggest clubs in England are so close to you that soon enough you'll be able to see both of their grounds during your own home matches – especially when so many Liverpudlians and Evertonians live on Wirral? How does Tranmere identify itself as different and is it possible to flourish in the modern financial era to the point that dips can happen without the club's existence being threatened? It had taken fourteen seasons and three relegations to drop from the Championship into the Conference National. Was there a fear that a few more wrong turns might send Tranmere Rovers the same way as the empty shells on Borough Road?
Paul Casson, the Barrow chairman, had said Tranmere were under more pressure than any other club in the Conference to achieve promotion. Relegation from League Two triggers two seasons of parachute payments. Tranmere were second in a table with only one automatic promotion spot and facing the prospect of an extended campaign in the play-offs to avoid a third season as a non-league club without anywhere near as much central funding.
Barrow and Tranmere were in the same league, but in terms of history, ground size and attendances there was a vast difference between the clubs. While I met Casson the day before Barrow's most important FA Cup match in years at a quiet Holker Street, Prenton Park in midweek was buzzing when I met Tranmere's owner and chairman, Mark Palios.
Palios, the former chief executive of the Football Association, had been a hard-working midfielder playing more than 400 games for Tranmere and Crewe Alexandra between 1973 and 1985, a period when Tranmere allowed him to be the only part-time player in the Football League due to his appetite for education. Having graduated from Manchester University with a psychology degree in 1974, he worked his way up through the ranks of the accountancy profession and on retiring from the game he became a partner in Arthur Young in 1986, moving to PricewaterhouseCoopers three years later where he proceeded to foster a reputation as a business-regeneration expert. His year with the FA was tumultuous.
The new executive lounges in Prenton Park's main stand are a sign of Palios's desire to diversify the club's income, particularly during the week. The total turnover from non-match-day income before had been £150,000 a year; having spent £300,000 investing in a makeover, income had risen to more than half a million in eighteen months. On an average Wednesday afternoon, there were hundreds of children inside Prenton Park taking part in education and career workshops in connection with Wirral Borough Council, which for a long time had sponsored Tranmere before there was a separation of the ways and then a unification of interests thanks to Palios's vision. Having so many children around the place creates a vibrant and certainly non-corporate atmosphere – and it is part of Palios's plan to make Prenton Park what he calls a 'community resource'.
Having given a place on the board to Ben Harrison, chairman of the Tranmere Rovers Trust, Palios sold the club's former Ingleborough Road training ground to pay off debts and Tranmere moved into a new five-pitch training ground, incorporating first team and academy, in nearby Leasowe. That decision was followed by a £120,000 investment in a futsal court outside Prenton Park which now makes money in the evenings and at weekends. Futsal had been a passion of Palios' during his time at the FA and he believes it will become an integral part of the education given to Tranmere's young players because the smaller-sided game offers five times as many touches of the ball and helps develop more technically gifted players.
It is a measure of the way Tranmere are thinking, that one of the first things Palios tells me is that a Little Mix concert being held at Prenton Park as part of the Wirral Live festival might coincide with Tranmere's appearance in an FA Trophy final. While success on the pitch might drive attendances up the following season by an extra thousand and create £200,000 worth of extra income over the course of a year, a single concert at Prenton Park could earn the club as much instantly. A return to the Football League would mean Tranmere will break even but with a competitive budget in League Two.
Palios explains the reality.
"Our budget for players is £1.3million each year and with an average gate of five thousand every home game, it earns us £1million in revenue," he says. "That's before we've even started appointing management and staff. It also costs us a million pounds to live in Prenton Park in terms of running costs. This means we have to think differently. We want to become a community club that isn't afraid to use some corporate methods because there are so many other things we can do other than just the football to get the public's focus on Tranmere Rovers."
He denies that Tranmere's future will be determined by hand-outs from the Football League.
"If you rely on central funding, you create undue pressure,' he says. 'This will be the third year of losses but we'll support it again whether we go up or not. Sooner or later, I'm confident we'll crack it. What's the alternative – put all your money into the team and hope to God you get all the luck? That would be a very risky strategy. The sensible thing to do is using the assets in order to provide a regular revenue stream that supplements the budget. When we dropped out of the Football League I said the following words: "It's devastating today but not disastrous tomorrow."
"I hate being called a non-league club but being one isn't going to kill us."
---
There is a reason why the Boo Radleys from neighbouring Wallasey referenced Birkenhead in their song, 'Everything is Sorrow'. Here, unemployment runs at almost twice the national average. In the Ford, a sink estate, there has long been Wirral's cheapest housing; in 1985, when Howard Parker, a reader in social studies at Liverpool University, wrote a book called Living with Heroin observations were made about a 'lost generation', commenting, 'there was no purpose for those kids, no point'. Many of the case studies had come from the Ford.
This part of Wirral had suffered like Liverpool in the 1980s when cutbacks began at the Cammell Laird shipyard. The yard had provided tens of thousands of jobs for working-class men over generations. Among the famous vessels to slide down the old dock's great slipways and into the Mersey were the cruise liner Mauretania and the American Civil War Confederate raider, Alabama. A feeling remains that a deal between the British government, led by Margaret Thatcher, and the European Commission reduced British shipbuilding capacity in return for £140million, helping to sink both the yard and employment levels.
Mark Palios was at the end of his football career when this happened and he remembers the sight of former shipyard workers queuing up outside Birkenhead's dole office. He was born on the other side of the Mersey in Wavertree but was brought up in Wallasey and went to school in Birkenhead.
"Tranmere has given me a hell of a lot of momentum in life and that's why I decided to buy the club – not necessarily because I missed football,' he says. 'I came from a fairly thin background. I was in a foster home for a period and my parents weren't very affluent. A couple of things gave me stability. One was the school, St Anselm's. The other was sport, which I was reasonably good at. I played rugby until I was eighteen and didn't play football at all until I was fourteen. At sixteen, Tranmere picked me up. At different times in my life the club meant different things. As a kid it gave me tremendous confidence because suddenly I was playing for my local professional club and, for a quiet lad growing up on Merseyside without parents, it was a huge boost.
"Then as I became a young adult, the club was very understanding with me because I wanted to develop a career outside of football at the same time as my playing career was coming along, and they encouraged me all the way. Footballers who go to university were marked out as being different but Tranmere were always very supportive.
"A lot of people get submerged with the detritus of life: the job, the house and everything else,' he continues. 'I had the perfect balance because I was playing as a professional with Tranmere and becoming a chartered accountant at the same time. It meant that I was able to enjoy football to the maximum.
"Being part-time in the Football League was unusual. It meant that I'd leave work at five o'clock every night, wave goodbye to all the lads climbing up the greasy pole in the office and train mostly on my own. I was very appreciative of being able to play professional football and I encountered footballers who took it for granted because they had natural ability. Me? I had to work bloody hard to become a half-decent footballer. I trained alone most of the time and I was never coached anything."
Palios says he had dreams of becoming a doctor but realised this would jeopardise his football career because he could not be in casualty at 4 a.m. then wake up the following day and compete effectively in a Football League match. When Panathinaikos offered £100,000 to sign him after hearing of his Greek ancestry – a move that could have made him an international footballer – he turned it down because he was happy with the balance he had at Tranmere. "Some players might have been suspicious but my background was probably quite similar to theirs. My dad was a Greek immigrant dock worker.
"When I was young there were times when there wasn't enough food in the house. When I first started playing, Brian Glanville at The Times rang me up. "What's it like on the [team] bus?" he asked. I told him the only difference was, most of the blokes turned up with the Daily Mirror for an away journey and I might have the Guardian. I remember on one of those journeys I overheard a conversation between some of the directors. I'd been messing around at the back of the bus and one of them said, "You wouldn't think Mark was training to be a chartered accountant, would you?" I laughed because it was a compliment, though I don't think he meant it as one.
"I loved the physicality of the game in the 1970s. When we famously beat Arsenal 1–0 [in a 1973 League Cup tie at Highbury], I was at university and the match report in the Guardian said that Palios would have received a booking inside the first minute except his tackle was so late it came after sixty-three seconds. [He had the job of marking Alan Ball, one of the best midfielders in the world, that night.] I was very team-focused and I'd have run through a brick wall to do my job. I'm half-Greek, half-Irish, so the warrior gene is there."
Palios soon learned to be cautious about his education and his ability to articulate thoughts more quickly than other players. He speaks in a hushed even tone, with a suggestion of a Birkenhead accent, and has the level stare of a student in psychology.
"I never spoke up in the dressing room after a match except once later on in my career, because I was aware that managers might have seen me as a threat," he says. "Ray Mathias was a team-mate and he'd ask me for tax advice. I was accepted as a bit of an oddball, I'll admit. They'd hear I was an accountant and maybe think I wouldn't be able to handle the aggression of 1970s football."
When Palios played for Tranmere they were at best a Division Three club. In the 1980s, they were on the verge of falling out of the Football League. The 90s was a rich period with semi-finals, cup finals and, almost, Premier League football. In the consciousness of many that's where Tranmere should be, because their achievements were featured on television and football on television in the 90s was new and absorbed in a way it isn't now, when so much is taken for granted. The reality is Tranmere is a club that for most of its history has struggled.
Palios was in retirement when he decided to get involved again. After leaving the Football Association he worked as a non-executive director at the British Judo Association and acted as a member of the audit committee at Surrey Cricket Club. He was separating his time between homes in Winchester and Agen in France.
"Ronnie Moore, Tranmere's manager, had been sacked for betting. Some of the players had been arrested for alleged match-fixing. The club was relegated out of League One. The context financially was awful. We were losing a million pounds a year," he remembers. "I was driving through France with my wife, Nicky; the sun was shining and we were by the coast. It was a Saturday afternoon and Radio Five Live was on the radio. They were flicking from game to game. With ten minutes to go we conceded and Notts County scored. I said to Nicky, "That's it – we'll go down, we'll go down again and we'll end up in administration." She said, "Well, do something about it!" I said, "I will if you will." I knew what I'd be like. I'd be completely absorbed, so I needed to take her with me.
"The place was in a real mess," he continues. "It was a typical case of a club not receiving investment for ten to fifteen years and suffering as a consequence. If you are selling your house and don't put money into the way it looks, there's every chance you won't find a buyer. I could see that the lack of investment was tangible. The most pernicious thing was that everybody appeared beaten down by the circumstances.
"Nobody looked out of the window, and staff had stopped asking whether they could spend money on improving situations because they knew the answer would be no. At the same time, there were lots of business practices where they were penny wise and pound foolish. They'd impale themselves on ridiculous contracts."
Palios is aware of what some critical fans say about Peter Johnson, Tranmere's former owner, but he regards him as a friend and appreciates that it was under Johnson that Tranmere experienced some tremendous highs. Johnson was the Liverpool supporter who became Tranmere's chairman and then Everton's before selling to Bill Kenwright, largely due to supporter pressure. In buying Tranmere Palios persuaded Johnson to write off the debt owed him by the club and it in part explains why, today, a painting of Johnson remains hanging in Prenton Park's boardroom.
"You'll see history on the walls but a modern outlook in everything we do," Palios says. "There was a picture of Johnny King [the legendary manager] and it said, "We can't compete with Liverpool and Everton – we're like a deadly submarine." As soon as I arrived I asked for the top line to be taken away. I realise we can't compete with Liverpool and Everton at a product level at this point in time, but where we can compete with Liverpool and Everton is offering affordable live football. How many kids today only see football on a screen? It was Aristotle who said, "Give me the child until he is seven and I will show you the man." If you get a kid into Tranmere at five, I will show you the supporter."
Palios thinks Tranmere can also play on their Wirral brand, 'but not too heavily' because he'd like us to attract fans from the other side of the river. For a long time Tranmere hosted games on a Friday night knowing many on the Wirral were Liverpool and Everton supporters and that earlier kick offs would leave the rest of the weekend for a focus on the big two. "Ultimately, we can compete with Liverpool and Everton but we have to compete in a different way and in different areas," he concludes. "Saying we can't compete is simply too negative."
It is claimed, though, that Birkenhead, with its Viking heritage, and Anglo- Saxon Liverpool are like oil and water. In Lewis's Topographical Dictionary of England Birkenhead's right of 'ferryage across the Mersey' granted by the charter in 1318 was the political hot potato of the nineteenth century as Liverpool sought growth by claiming the shipping lanes that led out towards the Irish Sea.
Separate councils still administer Liverpool and Birkenhead, Liverpool is in Merseyside and Birkenhead has a Cheshire postcode, and while followers of Tranmere Rovers regularly sing about not being Scousers, to older residents of Liverpool Birkenhead is derided as a 'one-eyed city', in the same way Mancunians view Salford or Geordies, Gateshead.
"More than compete, you can have a symbiotic relationship with them," Palios says of Liverpool and Everton. "Liverpool have been very good to us and despite Everton being known as the People's Club it's Liverpool that have answered the call and supported us in a number of ways. Jürgen Klopp brought his first team here for a pre-season game and that was worth an extra £150,000-odd profit to us – it makes a difference on your million loss. Liverpool come here now and play their under-23 games at Prenton Park.
"What could be done is what we're trying to do here, by having grown-up relationships with other wealthier clubs without selling our birthright. The difficulty is finding the balance. Tranmere needs to migrate up the leagues before we can effectively use the players from other academies and that's just being pragmatic. The game tends to become more technical as you rise and at Premier League level the game is about technique and pace rather than power and aggression as it can sometimes be in the National League.
"We're the only nation in the world that has the football pyramid," he continues. "So long as the big clubs are sensitive to the rights of the fans from the smaller clubs, relationships can work. I was absolutely apoplectic when it was announced that under-23 teams would appear in the Johnstone's Paint Trophy. I publically said it was the worst idea I'd heard. My reasons for coming back to Tranmere are linked to this. How many people do you know that get up in the morning where 5,000 people are desperate for you to do well?
"There's probably as many as 150,000 people on Merseyside that notice what you're doing every day if you're the owner of Tranmere – even if it's through reading a small column about the club on a website. The strength and passion of the fans cannot be ignored if they are opposed to the governance of the game. Apathy would kill football. You can't disrespect that."
Palios says it is too simplistic to say there needs to be less greed and a change at the top of football. He tells a story about going to a West Ham United game a few years ago. They were playing Chelsea at the start of the season and Chelsea were 2–0 up quickly, with fans accepting of the defeat.
"They were prepared to write the result off before the game and say their season begins after Chelsea's visit. In my day, West Ham would have fancied their chances in a home game against any of the top clubs. There are very few headlines about redemption in sport. Every season should start with the chance of redemption. Not accepting you are going to lose to certain teams."
He can explain why this happens. "Teams can now go up and come straight back down, pocketing something like £175million inclusive of parachute payments. What if Tranmere, say, went into the Championship and their turnover is around the £10million mark? The Premier League has disturbed the competitive landscape by creating huge gaps. It means that clubs that have pocketed all that money are competing in the Championship with budgets that are way above their natural sustainable level.
"This is a contradiction in professional sport. If you have unbridled competition, the strongest will usually win. If football were a business and a business solely, many businessmen will say that it is their business to kill off the competition. If you look at other industries such as retail, you find monopolies. Supermarkets will consolidate to the point where there is only one supermarket left and that means they can do what they want with prices because there is nobody left to challenge them. So, the consumer needs protection as well. That's where there needs to be intervention. The football administrators have a huge responsibility because their job should be to retain the integrity of the competition year on year. There's a need to rewrite the rule book otherwise you'll always get the same three or four teams at the top and everyone else struggling."
Palios is optimistic about Tranmere's future, however.
"If there's any club capable of having a sustainable model in the lower leagues, it's Tranmere," he says.
"I never spoke at the beginning about a five-year job to get us back to the Championship. The talk was about us creating an environment that within five years would allow us to compete in League One and have the ability to go into the Championship but not fall straight back down because of finances. Our turnover in League One was £3.8million of which there were player sales and hand-outs from the Football League, so the real turnover of the club was roughly £1.5million. Our turnover in the National League this year will be £6.5million and that's without the consideration of any hand-outs whatsoever. If we get promoted, that figure will increase. So already, there has been a big turnaround.
"Nobody has ever defined self-sustainable for a football club but I have tried to,' he continues. 'I define it as having a top-third budget in whatever league you're competing in with better than average support systems, while being able to break even. The theory goes that if you're top-third [budget] with average luck, an average manager and average injuries, you'll finish in the top third because there is a correlation between what you spend and what you get. If that's the case, you'll always be around the play-offs and that means you'll maximise your gate because there will always be interest in what you're doing."
Palios says that for every thousand people that attend Tranmere matches over a season it is worth around £200,000 in revenue. Over the last ten years – through a largely fallow period in terms of success – attendances have averaged at 5,000. He appreciates for that number to increase, the product on the pitch must improve first and be maintained over a period of time.
"I think we've got the catchment area which is sufficient for our purposes if our horizon is the Championship," he says. "For me, the Championship is like the old Division One. Then, you only had to be one of the best players in England to play in the top flight. Now, you've got to be one of the best players in the world. I'm not limiting the club's ambition to the Championship because you should never limit ambition.
"In the Premier League, you cannot afford to rely solely on the local conurbation to build a team because the Premier League is really a world league that attracts players from across the globe. For us, that's fantastic, because there's a whole Merseyside diaspora that we can latch on to – players that don't get a chance at Liverpool or Everton. The majority of footballers I know – if they had the chance – would like to play at home and be around family and friends. Merseyside remains a hotbed of football and in terms of players it's a big catchment area. For Tranmere that's something exciting."

Tranmere is reaching beyond its council boundaries for growth. The club has a memorandum of understanding with the Inner Mongolian government to develop coaching standards in the region's capital Hohhot. It meant that when Chinese coaches first visited Wirral to develop their skills with Tranmere, they invested in the area: in the shops of Cheshire Oaks, in hotels, in restaurants. He has since been told from the vice chairman of the Inner Mongolian Communist Party that by the end of 2018, Hohhot will be sending 300 children with coaches to Prenton Park. Palios says it has been a challenge trying to get the message across to bodies like the local council, who used to sponsor Tranmere's shirts, that a vibrant business exists within their boundaries, though it is slowly getting through.
"It should say to hotels, to restaurants, "Get involved in Tranmere and we can all help each other."'
Palios wants Tranmere to become a Football League club again. He wants Tranmere to become a conference and events venue. He wants Tranmere to be a vocational college so young people are getting jobs at the end of their courses. He thinks all of these aims are achievable by 2020. Palios has also suffered from cancer since 2014 and that has meant four operations and eight weeks of radiotherapy. His recognition that 'We've also been relegated in that time so it hasn't been an easy existence,' feels like an understatement. Yet there are reasons beyond football why Tranmere stimulates him.
When Palios returned to Tranmere, the living and working arrangements of some supporters had changed to the point where they could still afford a season ticket but were not able to be there for games and they requested that the season tickets were given to good causes. Palios then asked Tranmere's supporters' trust to donate a further £3,000, and the players responded by relinquishing the same figure from their bonus pot. 'It meant that we were able to charge thirty- pound season tickets for children while the disadvantaged kids got in for nothing. It didn't cost the club a penny. We went to the relevant agencies and the council and said, "You find the right kids." This was an example of the goodwill of the supporters focused through the prism of the club doing good things in the community and creating future fans. What's not to like about that?'
Palios was thirteen years old when he was in a foster home. He becomes emotional, his eyes marbling with tears that don't quite run, when he tells a story about a thirteen-year-old girl who attended a Tranmere game. She later told her carer that she saw friends from her school class at the match and it made her feel 'normal'.
"I was taken to Wembley to watch Tranmere as a child, courtesy of Dave Bail, the manager of my football team, who knew of my personal circumstances which meant I was never able to afford attending a football match, let alone Wembley," Palios recalls. "I didn't tell anyone I was in a foster home when I was in school because the worst thing would be telling people when all you really wanted to be was normal, just like everyone else.
"But listen, I didn't want it to be about me coming back on my white chariot to save the day because I wanted it to be about both of us – me and Nicky," he concludes, explaining the great job his wife is doing leading Tranmere's excellent community initiatives having spent most of her working life in the field of law.
"Many of the businesses I worked with during my thirty years before returning to Tranmere, I didn't know much about because I wasn't an industry expert," he admits.
"As an accountant going into British Steel and telling them their only child is ugly wasn't easy. "You're an accountant – what do you know?" they'd say, not really appreciating my skills in assessing situations and creating a path forward. Tranmere is the only work situation in my life where I'd consider myself to know the industry. And while my involvement is emotional, I believe it has a solid business base."
This extract was taken from On the Brink, a Journey Through English Football's North West. Available here: www.decoubertin.co.uk/onthebrink
Join our new commenting forum
Join thought-provoking conversations, follow other Independent readers and see their replies