Alan Pardew World Cup 2014 column: English game faces mounting problems at both club and international level after the lows of Brazil
The Pard View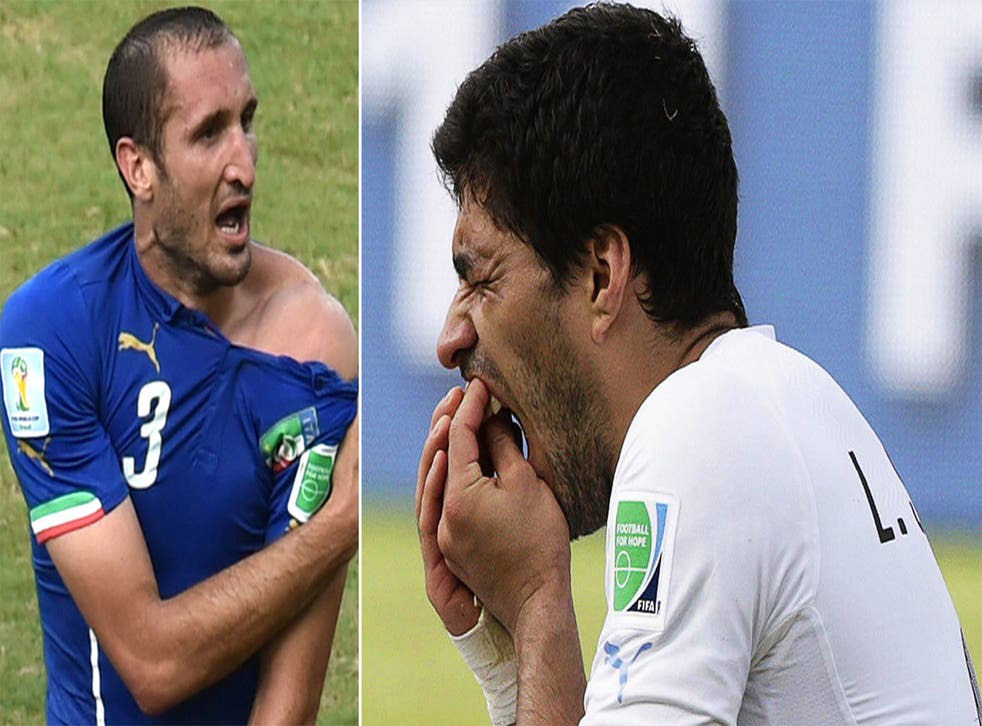 Suarez saga a smack in the teeth for Liverpool
My first thought when Luis Suarez had his latest moment of madness against Italy in midweek was for Brendan Rodgers and Liverpool.
I know Brendan well, and he would have been buzzing about the performances of Suarez, plus Raheem Sterling and Daniel Sturridge, who I thought were England's best two players at the tournament.
He's got a fantastic year out of Suarez, the double Player of the Year winner, and must have been rubbing his hands together, planning ahead for a Champions' League campaign. Then this lightning bolt strikes.
It was horrendous for Uruguay and their prospects, of course, but people here will understandably be concentrating on the implications for Liverpool, who will suffer from his ban from crucial games. And not for the first time.
I had my own moment of overstepping the mark last season, stupidly getting involved with an opposing player, and I'd like to think I learnt from it. Suarez clearly hasn't done. You come out and apologise sincerely, resolve it won't happen again and take the punishment and the inevitable stick that goes with it.
Suarez has been savaged by social media as well as the traditional forms, a new phenomenon that is gathering pace quickly, but what did he expect? Every Liverpool supporter must have feared it would happen again at some point. I hear the argument that there are worse crimes in football, like breaking someone's leg or smashing a cheekbone, but the key point is that the incident was indefensible and it's the third time he's done it.
Now the story moves on to whether he stays at Liverpool, as Barcelona in particular don't seem to have been deterred from signing him. It is a problem at any level when a club with bigger resources are determined to take one of your players. When we are talking about clubs like Barça and Real Madrid it is even worse, as despite Financial Fair Play, money somehow seems to be no object.
Luis Suarez: His controversial career in pictures

Show all 28
Those clubs tend to hold a special appeal for South American players, so at the moment it all points to him eventually leaving, which will be really galling for Liverpool, as Suarez has clearly established himself among the top half-dozen or so players in the world.
Dealing with difficult players is a vital part of management. So is the additional frustration for club managers of having no control at all over your players when they disappear on international duty, whether it is for a week or a whole tournament. If they play you worry about injuries, if they don't then you are concerned about their mentality and their fitness levels, and however you try to monitor it all it's basically out of your control.
Latins look lively but don't write off Europe
The way the group matches panned out, it became clear that it was the South American and even Central American teams who were energised, technically excellent and even physically stronger in those crucial one-on-ones. People have been talking about emerging nations from Africa and Asia for a long time now; they've not necessarily gone backwards, but the top countries are moving on all the time, tactically and technically, with the quality of players they have got coming through.
There can be organisational difficulties too at national level. I remember staying in the same hotel as one of the African teams and it was free-for-all in terms of people coming in and out all the time, hangers-on and agents everywhere, in a way we would never allow.
As to the actual matches, Europe has regularly had about 10 of the last 16 at the knockout stage, but this time there are only six, of whom Switzerland, Greece and Belgium would not be considered to be among the real big-hitters. On the other hand, Germany, France and Holland should lead the challenge.
I would expect Mexico to give the Dutch a tough game, but France have been very good. Benzema, who has never really performed on the world stage, has come alive and given them an attacking edge. It's a balanced, intelligent team, with Yohan Cabaye pulling the strings, and they've found a winning formula.
I'm aware that in the knockout rounds inferior teams sometimes hang on, and occasionally get lucky on penalties. But you would still expect France to beat Nigeria and the Germans to beat Algeria in tomorrow's matches, emphasising in both cases that the top European sides are ahead of the best African ones. If Holland beat Mexico they would then have a winnable quarter-final against the winners of the weakest second-round match, either Costa Rica or Greece.
France v Germany in the last eight, with the history between them, would be a mouth-watering prospect next Friday. If one of them came through with Holland to join the South Americans in the last four that would help to round off what has been a very good tournament so far. Yet at this stage I am sticking with my original tip of Argentina.
England mustn't allow Gerrard to walk away
A final thought or two on England, who sadly will not be greatly missed by the rest of the world as they leave the stage to others. Firstly, we jettison key players too early, and don't put enough pressure on them to keep playing for their country when they can still do a good job. John Terry, for all the problems surrounding him in the past, is one example; look how we missed him in defence against Italy and Uruguay.
It was interesting to see Andrea Pirlo, who has been so influential for Italy, deciding to play on for them at the age of 35 if the new national coach succeeding Cesare Prandelli wants him to, after previously having said he would stop. If I was the England manager I would be round at Steven Gerrard's house telling him we need him to stay around and carry on captaining his country, because we are desperate for that sort of experienced guidance and leadership on the pitch. It would be a massive mistake to allow him to walk away.
I've heard Wayne Rooney and Joe Hart suggested as successors but there are not many obvious leaders in that side, and so there is immediately another problem of who would do the job. Gerrard needs to be persuaded to stay.
Secondly, I agreed with the point Rafa Benitez made in the daily Independent last week, that England lack a formula and a philosophy, as countries such as Spain have. I was concerned when Roy Hodgson said he wanted the front four to be interchanging, which is something you need time to build on, as relationships have to be forged. I wrote here last week that England needed to be winning that third game to give everyone a bit of a boost, which we should have done – there was little in it for Costa Rica, but it was a drab game in which we seemed to be using the squad as if trying to keep everybody happy. We have to be a bit more ruthless than that.
Join our new commenting forum
Join thought-provoking conversations, follow other Independent readers and see their replies