Bastian Schweinsteiger went 'against orders' to score injury-time goal for Germany against Ukraine
The Manchester United midfielder made the score 2-0 with a fine finish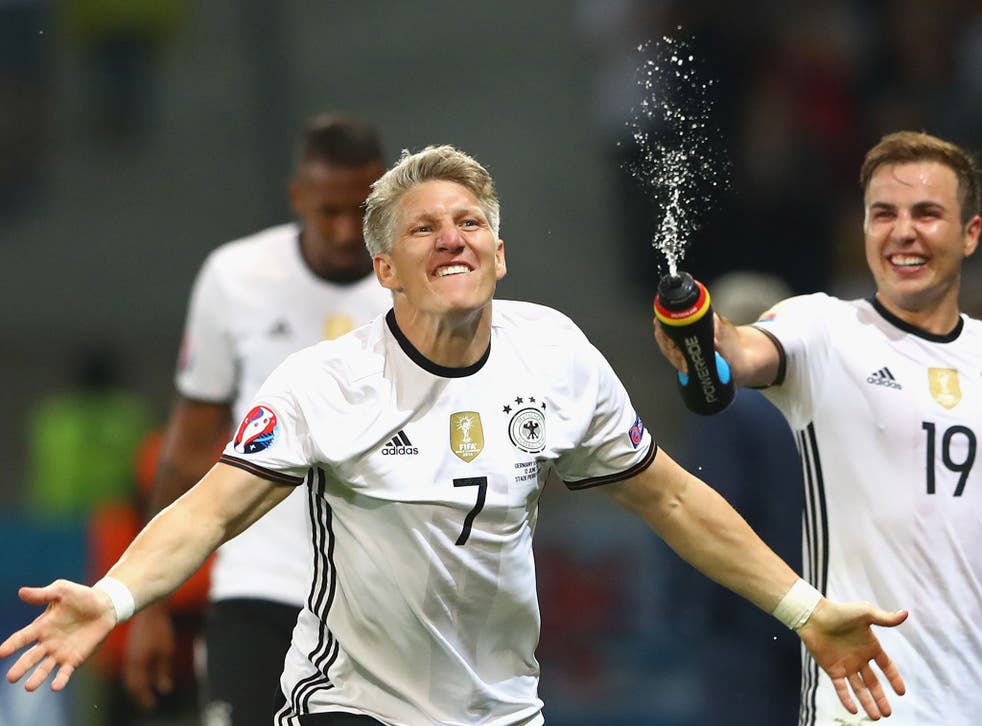 Bastian Schweinsteiger scored a wonderful injury-time goal to ensure Germany got their Euro 2016 campaign off to a winning start - however it was revealed after the match that the midfielder should never have been so far up the pitch.
With the score at 1-0 and Ukraine giving the world champions the jitters, Schweinsteiger doubled Germany's advantage with a fine half-volley from Mesut Ozil's perfect cross.
The Manchester United midfielder had only been on the pitch for a couple of minutes before finding the back of the net and after the match Germany coach Joachim Loew revealed that the injury-plagued 31-year-old was not brought off the bench for his goal scoring abilities.
Fondest memories of the European Championship
"It wasn't really the plan that Bastian was going to surface so far forward," he explained. "We sent him on to try to calm things down."
Schweinsteiger was delighted with his contribution following a frustrating season at Old Trafford in which injury problems limited his opportunities.
"It's just incredible," Schweinsteiger panted after the Group C match, out of breath following his brief but explosive return to competitive football from a long-term injury in his country's last warm-up game before the finals.
"After all the injuries ... something like this happens. I can't play 90 or 120 minutes yet but I'm feeling like I can play.
"I feel really good. I think if I stay healthy I'll be able to play. I hope I can play some more."
Germany and Poland, who beat Northern Ireland earlier in the day, head Group C on three points.
Join our new commenting forum
Join thought-provoking conversations, follow other Independent readers and see their replies