Belgium vs United States World Cup 2014: Divock Origi - the 'street footballer' who stole the spotlight
Divock Origi is a free-spirited teenage striker whose unexpected emergence among Belgium's galaxy of stars has boosted their World Cup hopes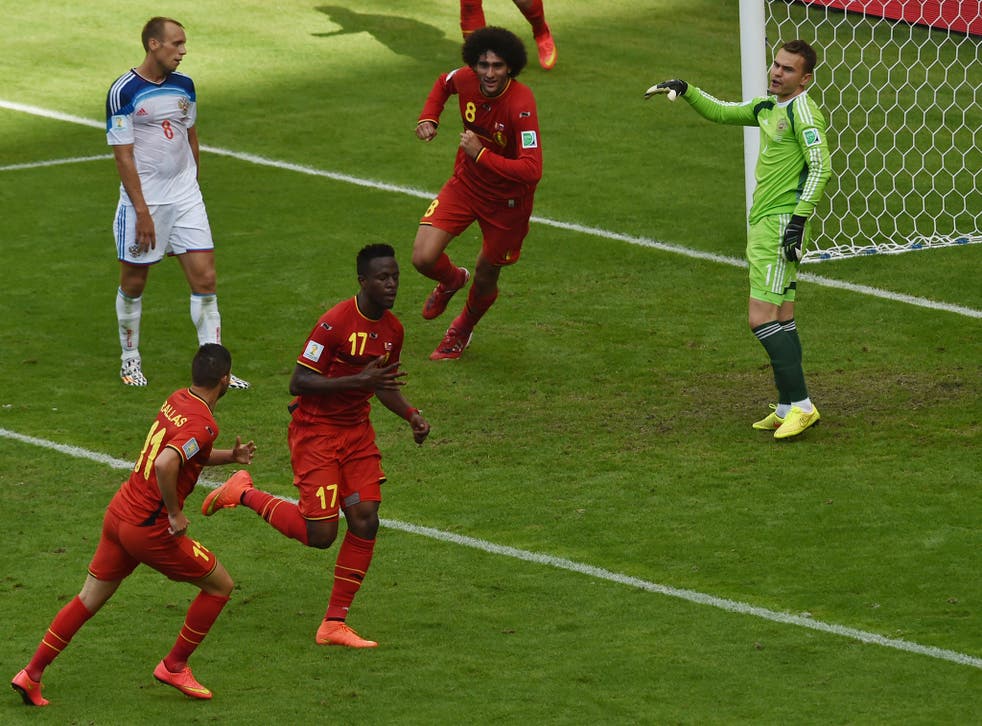 The Belgium manager is trying to douse all the talk about Divock Origi. "I'm not blind you know! He is 19 years old. He's only played 20 matches. His body is not entirely ready," Marc Wilmots said of the prodigious talent, on whom Liverpool are about to spend £10m – and who has contributed more than anyone to the country's progression to face the United States in Salvador on Tuesday.
It's hard to view the teenager quite that way because of his physique. He is a big beast in this Belgium team, who has finished doing his growing and is now | employing his power. He arrived from the bench to set up the winning goal against South Korea in midweek, having finished off Russia four days earlier with his first World Cup goal in the Maracana.
Wilmots is right, though. The animated response to one of the stars of the World Cup group stage is understandable, but this is a player who has scored six senior goals, started 12 senior games and made 28 substitutes' appearances for Lille in an 18-month senior career. He has only just completed his first full senior campaign. There is no doubting that he is still extremely raw.
It is the fearlessness of his football and his versatility which has been so enthralling these past few weeks, though. The Belgium players feel there's something of the street footballer in him, just like their compatriot, Adnan Januzaj. "He feels no pressure," said Jan Vertonghen, the Tottenham defender. "Januzaj is someone a bit like Origi – he plays like he's on the street."
It is a footballing intellect which has made him a very obvious pick for Liverpool's Brendan Rodgers. Origi operated in a number of systems last season for René Girard's side – at various points on the front line of a 4-3-3, in the middle of a 4-4-2, as a No 10 and at the top of the team as a lone striker. This kind of versatility makes him the epitome of the modern footballer: clever and tactically adaptable. It is a well established fact that Rodgers likes players capable of understanding and implementing mid-game shifts in system. A requirement of the Liverpool player – with Raheem Sterling the epitome – is to be at the tip of a diamond for an hour, then operate in a 4-3-3 to prevent the opposition getting "down the sides", as Rodgers likes to say. Origi's value as a forward has nothing to do with the Luis Suarez crisis. Liverpool's pursuit of him began long before the Uruguayan plunged his club into that mess.
There is always a degree of uncertainty at this age about a player kicking on, but Origi's background has created a conviction that he will. His Kenyan-born father, Mike Origi, a key influence and one of a family of players, was a very good professional in the Belgium leagues, playing for six clubs over a period of 14 years. The two are very close, though his father is not his agent. Origi Snr was a Kenya international over a period of 15 years before his playing career took him to Oman and later Ostend, where he settled and his son was born.
The family background counts for much in football these days and by every available account Origi Jnr does not seem likely to be blinded by the talk and throw it all away. His club's media staff talk of a message they received back from him, when his goal against Russia tentatively led them to seek a website interview to "put a Lille accent" on the whole business. He texted them back. "OK for the interview. That would be great. Give me a call whenever you want."
They do develop them well at Lille, the club from which Eden Hazard also burst on to the world scene. All coaches talk about the importance of the "half turn" position when a player receives a ball with one shoulder facing his own goal and the other the opposition's. It should never be back to goal. Origi's technical efficiency in that respect has been plain to see for the scouts at this tournament.
The club are finding the Belgian youth system to be a rich source of talent. The proximity to Belgium is an attraction to young players and their parents but they have a strong scouting network and were first to latch on to Belgian talent, which went unnoticed for a long time. When they faced competition for Origi from several other French clubs, who spotted him playing for Genk's youth academy, Lille played the Hazard card. The conversation with the Origis went along the lines of: "What we did for Eden we can do for Divock." The teenager is very close to Hazard, who kept an eye out for Origi when he arrived as a 13-year-old.
He is not ready yet. The pressures of elite football are barely known to him, which is why Liverpool will loan him back to Lille next season – a wise strategy, which helped Rodgers beat Tottenham to his signature.
A good indicator of what we can expect from Origi came in Romelu Lukaku's chippy response ten days ago, when asked about being forced to make way for the energetic teenage substitute against Algeria. "When I left the field, the defence was tired," Lukaku said. "It was easier for Divock. He had a good game but it was less of a test for him."
Other players know when they see a future threat.
Join our new commenting forum
Join thought-provoking conversations, follow other Independent readers and see their replies