Bookmaker to pay £80,000 fine after Denmark striker Nicklas Bendtner reveals sponsored underwear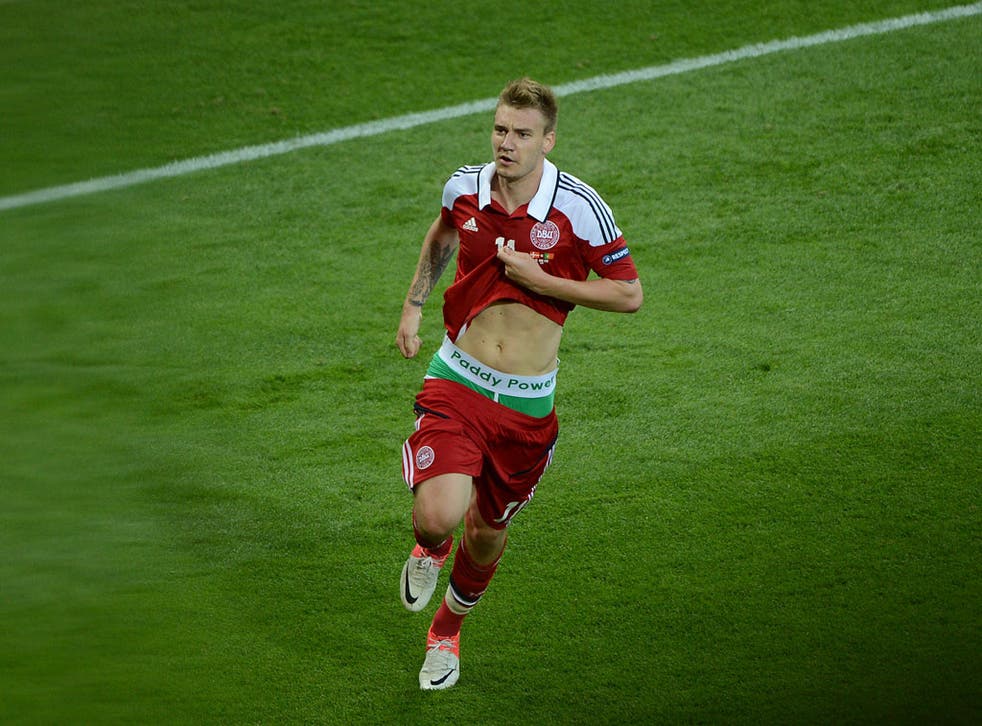 Paddy Power today agreed to pay the £80,000 fine dished out to Denmark striker Nicklas Bendtner for exposing a pair of underwear bearing the bookmakers' logo.
Arsenal misfit Bendtner was yesterday banned for one competitive international and fined 100,000 euros by UEFA for lowering his shorts after scoring twice in his country's European Championship defeat to Portugal six days ago.
Paddy Power claimed they had been "inundated with messages via their social media channels suggesting they pick up the tab" for an incident they dubbed "pants-gate".
The bookmaker branded the UEFA sanction "barmy", alluding to the backlash against the fine being far in excess of those dished out for racism by European football's governing body.
A Paddy Power spokesperson said: "We pride ourselves on listening to our customers and what we heard loud and clear yesterday was that Nicklas Bendtner should not suffer as a result of UEFA's double standards.
"We don't believe that Nicklas should be penalised for nothing more serious than wearing his lucky underpants which, in fairness, was only a bit of fun."
The company added in a statement: "Paddy Power are also issuing an alert to all other players intending to wear their own lucky underpants in the remaining UEFA fixtures to keep the string tied tightly on their shorts so that they too don't face the wrath of the over the top UEFA pants police."
Bendtner, 24, was found guilty of improper conduct UEFA for his reaction to his second goal in Denmark's 3-2 Group B defeat to Portugal.
When questioned afterwards about the incident, Bendtner, who spent last season on loan at Sunderland, said: "It is just a pair of lucky boxer shorts that I used in the first game as well and have used before the tournament.
"I didn't know I was breaking any rules but I am aware of that now."
UEFA took a dim view, however, with Bendtner set to miss Denmark's opening 2014 World Cup qualifier.
The player was given three days to lodge an appeal.
PA
Join our new commenting forum
Join thought-provoking conversations, follow other Independent readers and see their replies