Brazil 3 Croatia 1: Fifa defend under-fire referee Yuichi Nishimura as Japanese official caught up in diving row during opening World Cup match
Croatia feel that Fred won a penalty by diving to give Neymar the chance to go ahead in the opening World Cup match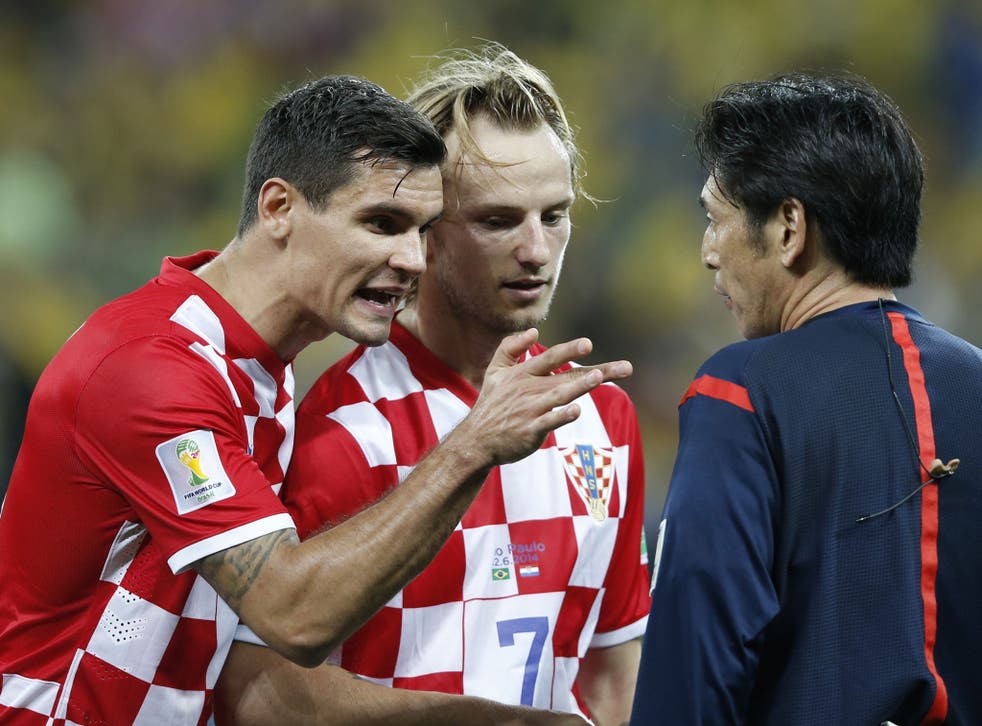 Fifa have defended under-fire referee Yuichi Nishimura for his decision to award a penalty in favour of Brazil during the World Cup-opening 3-1 victory over Croatia that has sparked a massive backlash from the European side.
Manager Nico Kovac claimed that "two billion people saw it was not a penalty" while squad members Vedran Corluka and Dejan Lovren were equally as scathing, suggesting that Fifa should hand Brazil the trophy now and "everyone else can go home".
But Fifa's referee chief Massimo Busacca has come to the defence of Nishimura, claiming that there was contact between Fred and Lovren even if it was minimal.
"The referees know the responsibility at the World Cup is a lot, every decision can change a lot," said Busacca.
"In refereeing, we have black and white but we also have cases that can be on the borderline. Yesterday [Thursday], we can discuss; was it enough (contact)? Yes or no?
"On the pitch, the referee takes a decision in less than one second. He is concentrated on the gesture and when you see the hands doing something, it's difficult to arrive at one conclusion.
World Cup 2014: Brazil 3 Croatia 1 - player ratings

Show all 22
"This is what the referee saw on the pitch, he had a good position, but he is not the attacker or the defender, we have to ask them if it's enough (contact) to fall down.
"There was contact, if you don't have the contact then we would not be here to discuss it. If the player doesn't touch, doesn't hold, we don't discuss it.
"The left hand touched and then also the right. If you play with the hands out, the referee sees that clearly and decides one way."
Busacca went on to leave doubt over whether Nishimura would be selected again when the next batch of refereeing appointments are released, with Fifa choosing to name each set of match officials in the days leading up to a fixture.
He added that Nishimura's performance would be evaluated before a decision is made, and that anyone can say that the Japanese official made a mistake given that it is their opinion.
"For every player, we can consider their performance and how they did - for referees it is the same," he added. "Mistake? It's your opinion, you can say it if you want."
Join our new commenting forum
Join thought-provoking conversations, follow other Independent readers and see their replies