Brazil v Mexico: Hulk doubt hampers Brazil's preparations for Mexico test
Forward an injury concern for hosts' next game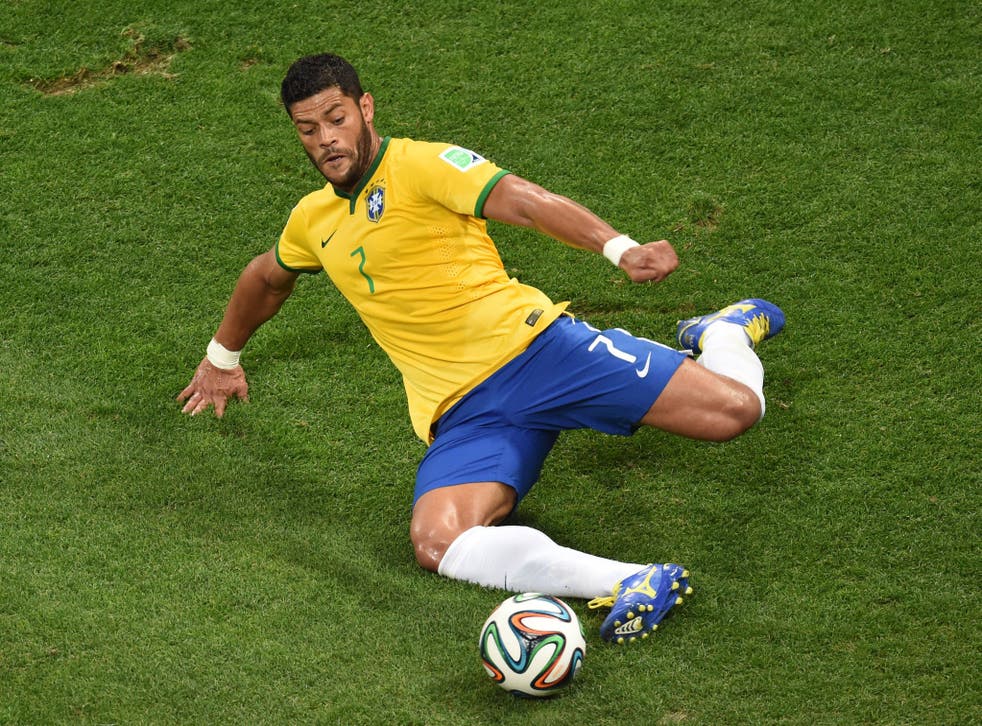 The Brazil striker Hulk left the team's training session after only 15 minutes yesterday with what looked like a muscle injury in his left leg. He was walking without a limp, but then sat down on a bench and lowered his head in apparent dismay. A few moments later he went to the locker room, accompanied by one of the team's doctors.
The injury came in one of Brazil's final practices before tomorrow's Group A match against Mexico, for which the hosts travelled to the northeastern city of Fortaleza yesterday afternoon.
The Hulk news overshadowed the build-up to Brazil's second match of the World Cup. After a difficult 3-1 win against Croatia in Thursday's opener, they have a chance to advance to the round of 16 by beating their old rivals. Mexico also started with a victory, beating Cameroon 1-0, and will similarly be looking to advance from Group A.
The winners will be guaranteed a spot in the next round if Cameroon and Croatia draw on Wednesday in Manaus.
"We know it's going to be another difficult match," said the Brazil and Chelsea playmaker Oscar. "It could decide which team advances to the next round, so it will be like a final again. We know that it will be tough."
The Latin American rivals have met several times in the last few years, Brazil winning in the Confederations Cup last year and Mexico coming out on top in the final of the 2012 Olympics, a result that kept a Brazilian team led by Neymar and Oscar from winning the nation's first gold medal in football.
"That one especially hurt. It was a title we didn't have," Oscar said. "We know Mexico have a very good team. They have always created difficulties for Brazil and I'm sure it won't be any different this time."
Coincidentally, the Confederations Cup match was also played in Fortaleza, and was also the second game of a group stage. Brazil won 2-0 with goals by Neymar and Jo.
Mexico have won seven of their last 15 matches against the five-time world champions, including two of the last four. "Every match against Mexico is difficult," said the Brazil defender Henrique. "They have players with a lot of quality. That is always the case."
World Cup 2014: Brazil 3 Croatia 1 - player ratings

Show all 22
One of these quality players is Giovani dos Santos, who had one of his best performances with the national team in the opener against Cameroon.
"I'm happy with how the team has been playing collectively," Dos Santos said. "I think we are all understanding very well what [coach] Miguel Herrera wants us to do on the field. I see a very strong group and I'm very happy because of that."
Brazil will again be led by Neymar, who scored twice in the opener. But he also received a yellow card in the match in Sao Paulo and another would keep him out of the final group match.
"I don't think that will come into play," Oscar said. "Usually, the players marking Neymar are the ones who receive the yellow, not the other way around."
Both teams had matches with controversial refereeing in the first round, with calls going against Mexico and in favour of the hosts. Mexico had two goals controversially disallowed against Cameroon, while Brazil were awarded a highly disputed penalty.
"There will always be controversial calls in football," Oscar said. "I'm certain that there will be more controversy during the rest of the World Cup."
Join our new commenting forum
Join thought-provoking conversations, follow other Independent readers and see their replies