Brazil vs Chile match report World Cup 2014: Host nation scrape through after shoot-out win
Brazil 1 Chile 1 (aet: Brazil win 3-2 on penalties)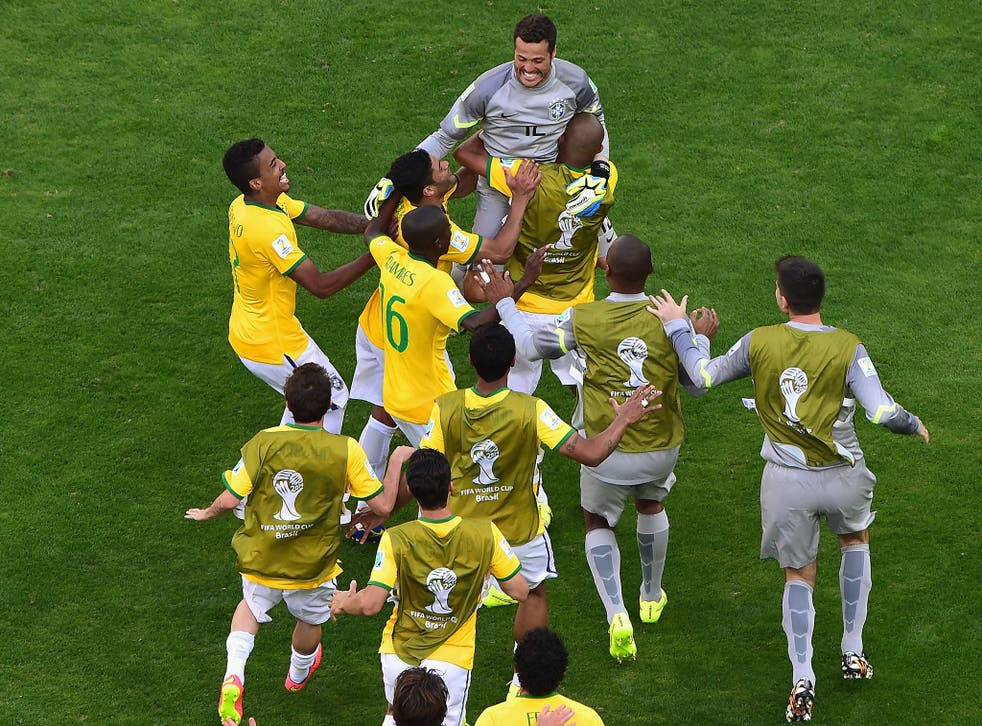 It was the most exquisite tension, when at 3.55pm Belo Horizonte time, a defender released by Nottingham Forest this summer took the long walk forward to take the last of ten penalties on a hot afternoon in the Brazilian interior. Gonzalo Jara latterly of West Bromwich Albion, Brighton on loan and an unremarkable spell at Forest was experiencing something for the first time: the eyes of the world were on him.
If there was anyone not watching this game, as both sides battled through extra-time and into penalties, then they better have had a bloody good excuse. This was pressure. This was expectation. This was Brazil at their own World Cup finals going perilously close to being tipped out by their one of their neighbours to the west, and all before it had all properly begun.
By the time that Neymar stepped up to take the last of Brazil's five regulation penalties, his team-mates Willian and Hulk had already missed one and had one saved respectively. The score stood at 2-2and the boy wonder, at 22, had the weight of a nation's expectations on his slender shoulders. For all his undoubted talents, Neymar has never been down as a brilliant penalty taker – in fact, in the early days at Santos one manager, subsequently sacked, preferred him not to take them.
But with a shimmy to the left and a stutter to his run-up, Neymar dispatched the last Brazil penalty to make it 3-2. Then it was left to Jara, already the scorer of a first half own goal to take the shoot-out into sudden death. Chile had performed, once again, beyond the sum of their parts. They had been marvellous. But football can be such a swine at times and this was it. Jara against Julio Cesar, who had saved two already, including one from man of the match Alexis Sanchez.
Jara hit the post. And with that, thousands of Brazilian voices let rip. They had negotiated the first knockout round. They were in the last eight. Catastrophe had been averted, but it had been so close and their shortcomings, not least in attack had been shown up in a game where they had missed chance after chance.
Before then the game's defining moment coming when Howard Webb, the English referee assigned by Fifa to the toughest game of the round, disallowed a goal for Hulk with the score at 1-1.
It was a decision that appeared to have been taken on the advice of his linesman Mike Mullarkey who was best placed to see Marcelo's ball from the left on 55 minutes strike the bicep of Hulk before he scored. There was just a split second and two pairs of eyes to make the call. Webb got it right, but the Brazilians hated him for it.
There was a danger that Webb could find himself the scapegoat in the event of a Brazil defeat. You did not have to look far for their problems. Luiz Felipe Scolari replaced Fred with Jo in the second half and it got no better in front of goal in normal time. With Neymar relatively becalmed and Sanchez the most dangerous player on the pitch, Chile came back into the game in extra-time.
From the start, it was like the best sort of football match, the best kind of frenetic match that the Premier League serves up so often, played at a n incredible pace in the broiling afternoon sun for no other reason than so much was at stake.
Brazil should have gone in at half-time goal ahead and they would have done were it not for the lamentable sloppiness of Hulk in returning a throw-in to Marcelo's toes in the 32nd minute. That said, when Eduardo Vargas intervened and picked out Sanchez in the area there was no covering challenge from either David Luiz or Thiago Silva before the Barcelona man picked out a spot beyond Cesar for the equaliser.
Webb was first under scrutiny on 13 minutes when an exchange set Hulk free in the Chile area and he tumbled as Mauricio Isla extended a leg in the direction of the ball. Webb gave himself a long look at it and outraged the stadium by playing on. The referee had got it right.
It was a big call, and from then on Webb pursued what seems to be the current Fifa policy, resisting cards if at all possible. After a point Brazil's bench wanted one for every challenge on Neymar.
But what a wonderful game. Attacking football spiced with an intriguing array of errors. The most notable of which was made by Jara, who jabbed a leg at Thiago Silva's knock-on from Neymar's corner and put the ball into his own goal on 18 minutes. Luiz tried to claim it.
The big decision for Webb came ten minutes after half-time when Marcelo's ball from the left dropped to Hulk in the left channel, he controlled it with his right bicep and struck a shot that came off his knee and wrong-footed Carlos Bravo. The home support were outraged at the goal being disallowed. Their anxiety was that this team of theirs did not quite have what was necessary to put Chile out the contest.
Brazil required a fabulous save on 64 minutes from Cesar from a shot from Charles Aranguiz taken on the half volley which the goalkeeper did well to get to, and then push wide.
Brazil's problems in front of goal got no better after Scolari had replaced Fred with Jo. The former Manchester City man failed to adjust after Mena got a faint touch on a back post cross from Hulk that dropped invitingly. Neymar went close with a header. Hulk burst forward in the left channel and saw his shot saved by Bravo.
Join our new commenting forum
Join thought-provoking conversations, follow other Independent readers and see their replies