Brazil vs Germany World Cup 2014 preview: David Luiz seizes the moment to steady Brazil challenge
Distinctive-looking defender has embraced the World Cup, now he leads a side missing Neymar against Germany seeking a place in the final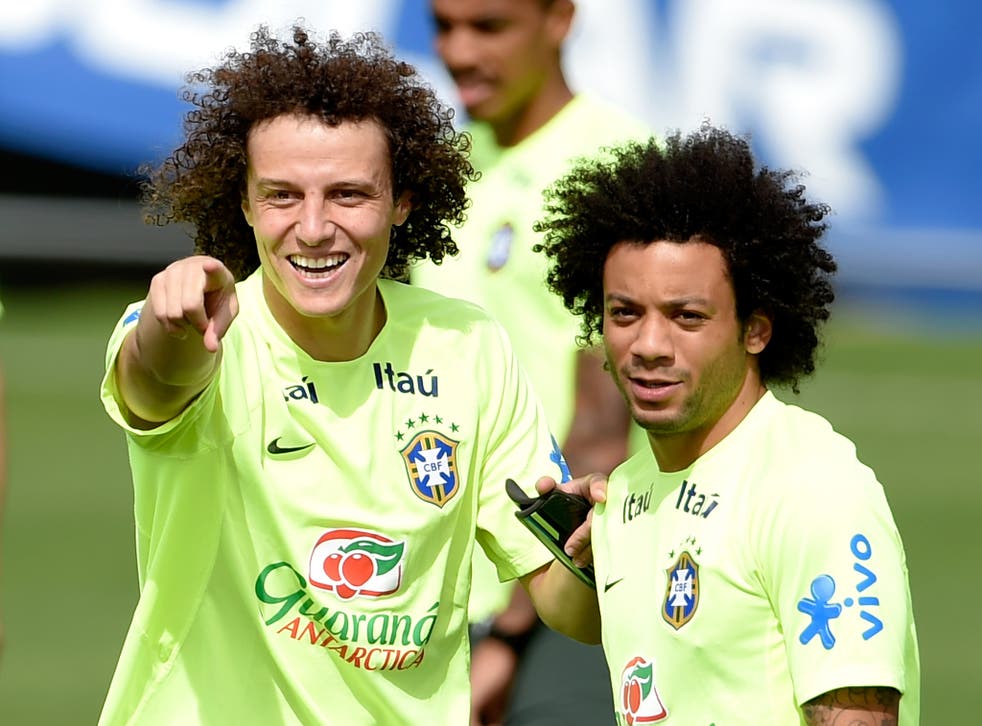 His celebration after his spectacular free-kick against Colombia on Friday night would have been the enduring image of Brazil's quarter-final victory in Fortaleza, but David Luiz's moment was destined to be overshadowed by something bigger, and bleaker for his country. That was the injury to Neymar and its aftermath has consumed Brazil ever since with the hand-wringing continuing up to the World Cup semi-final with Germany.
Leading the Selecao out at the Estadio Mineirao in the absence of the suspended Thiago Silva will be Luiz, one of the most recognisable personalities at the World Cup, and one of the few footballers so distinctive as to be instantly identifiable in silhouette. By means of explanation for the famous hairstyle, Luiz really is a surfer, having learnt in Itacare in Brazil's north-east when he moved there from his home town of Diadema, near Sao Paulo, to play professional football.
The hair also speaks to his occasionally reckless attitude towards the accepted responsibilities of a centre-half which have marked him out as a dangerous maverick at times. But he has become a lot more than that.
Video: Sam Wallace previews Brazil vs Germany
Few players have embraced the World Cup finals, or more specifically what it means to be Brazilian in this feverish time for the nation's football, more than Luiz. It is he who has belted out the national anthem with the best of them. It is Luiz who, after the victory over Colombia, insisted the home crowd in the stadium applaud James Rodriguez off the pitch, albeit after Brazil had narrowly failed to kick him off it.
Luiz is living this Brazil World Cup as any right-thinking footballer should, Brazilian or not. That it is an amazing opportunity to be grasped and cherished. Not, as some of Roy Hodgson's team gave the impression, a mildly arresting shop window display at which they can glance and move on.
David Luiz facial expressions

Show all 13
In spite of the pressure on Brazil, Luiz, 27, has displayed a general ease at getting on with things. As the roads around their Teresopolis base were gridlocked on Sunday by supporters just trying to get a glimpse of the team, Luiz seemed unperturbed. "I'm ready," he said. "I'm vice-captain and this group is very easy to handle because everyone's very down to earth. It won't be a tough job at all."
In terms of Luiz's public profile, which was non-existent in Brazil up until a few years ago, he is possibly second only to Neymar in his ubiquity when it comes to television commercials. It is Luiz who appears at every break thanking the Brazilian people for their support on behalf of one of the nation's biggest banks. At Santos Dumont airport in Rio de Janeiro it is a life-size cardboard cut-out of Luiz who helpfully points the way to the TAM airlines check-in desk.
When I met Luiz in April 2011 for his first interview after joining Chelsea, he joked that he was barely known in his home country because he had left at the age of 20, before he had made a mark there. His previous club before Benfica, whom he had first joined on loan in 2007, was Esporte Clube Vitoria in Salvador, who played in the third division of Brazilian football. What makes Luiz unusual among his Brazil team-mates is that he has never played top-flight football in Brazil.
His story is quite indicative of many of the squad: no grinding poverty but a whole lot of sacrifice. In Luiz's case it was leaving his family for two years to play in Salvador, Brazil's original capital in the north-east, where Benfica scouted him. He did not see his family for two years and he was keen to tell me that his success as a footballer had enabled him to finance his sister Isabel's studies to become a physiotherapist.
His departure from Chelsea to join Paris Saint-Germain for a fee of around £50m remains a thing of wonder, despite his impressive performances at this World Cup. He has just not been that good for Chelsea in recent times to justify that kind of money, although he has been played out of position in midfield by Jose Mourinho. Curiously, Luiz started both legs in the Champions League against PSG and Atletico Madrid but rarely started in the Premier League after Christmas.
Mourinho has long preferred Gary Cahill as the partner for John Terry in Chelsea's defence, and has very clear views on what makes a good centre-half. As a general rule, Cahill will always hold his concentration better than Luiz. On the other hand, Luiz would have made a much better pretend rock star than Cahill in that dreadful Budweiser advert.
It has been a remarkable three and a half seasons at Chelsea for Luiz, encompassing both the Champions League and Europa League victories. Within a few weeks of arriving in January 2011 he had already been voted the Premier League's player of the month for March, and had scored against both Manchester United and Manchester City – two more goals at the time than his friend Fernando Torres, who arrived in the same month with considerably more fanfare.
Those early days were love at first sight for Chelsea fans. They forgave Luiz's occasional up-field adventures and loved the personality he showed, but it did not stay that way for all the Stamford Bridge crowd. As he moved into midfield, first under Rafa Benitez, and then Mourinho, there was a frustration with Luiz. When the deal to PSG leaked, the size of the fee meant that it attracted very little opposition at all.
There was a time, under Benitez, that Luiz and Torres were considered, inside Cobham, the most influential players within the squad in terms of their relationship with Chelsea's owner, Roman Abramovich. After the Andre Villas-Boas misadventure, the Chelsea owner had been disenchanted with his old guard and was more inclined to listen to the opinion of his Brazilian. Once Mourinho returned, that changed and right from the start Luiz was used sparingly in the league.
It did not help that, along with others, Luiz arrived late back to pre-season following Brazil's successful Confederations Cup campaign last year. Yet looking at him now he seems like exactly the kind of strong character whom managers constantly complain there is a shortage of in the modern game. He has taken his opportunity and seems to understand better than most that times like these come around all too rarely in the life of a footballer.
Join our new commenting forum
Join thought-provoking conversations, follow other Independent readers and see their replies