The Independent's journalism is supported by our readers. When you purchase through links on our site, we may earn commission.
Brazil vs Germany World Cup 2014 preview: Germany cry foul over Brazil bullies with Bastian Schweinsteiger calling on referee to be strong
The host nation was criticised for their physical approach against Colombia in their quarter-final victory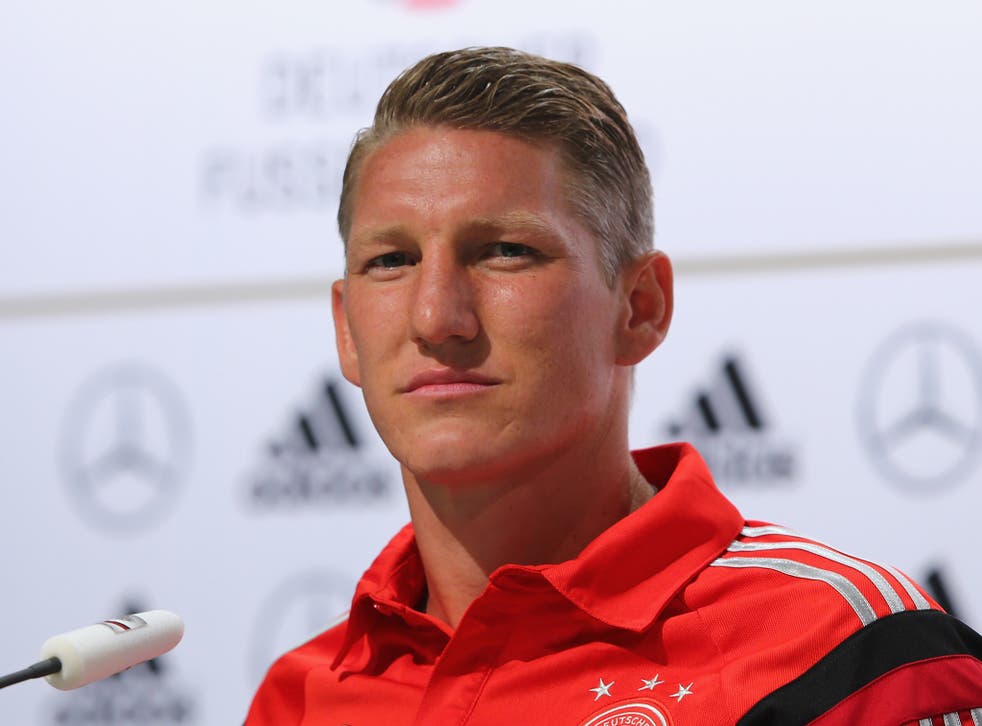 Bastian Schweinsteiger, the Germany midfielder, has challenged the Mexican referee for Tuesday's World Cup semi-final against Brazil to come down hard on what he believes is the host nation's persistent fouling.
Schweinsteiger became the latest critic of the Brazilian approach after their outcry at the foul on Neymar in the previous round against Colombia which resulted in the player's fractured vertebrae. It has been pointed out that despite Neymar's injury, which rules him out the remainder of the tournament, Brazil committed more fouls, 31 to 23, than Colombia. In fact, in all Brazil have done 96 fouls in five games, significantly more than Germany's 57. Brazil players have received 10 yellow cards, six more than Germany players.
Schweinsteiger said: "I am all for a healthy hardness but some of Brazil's fouls were over the limit. Brazilians are not only football magicians, hard tackling is part of their game. We have to be careful and so does the referee."
The Mexican Marco Rodriguez will referee the game. Germany's assistant coach Hansi Flick said: "Brazil is an outstanding team that plays at the limit of the allowed and will go over the limit if necessary."
Fifa rejected an attempt by Brazil to overturn the suspension of their captain Thiago Silva, booked for the second time against Colombia, for Tuesday's game. They also rejected a move by Brazil to punish Juan Zuniga, the Colombian responsible for the foul on Neymar.
Silva's absence means that the former Chelsea defender David Luiz will captain the Brazil side against Germany.
Luiz's team-mate Hulk said that Luiz was "just the best". He added: "He [Luiz] is very caring and very attentive, no matter who he's with. It's not every day that you come across someone like him.
"The whole world knows what he has to offer on the pitch – and to my mind, he and Thiago are the best central-defensive partnership in the world – but as his team-mates, we also know what a great person he is too."
Neymar's best and worst moments of the 2014 World Cup

Show all 9
However, Flick felt that though Neymar was not playing, his absence could help galvanise Brazil. "It's definitely a loss for Brazil," he said. "Neymar has lived up to expectations, but his absence can unite the team more and we expect a very strong opponent."
Schweinsteiger agreed. "We are all very sad that Neymar is not playing," he said but he felt Brazil's team will bind even more closely "and will try to win the title for Neymar".
The Bayern Munich midfielder was also complimentary about Brazil's coaching staff of coach Luiz Felipe Scolari and his assistant Carlos Alberto Parreira. "They are two coaches with a lot of experience who have both won the World Cup," he said. "They are clever coaches and you need intelligent coaches to win the title."
Join our new commenting forum
Join thought-provoking conversations, follow other Independent readers and see their replies