Brazil vs Germany World Cup 2014: 'This was the worst defeat in Brazil's history,' admits Luiz Felipe Scolari
Coach says he will review his position after Saturday's third-place play-off
Sam Wallace
Wednesday 09 July 2014 08:33 Comments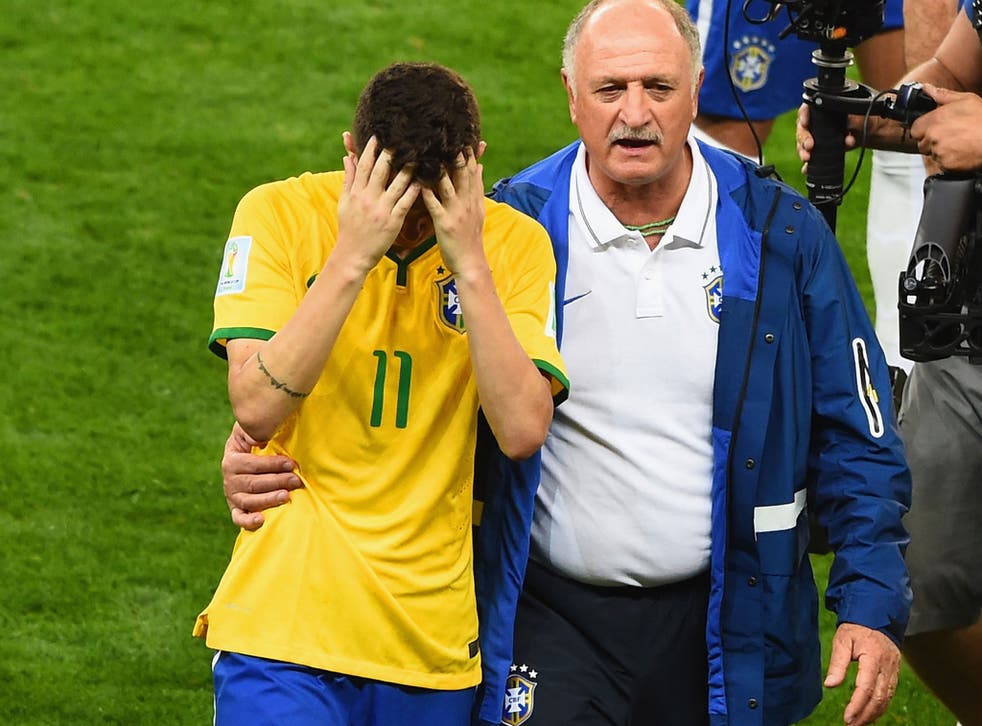 Luiz Felipe Scolari accepted responsibility for Brazil's humiliating 7-1 World Cup semi-final defeat to Germany last night, accepting that even as a winner in 2002 he would be remembered for an occasion he called "the worst day of my life".
The Brazil coach refused to discuss his future although he said that he would continue to lead the side into Saturday's third-place play-off against the loser of tonight's semi-final between Argentina and the Netherlands. He described the defeat in Belo Horizonte as "the worst" in the history of the Brazil team.
As for his own career, Scolari said: "I think it's probably the worst moment. I've lost other matches. When you lose 4-0 or 5-0, it's basically the same thing. Naturally, if I were to think of my life as a player, as a coach, as a teacher, this was the worst day of my life. But life goes on. I'll be remembered probably because I lost 7-1, the worst defeat Brazil have ever had, but that was a risk I knew I was running when I accepted this position. Life goes on. That's what I'll do."
Scolari said that there was little he could do as the five goals rained in during the first half, as he was asked by the Brazilian media why he had not reacted. He claimed, a little wildly, that there was not much between the two sides – and that the Germans had told him even they were bemused at the way the game had played out – although he accepted the gravity of the defeat.
Brazil 1 Germany 7 player ratings

Show all 22
He said: "Who is responsible when the team plays? Who is invited as the coach? Who is responsible for picking the team? I am. It's me. So the catastrophic result can be shared by the whole group. My players will tell you we will share our responsibilities. But who decided the tactics, I did. So the person responsible is me."
He added: "When we got to the first goal, the match was very even. Then they scored and, in the next six or seven minutes, scored four more. There was a lack of control which isn't normal, but can happen. And at 5-0 the players left a lot of room and, against those winning 5-0 and know how to play. We still had some chances, created some opportunities, but we're not daft. We lost a match to a great team. Even they were saying: 'We don't know how this happened' at the end. It was because of their skills."
Asked whether Brazilian football would have to reinvent itself, he said: "Why? Because we lost one match? Thirteen or 14 of those players out there will be at the 2018 World Cup. They're working, developing still. I think you'll see at least that many there in 2018, so this is a loss. A catastrophic, terrible loss. The worst loss by a Brazilian national team ever, yes. But we have to learn to deal with that."
He said he would make a decision on his future after Saturday. "I thought we could close down the midfield. It was working until the moment of the first goal. Then we were disorganised. We panicked and things started to happen normally for them, and badly for us. I don't have any regrets with the choices I made. They were choices a coach makes and has to put up with the consequences.
"But it just didn't work out for 10 minutes in the match today. That's it. It didn't work today, for 10 crazy minutes. And the Germany team were fantastic. It won't happen like that ever again, for them or for us. Would it have been different with Neymar? They probably could have done that with Neymar in the side, also. He wouldn't have known how to defend those moves for the second, third, fourth and fifth goals. I don't think it would have been different with Neymar. He's a striker. He would have had a different role to all the other players.
"This was not a typical match. We have to show we can take this defeat, the worst defeat Brazil has ever had, even in friendlies. But it happened. Their lives will go on. My life will go on. Everyone has to try and get what's best for us now. What can we do differently?"
Register for free to continue reading
Registration is a free and easy way to support our truly independent journalism
By registering, you will also enjoy limited access to Premium articles, exclusive newsletters, commenting, and virtual events with our leading journalists
Already have an account? sign in
Join our new commenting forum
Join thought-provoking conversations, follow other Independent readers and see their replies