World Cup draw 2014: England drawn with holders Spain in official Group Stage rehearsal
South Korea and Ivory Coast complete Group E with Brazil, France, Italy and Australia making up the 'Group of Death'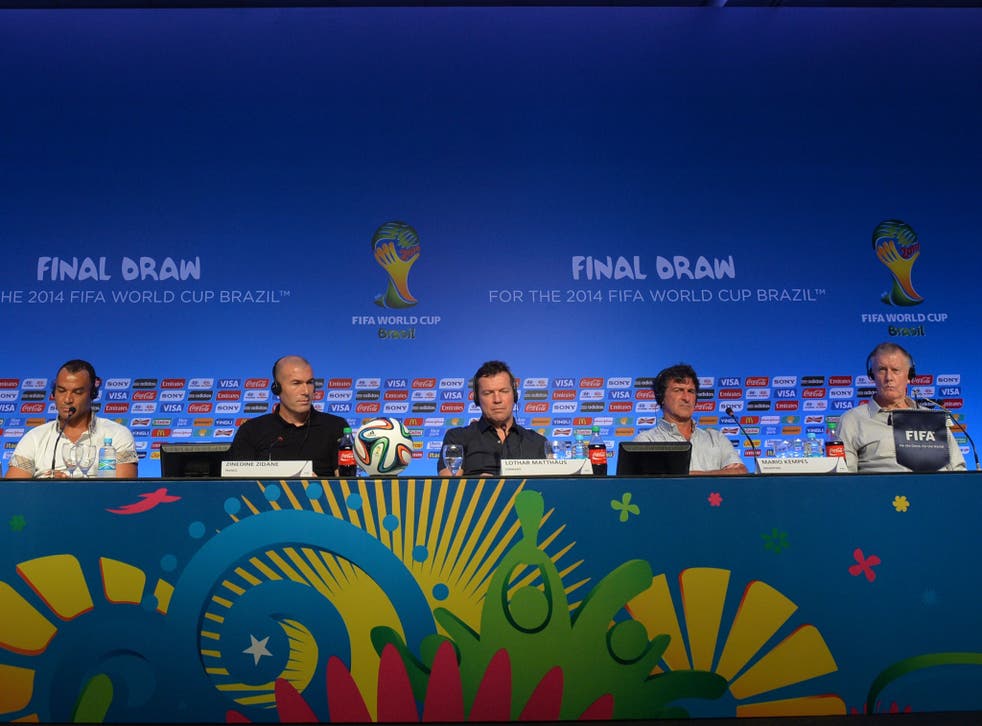 The official Fifa World Cup draw simulation has taken place throwing up a number of intriguing situations that would have a number of international managers experiencing a string of sleepless nights, including England boss Roy Hodgson.
The practice draw put England in Group E alongside defending world champions Spain, as well as Ivory Coast and South Korea. In the current Fifa world rankings, England sit 13th, just four places above Ivory Coast with Korea ranked 54th.
World Cup Draw 2014 LIVE - Who will England face in Brazil?
Hodgson's side would face a challenge just making it through to the second round, where they went out of the 2010 competition after the emphatic 4-1 defeat at the hands of long-time rivals Germany. With Spain still considered the best team in the world (according to Fifa) England would likely require wins against the other two teams to ensure progression from the group.
But the real attraction doesn't come from the Three Lions, but in Group A where Brazil, France and Italy were all drawn together alongside Australia – three of the last four World Cup winners – in a clear 'Group of Death'.
Should England make it through the group stage, a potentially tricky second round match would await against either Colombia or Holland, providing they come through Group F which also contains Cameroon and Honduras.
While there is a number of close groups which appear too tight to call, much-fancied underdogs Belgium would face one of the easier groups having been pooled together in Group H with Algeria, Mexico and Bosnia. With Belgium currently experiencing its own 'golden generation' with the likes of Christian Benteke, Eden Hazard and Romelu Lukaku shining in the Premier League among many of their international team-mates, they have been tipped for an unlikely appearance in the latter stages of the tournament.
The rehearsal Group Stage draw (in full):
GROUP A - Brazil, Italy, France, Australia.
GROUP B - Uruguay, Nigeria, USA, Croatia.
GROUP C - Argentina, Ghana, Costa Rica, Russia.
GROUP D - Switzerland, Chile, Japan, Greece.
GROUP E - Spain, Ivory Coast, South Korea, England.
GROUP F - Colombia, Cameroon, Honduras, Holland.
GROUP G - Germany, Ecuador, Iran, Portugal.
GROUP H - Belgium, Algeria, Mexico, Bosnia.
More on the World Cup...
Hodgson raises possibility of England switching base away from Rio
Why might England be moved to Pot Two?
Hodgson learnt dangers of boredom in 1994
England drawn with holders Spain in official Group Stage rehearsal
World Cup 2014: 'England aren't welcome here'
Trouble in the land of legends with Brazil pair Ronaldo and Romario in dispute
Join our new commenting forum
Join thought-provoking conversations, follow other Independent readers and see their replies