Chelsea midfielder Frank Lampard eyes 100 caps for England
Lampard is just four games away from reaching the century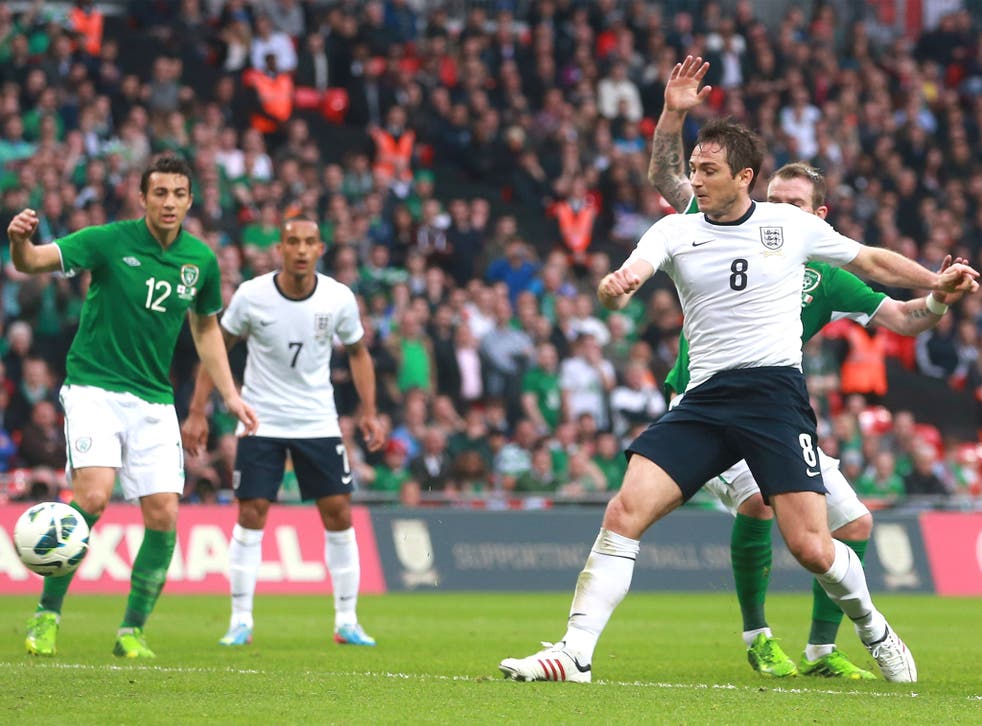 Frank Lampard has set his sights on yet another accolade as he closes in on a century of England caps.
The 34-year-old Chelsea midfielder has had an eventful season, breaking the west Londoners' all-time scoring record before winning the Europa League and signing a new one-year deal.
Lampard has also impressed on the international stage and yesterday scored England's leveller in a 1-1 draw with Ireland.
Ashley Cole, team-mate for both club and country, captained the side at Wembley last night after becoming just the seventh English player to reach the 100-caps mark.
It is a milestone that Lampard himself is eyeing, sitting just just four games shy of an elite band of players including Bobby Moore, David Beckham and Sir Bobby Charlton.
"You can't not think about it," the midfielder said.
"I am on 96, I have been around for an awful long time.
"I saw Stevie (Steven Gerrard) get that gold cap, which was well deserved, and then Ash last night.
"If I can get there and can stay involved in future games then I would be a very proud man if I did reach that.
"Ash certainly deserves the accolades. To get 100 caps, to start every game and to play at the quality and level he has played for such a long period of time, he deserves everything.
"I think the fans gave him the very right reception, he deserved the moment and the atmosphere was brilliant."
Lampard and Cole look set to add to their tally this weekend when England take on Brazil.
Roy Hodgson's threadbare squad arrive in Rio de Janeiro today and will be hoping to repeat the victory they achieved over the Selecao in February.
Lampard's stunning strike secured a 2-1 win at Wembley and, having beaten them for the first time in 23 years, now have the chance to get a second win over Brazil in four months.
"I won't get carried away, it will be a very tough game," he said.
"I know the Brazilian boys at Chelsea weren't happy coming here and losing. They are certainly going to want to beat us.
"If we can go there and get a result that would be fantastic for the lads' spirit and confidence going into the qualifiers
"We are trying to keep improving and it is good not to lose a game. We are trying to work on the team and work on our attacking play.
"There are things we can take away from last night that we are pleased with and things that we can tighten up on.
"We have a big game on Sunday, then a well-deserved break and then our minds will be on the qualifiers that are coming up."
PA
Join our new commenting forum
Join thought-provoking conversations, follow other Independent readers and see their replies