Cristiano Ronaldo starts crying as injury forces him off in Euro 2016 final to deal Portugal a major blow
Ronaldo suffered a knee injury after a robust tackle from Dimitri Payet, and to make matters worse a moth landed on his face as tears rolled down his cheeks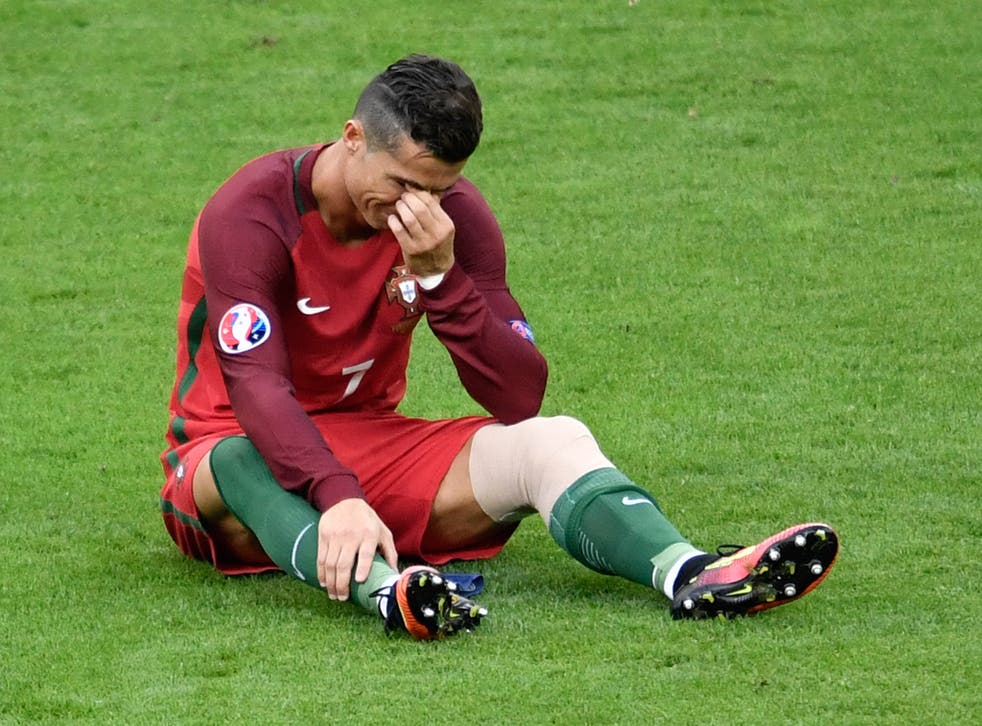 Cristiano Ronaldo was left in tears just 17 minutes into the Euro 2016 final after suffering a knee injury that cut short his night on the big stage.
With Portugal taking on France in the final of the European Championship, the stage was set for Ronaldo to steal the headlines as he has done so many times before, but his special moment at the Stade de France proved to be anything but that.
A strong but legal tackle from West Ham midfielder Dimitri Payet left Ronaldo clutching his knee on the turf, but ever the hero, Ronaldo continued in his way. However, it quickly emerged that all was not well with the Real Madrid superstar.
17 minutes into the match, he fell to the turf again, this time in tears as he clutched his knee, and the end was nigh for the £80m forward. To make matters worse, a moth landed on his face as the camera zoomed in on him crying, with a swarm of moths filling the Stade de France before kick-off.
The look on the face of Ronaldo told the story as he evidently knew he could not play a further part in the final, 12 years on from playing in Portugal's Euro 2004 final defeat by Greece, and he left the field in emotional scenes, receiving a standing ovation from the French supporters as well as his own fans.
Watch the video below...
Despite leaving the field, Ronaldo again tried to run off the injury as he returned to the field, but minutes later he signalled to the bench that he needed to come off, and he left the field with his head in his hands on a stretcher, with former Chelsea winger Ricardo Quaresma coming on in his place.
Join our new commenting forum
Join thought-provoking conversations, follow other Independent readers and see their replies