Dele Alli ready to start new chapter with England as Tottenham young gun continues his rise to the top
Speaking to The Independent, the Tottenham youngster looks back on his budding career and outlines his desire to push on with the international side under Gareth Southgate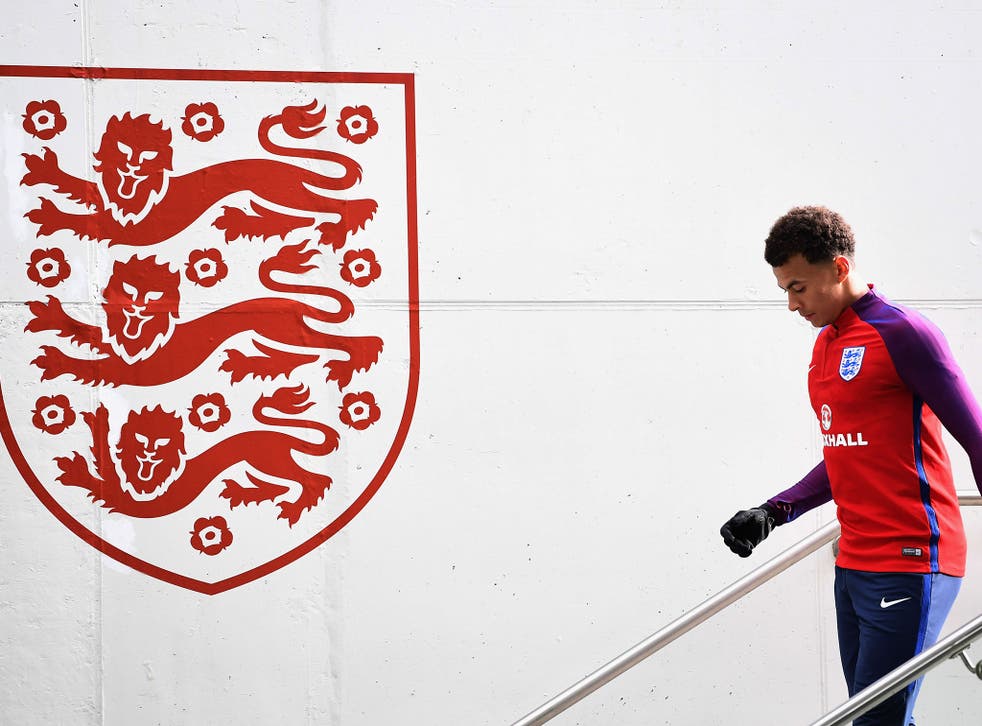 It was the sign of the manager, and a sign of the player. When Dele Alli found himself "in dark places" after England's humiliating Euro 2016 elimination to Iceland, there were a few who felt Tottenham Hotspur manager Mauricio Pochettino might want to take the hugely talented, but occasionally temperamental, 21-year-old aside for a bit of a pep talk.
The Spurs manager, however, knew better. He knew that Alli was the type of resolute individual who really only required to get out and play again; that there would be absolutely no lasting effects. Pochettino was of course correct.
Alli's career and form were elevated to another level with his team, his most prolific season - 18 goals in 37 games - helping drive them to second in the table and a hugely respectable title challenge.
On speaking to the player for even 20 minutes, you can see and hear precisely why Pochettino would have such faith in his attacker. Alli is impressively collected, talking about everything in his career - from his evolution to his occasional eruptions - with a creditable frankness, and no easy cliches.
It's all the more remarkable when you consider it's still only two years since he first made the move from MK Dons in League One to Tottenham and eventually the international team, but even that is framed with a considered reflection - and no little confidence in himself.
"I heard someone say this about something else - that it's unbelievable, yet believable at the same time," Alli says. "When it's happening, there are moments where you can't believe this is happening, but then you think 'I've worked so hard for so long and I've made decisions, so it is believable'."
The effects of such decisions and such a mindset could be seen last season, given that he came to such a considered conclusion about his own game.
"The start of the season was quite slow, after winning [PFA] Young Player of the Year the season before, I think opponents started to recognise me a bit more, so I had to change my game a little bit. But as a team we finished the season really strongly.
"We were disappointed not to win the league, but we definitely improved from the season before and it was good to get second place. It was important we got confidence back in each other and in the team. That happened quite quickly and, when it did, I think the form we found from then on was phenomenal."
Alli himself was often phenomenal, especially in Tottenham's 2-0 win over eventual champions Chelsea when he scored both goals - a display when he looked like a perceptive striker rather than the insightful playmaker he usually is. That, however, is because he doesn't just look like a striker. He used to be one, and such instinct evidently continues to linger.
"When I was really young, playing in the academy, I was a striker. I was on the bench a lot in the under-13s and then the manager took the decision to pull me back and put me just in front of the defence, so I found myself enjoying playing there, breaking up play, starting off the attacks, not worrying so much about scoring goals.
"But when I first broke into the first team, the manager started playing me a little bit further forward at the start, which helped me get an understanding of the attacking side again, the runs that strikers would be making, so I dropped back into more of a number-eight. Then as soon as I got the opportunity to play at Tottenham, I was happy to play anywhere. It was strange to be playing so high up the pitch when I first started playing in the Premier League, but the manager helped me out a lot to get an understanding. I'm enjoying it. Who knows where I'll end up."
If it seems amazing that Alli wasn't one of those players who dominated his youth sides, and that a manager could actually leave him on the bench, it wasn't one of those embarrassing regrets. It was for his own good. Alli credits his former coach Dan Micciche as essential to his development.
"He helped me out a lot when I was younger. It was because I wasn't as physically strong as the other boys at the age, so he said he did it so I could get more space and I didn't have to worry about physical battles and I could just focus on my strengths, which at the time were getting on the ball and passing. He helped me out a lot."
Alli says the "main player" he looked up to when growing up was Steven Gerrard but that background at MK Dons further fosters the sense that the Spurs player is a unique style of player in his own right, or at least the start of an exciting new type.
He has been held up as the most high-profile in a growing line of England internationals to have come up through the lower leagues rather than one of the elite academies, and there is an argument that it has simply given him the competitive game-time to hone the talent of hard edges in his play that hasn't been afforded to youth graduates of a similar age.
"For me, I just didn't want to rush into anything," Alli explains. "I was really young at the time, so I knew I had time to develop and I felt for my personal development I had a great opportunity there to try to break into the first team. Thankfully I did and when it came I took it and started playing a lot more games. I learned so much from playing in League One from such a young age.
"You see a lot of things going on in the league when you are playing. There are a lot of players going into tough challenges and little things that maybe you wouldn't get away with in the Premier League. But like I say I've had to look after myself for a long time in the football world.
Dele Alli: PFA Young Player of the Year in numbers
"There are a lot of different paths that people take, so there's no right or wrong way… I don't think there's any right and wrong [way]. When you get chucked in at the deep end, you have to make sure you take the chances and I'm thankful for everything that has happened so far."
Alli used to be a long-distance runner when he was in school and feels that same stamina and fitness is also a help in the modern game - "you're getting into them last minutes of the games, and you want to be on top and dominating the ball" - but something else that hasn't gone from his game from those days is the "red mist" that would descend. Again, it was something that Micciche worked on with him but not something that Alli wants to lose, despite admitting he does occasionally regret losing his temper.
"When I was younger I always used to get into tackles and things like that and if he [Micciche] could see me losing my temper and stuff he'd pull me off the pitch straight away and put me in the sin bin. It's something that has always been in my game and like I say it's not something I'm looking to change.
"There was also the challenge in the Europa League [against Gent]. I know it looked really bad and it was a really bad tackle but I know, myself, that I would never go out to hurt someone. It was just a poorly timed tackle and, like I said, I apologised to the guy straight away… it was a mistake.
"I know there are a lot of mixed opinions about it but that's the player I am and it's been in my game every since I was a youngster. That's not something I am looking to change to be honest."
He does want to change the record with England, though, and is one of many who wants to transform the negative of Iceland into a positive; the type of moment that will be seen as a turning point.
"We've done a lot of work in the camp, we've talked about it, and I'm sure Gareth's aware of how hard it is to talk about it as players, such a low point in our career so far as players. It's important that we do go to them dark places to improve as a team and he's explained that to us and it's one of them we were shocked the situation we found ourselves in at the time, when maybe as a team we hadn't worked enough to realise how to come back from that and to deal with being in a situation like that. It's something to work on as a team, and hopefully won't happen again.
"It weren't really until I come back here when I'm out with England, and Gareth coming… until then you don't really want to talk about it or think about it.
"It still makes your heart go and you know you get a lump in your throat but, yeah, I think it's important as a team that when something like that does happen… you do need to go through it and see what happened and where we went wrong. There are so many fine inches in football to be successful and it's important that when you have the chance to improve as a team you have to take it, even if it does mean going through something like that."
No-one, however, should doubt Alli's capacity to come through it.
Join our new commenting forum
Join thought-provoking conversations, follow other Independent readers and see their replies