England's path to the Final at Euro 2016
There are a great many permutations but no easy route to the Final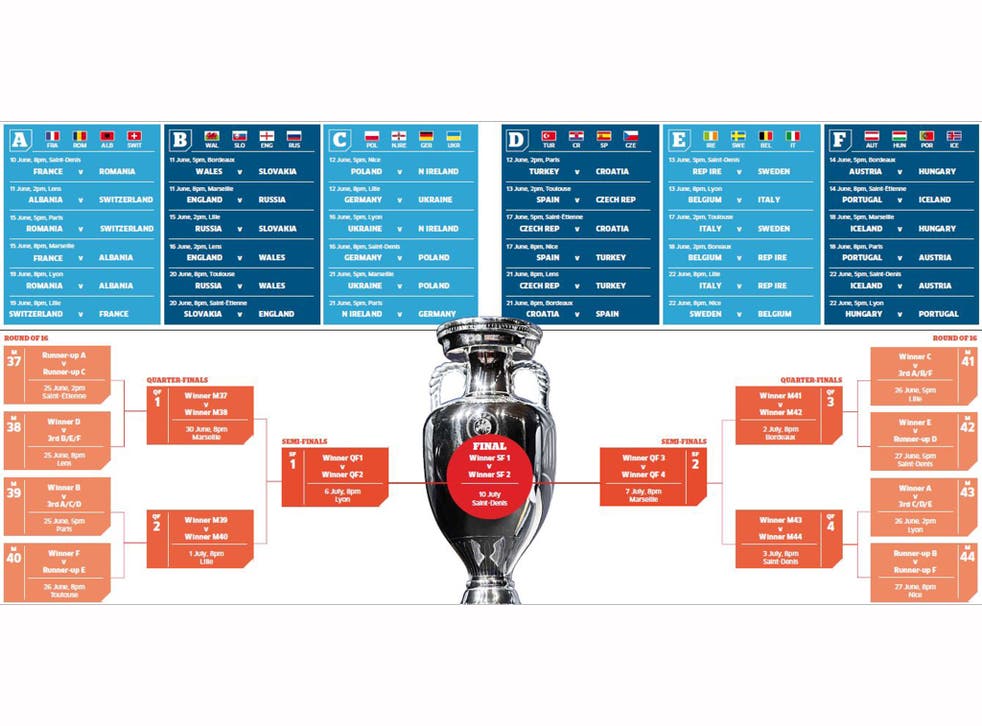 England's path to the final is a long and complicated one, depending not only on how they get on in the group stages, but also how the teams get on in every other group.
For this tournament the four best third-placed teams will also reach the round of 16, but depending on which set of teams make it through also impacts on England's progress, if the Three Lions end up topping Group B.
For example, if the four best thrird-place teams come from Groups A, B, C, and D then England will face the team from Group D.
The full variations are below:
Of the 15 combinations, seven of them see England facing a team from Group D, which is made up of Spain, Turkey, Croatia and the Czech Republic.
Seven of the combinations also see them face the third-best team from Group A, made up if France, Romania, Albania and Switzerland.
Just one combination sees them face the third-place team from Group C (Germany, Ukraine, Poland, Northern Ireland).
Assuming England finish as group winners, then beat whichever third-place team from one of the above groups in the round of 16, they could then face one of Portugal, Belgium, Italy (or even the Republic of Ireland).
A potential semi-final could be against France or Spain.
The path is very different if they finish second in the group.
The Round of 16 game would come against the runner-up of Group F (Portugal, Austria, Iceland, Hungary).
The quarter-fianal could potentially come against France or a third-placed team from group, C, D, or E. A semi-final, depending on a number of permutations, would come against Germany, Belgium or Italy.
EURO 2016 GROUPS
GROUP A
France, Switzerland, Romania, Albania
GROUP B
England, Russia , Slovakia, Wales
GROUP C
Germany, Poland, Ukraine, Northern Ireland
GROUP D
Spain, Croatia, Czech Republic, Turkey
GROUP E
Belgium, Italy, Sweden, Republic of Ireland
GROUP F
Portugal, Austria, Hungary, Iceland
Join our new commenting forum
Join thought-provoking conversations, follow other Independent readers and see their replies