England squad: Jamie Vardy will play where I want him to play, says Roy Hodgson
Striker included for the friendlies with Spain and France having scored in his last eight consecutive Premier League matches
Jack Pitt-Brooke
Friday 06 November 2015 00:11 Comments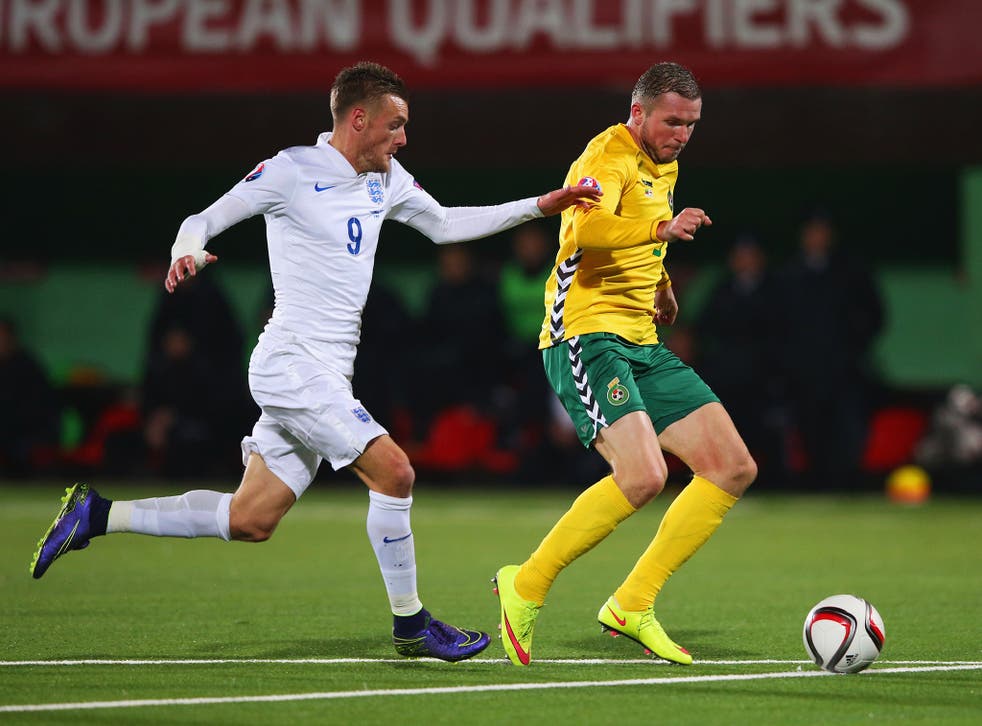 Roy Hodgson has told Jamie Vardy that the striker's remarkable run for Leicester City does not guarantee him a centre-forward role for England's two forthcoming friendlies.
Vardy is in the squad for the games with Spain and France, having scored in his last eight consecutive Premier League matches. There is a growing clamour for him to play up front in Alicante next Friday, and his team-mate Kasper Schmeichel said this week that Vardy was the best striker in the country.
Hodgson, though, insisted that club form did not automatically earn anyone a starting place in the national team, especially a player as new to the England set-up as Vardy.
"I would expect Vardy to play in any of the positions, even if I wanted him to play in midfield, which he can do," Hodgson said of whether Vardy would play as a No 9. "I would expect him to jump at the chance because it would be a chance to play for England. I think that I must emphasise that when I select a squad of players I don't pick them on what the mass media or social media say."
Hodgson said that he was trying to "defuse hype" around Vardy, by not being excessively swayed by his recent goal record. "I am trying, as I sometimes try to do, always unsuccessfully, to defuse hype," he said. "And to make one very important point, that an England shirt is a very valuable commodity. When you have only started two games you are in no position to go to the coach and say, 'I will play for England but only in this position'. That is the point I am trying to make."
Vardy was playing non-league football five years ago and Hodgson said he had not expected the player to rise so quickly through the leagues. "I would be lying if I didn't say I was surprised, pleasantly surprised," Hodgson said. "When we selected him, I don't think there were a lot of people in the room saying, 'Fantastic – that is a great idea as Jamie Vardy is the obvious man'. And now you are. That is all credit to him."
England have included Tottenham's 21-year-old Eric Dier for the first time, after he has impressed for Mauricio Pochettino's Spurs in a new holding midfield role.
"I have picked him because of his performances for Tottenham in that position, where I think he has done extremely well," Hodgson said. "It has not been easy to keep a place at Tottenham with all the quality players they have in the squad. To keep his place and be a regular, that is something he can be very proud of."
Dier will provide support to the veteran holding midfielder Michael Carrick.
"We do need someone that can support Michael Carrick or cover Michael Carrick and I think Eric is a player who interests me most, especially in terms of his future development."
Register for free to continue reading
Registration is a free and easy way to support our truly independent journalism
By registering, you will also enjoy limited access to Premium articles, exclusive newsletters, commenting, and virtual events with our leading journalists
Already have an account? sign in
Join our new commenting forum
Join thought-provoking conversations, follow other Independent readers and see their replies