England v Scotland: Rickie Lambert recollects his journey from the beetroot factory to Wembley
Not so long ago the Southampton striker worked in a factory for £20 a day just to keep his football dream alive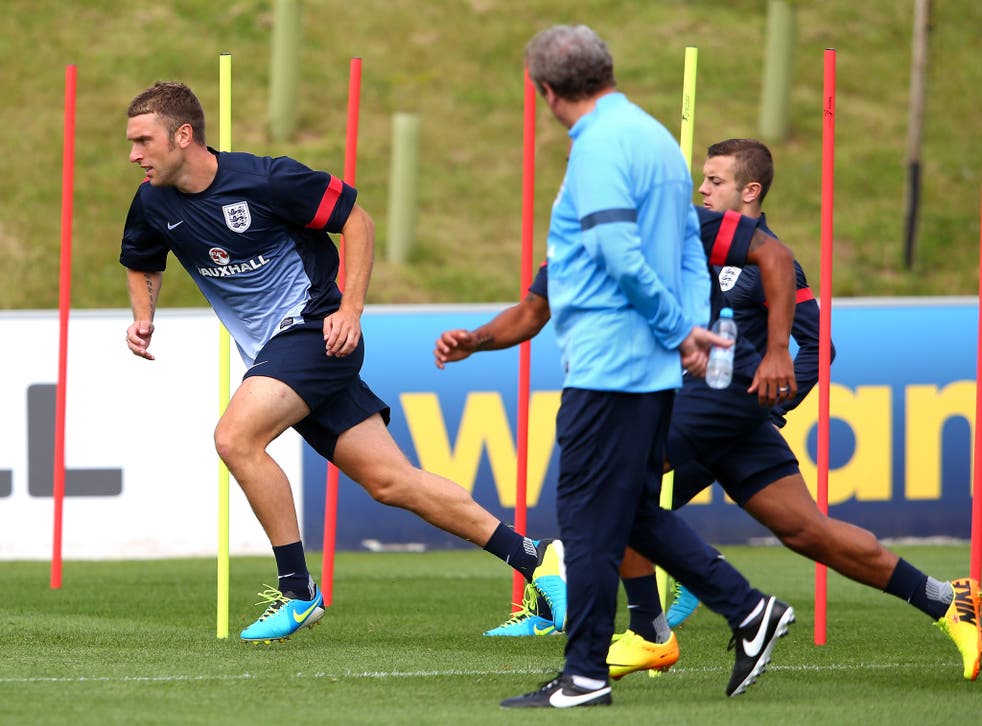 Rejected from Liverpool at the age of 15 and earning £20 a day putting the lids on jars of beetroot in a Merseyside factory three years later while trying to make it as a professional at Macclesfield Town. Rickie Lambert said that all along he never gave up his dream of playing professional football and yesterday he made his first public appearance as a member of the England squad.
The Liverpudlian who scored 15 goals for Southampton in the Premier League last season tells it straight. What was it that Alan Pardew told him that turned Lambert's career around four years ago? "That I was overweight basically." Are some foreign players blocking the path of young English talent? "Definitely". Who showed you the door at Liverpool? "Steve Heighway... and at the time he was quite right to let me go."
The 31-year-old has been around long enough – Blackpool, Macclesfield, Stockport, Rochdale and Bristol Rovers before he signed for Southampton in 2009 – to know that there is no point talking around the subject. His call-up was announced on Thursday while he rested following a sleepless night with his wife as she gave birth to their third child, Bella. "I knew England were playing Scotland but I had forgotten about it," he said yesterday, "and I didn't know when the squad was being announced until I got the phone call."
It is always the players who have had to work their way up the ladder who can talk about their careers – the times they have fallen short, the occasions they have worried when the next contract was coming from – with the most freedom. Lambert is no exception. His story about working in a beetroot factory is the pick of the lot.
He worked there when he was effectively out the game in the four months after Blackpool released him in November 2000 and before Macclesfield Town picked him up. It really did pay him £20 a day and he only stopped doing it when Macclesfield offered him a contract.
"I wasn't getting paid for four or five months. It was a very difficult time. I was debating what I could do outside the game. But I didn't want to do anything outside of football. So I was trying my best to get to training at Macclesfield because it wasn't close. It was an hour and 15 minutes to train with them. It was a hard time but I never thought for a second that I was going to stop playing football.
"The beetroot factory was one of the only jobs I could get at the time. I was putting lids on jars. I was getting paid £20 a day. I would work in the day and go training at evening.
"I had been at Liverpool from the ages of ten to 15. I was basically told I wasn't good enough which was a hard thing to take at the time. I thought it was the end of the world. But I can tell people in the same situation now that it is not the end of the world, it should drive you on to succeed even more."
Even so, when he signed for Southampton in 2009 for £1m, having had three good seasons when he made his name at Bristol Rovers, there was still some way to go. "It was basically when Alan Pardew, the Southampton manager at the time, told me I wasn't professional as I should have been," he said.
"That really stuck in my brain. And from then I was determined never to be like that again. I was overweight basically. I wasn't as fit as I should have been. I wasn't looking after my body the way I should have been.
"I've got to give so much credit to Southampton. The fitness coach and the physio there changed me physically. They really did wonders for me. Since I've gone to Southampton they have been superb for me."
Two seasons ago Lambert had not even played in the Championship. Even now he understands that he is with the England squad for Wednesday's friendly against Scotland because of the shortage of options left open to Hodgson when it comes to his strikers. But for a man who has endured more than his fair share of knock-backs and disappointments Lambert remains undeterred in his determination that, unlike recent one-cap wonders Kevin Davies and Jay Bothroyd, he will be back at St George's Park again this season.
"I truly believe I deserve to be here right now. I can understand people questioning whether I should be here. That's fair enough there are questions about every player who gets called up by England. It is up to me to try and prove people wrong again and prove to myself I am good enough."
Join our new commenting forum
Join thought-provoking conversations, follow other Independent readers and see their replies