England v Uruguay: Luis Suarez says he is '100 per cent' fit, and is targeting 'deficiencies' in England defence
The Liverpool striker has been battling a knee injury, but despite playing no part in Uruguay's opening game, is confident he will be ready by Thursday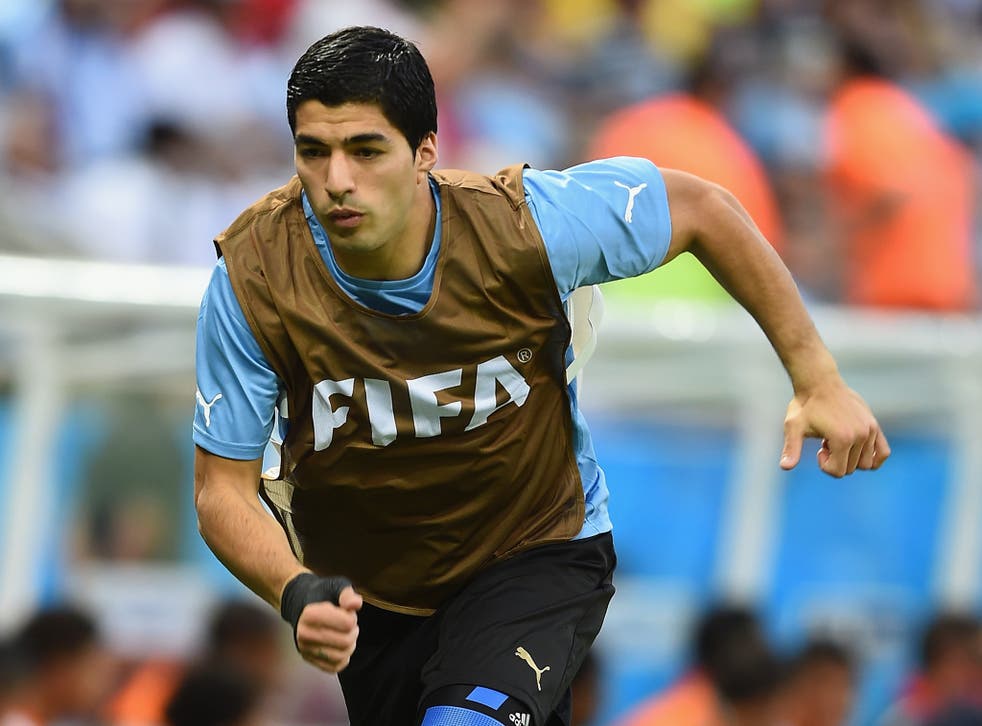 Luis Suarez has declared himself "100 per cent" fit to face England on Thursday, adding that he could exploit what he said were the defensive weaknesses of Roy Hodgson's team.
Speaking at the Uruguay training camp in Sete Lagoas, near Belo Horizonte, Suarez said that he was ready to play. The Liverpool striker did not feature at all in the 3-1 defeat to Costa Rica on Saturday and has not played since he injured his knee on 22 May, a meniscus problem that subsequently required surgery.
In an interview with the Uruguayan website, ovaciondigital.com, Suarez said: "I know all the players in the England squad, I know some of them because they are team-mates or opponents. They have defensive weaknesses and we can take advantage of them.
"At no moment did I think I would miss the chance of playing in the World Cup. I've never thought that during my recovery. Now I am 100 per cent."
England 1 Italy 2 player ratings

Show all 22
The Uruguay coach, Oscar Tabarez, would not say whether Suarez would start the game in Sao Paulo or not, preferring to claim that it was "a possibility".
Daniel Sturridge, Suarez's Liverpool team-mate, said that he had not been in contact with his strike partner but hoped he would play. "I'd not wish injury on any player. Would I want Luis to be injured? Would I want to play against Luis? It doesn't really matter. We're playing against Uruguay as a team.
"If he is fit, good luck to them. If not, there'll be another hungry player doing his best. Regardless of whether it's Luis or another striker, they'll be desperate to score goals."
Wayne Rooney had some extra training away from the rest of Saturday's starting XI yesterday in an attempt to give the Manchester United man added sharpness before the crucial World Cup group game on Thursday. The 28-year-old was separated from the main group of nine outfield players from Saturday who warmed down together at England's first training session since the defeat to Italy. He worked with the nine outfield players who were on the bench in the first group game, in a more intensive session involving drills and shooting.
Rooney has said that there is nothing wrong with his fitness following his lay-off with a groin injury at the end of the season and reiterated after the Italy game that he was in good shape physically. There was no attempt by the Football Association to disguise the fact he was training separately, with the division taking place during the open part of a training session at the squad's Urca training base in Rio de Janeiro.
The Fifa statistics on Saturday's game against Italy revealed that Rooney had run further than any other player on the pitch, 11,223 metres. Claudio Marchisio was second with 11,152 metres. Rooney also ran the furthest in possession of the ball of any of his English team-mates (4,477 metres); and he made the second highest number of sprints (35), behind Leighton Baines.
Alex Oxlade-Chamberlain also returned to do some training with the squad yesterday, briefly giving Hodgson a full complement of players on the training field for the first time in Brazil. The Arsenal man who suffered a strain to the medial ligament in his right knee during the friendly against Ecuador in Miami worked with the squad for part of the session before going off to do drills on his own with fitness coaches.
Danny Welbeck said that his United team-mate Rooney might encounter frustration playing out of position on the wing for England, as he did against Italy, but was prepared to do it for the team. Welbeck said: "I think it could be quite frustrating at times for anyone playing out of position, but that's football and you've just got to deal with it.
"It's not up to you who picks the team, at the end of the day it is the manager's decision and I think you've got to respect that, and give it 100 per cent, give it your best shot."
Join our new commenting forum
Join thought-provoking conversations, follow other Independent readers and see their replies