England vs France: David Cameron to attend Wembley match as armed guards given shoot to kill order in event of terrorist attack
David Cameron and Prince William will both be in attendance at Wembley Stadium where police have been briefed with a shoot to kill order in the event of a terrorist attack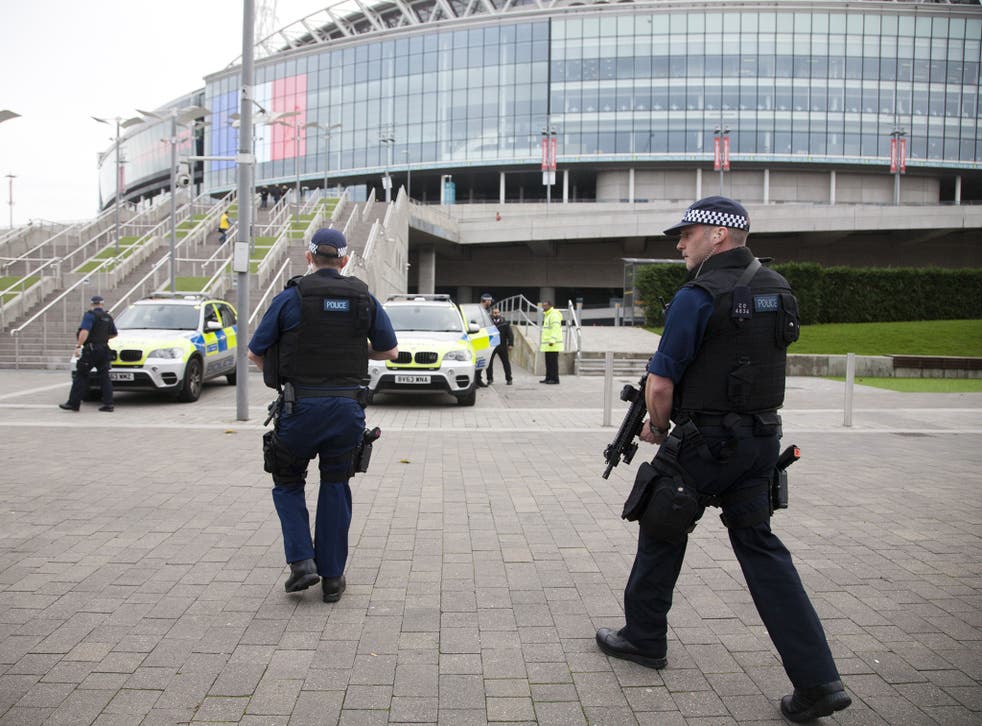 Prime Minister David Cameron will attend tonight's international friendly between England and France in a further show of unity with the nation as they recover from Friday's horrific terrorist attacks in Paris that left at least 129 dead, with armed guards patrolling the ground being issued with a shoot to kill order in the event of a terrorist attack.
The match will go ahead as planned at Wembley Stadium, although what was once considered a meaningless friendly that gave Roy Hodgson another chance to prepare for next summer's European Championships has now taken on the significance of being one of the most important international matches ever seen.
England and France supporters will unite in defiance against those who so senselessly attacked the French capital last week, including a football match at the Stade de France where France were playing Germany.
Cameron said: "The barbaric terrorist attacks in Paris have shocked the world – but also united us in our unwavering resolve to defeat this evil.
"Tonight at Wembley, football fans will join together to show their solidarity for the French people. They will send a clear message – the terrorists will never win."
During the match, French president François Hollande was seen in the Stade de France stands, where he was informed of the attacks that were developing across the city forcing him to leave the game before half-time.
Rooney offers condolences to Paris victims ahead of France match
Armed police have already been seen making their presence known outside the national stadium although it has been stressed that many of the security measures in place for the match were already in place before the attacks took place.
However, the shoot to kill order that is in force in London in the event of a terrorist attack will apply to Wembley Stadium tonight.
As well as the Prime Minister, Kensington Palace has confirmed that the Duke of Cambridge, Prince William, will also attend the match in a show of ""solidarity to the people of France".
The world mourns Paris attacks - in pictures

Show all 25
Fans have been asked to join their French counterparts in the stadium in singing the national anthem of France, La Marseillaise, while the Wembley arch will be lit up in blue, red and white of the Tricolor as it has been since Saturday.
The French Football Federation asked the English Football Association for the game to be played despite initial fears that is would be cancelled over safety fears after the attacks. FFF president, Noël Le Graët, took the decision himself to continue with the match despite failing to consult either the players or the national team coach Didier Deschamps.
Le Graët believes that playing the match will be exactly what the terrorists guilty of Friday's attacks would not want, and the show of unity between two nations that see each other as fierce sporting rivals will help the healing process following three days of mourning in France.
Join our new commenting forum
Join thought-provoking conversations, follow other Independent readers and see their replies