England vs France: Playing at Wembley sends clear message unity and defiance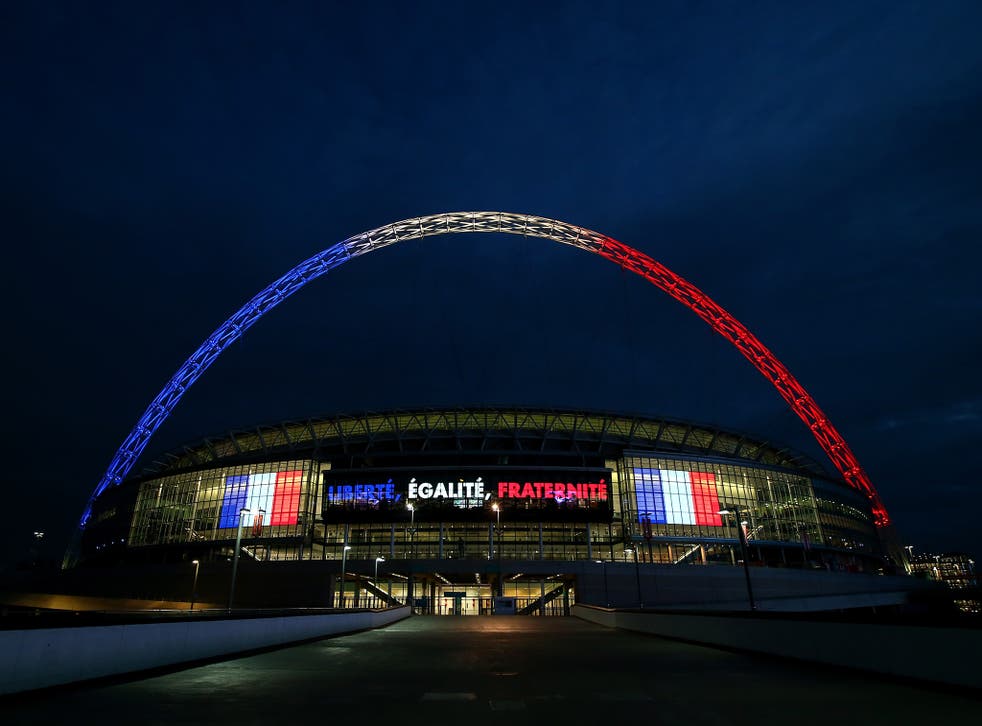 England hosting France seemed in serious doubt in the immediate aftermath of last Friday's terror attacks, but the decision to go ahead with it has generally been welcomed in the French media.
Vincent Duluc, chief football writer of the French daily sports newspaper L'Equipe, wrote in Monday's edition: "To play at Wembley at the heart of the mourning can be seen as an act of resistance, of national and international unity, a way of sending a message about resilience, of standing up in homage to those who were killed and in defiance of those who spread fear and death. It is only a football match, but it must be played to ensure that the defeat is not total."
Duluc pointed out that football and all it represents had been a target of the attacks when three terrorists blew themselves up outside the Stade de France during France's international match against Germany.
"Football, the French team and the Stade de France were targeted as symbols," he wrote. "Having a drink on the terrace with friends, going to a concert, attending a football match: that is the way of life that was attacked. And it is this way of life that must be defended and maintained as we continue to sit out on that terrace, to love music, to play football and go to matches together."
Jérôme Bergot expressed similar sentiments in Ouest France. "Life must continue despite the atrocities," he wrote. "That is true for all professions, for all social categories. Football has always been a place where people meet: all people, players and spectators, whatever their faith or their social standing, the colour of their skin or where they come from – a mixture which sums up the human race. To have not played this match would have been a tragedy within a tragedy."
Maxime Dupuis, writing on Eurosport's French language website, said: "England and France will contest more than a football match at Wembley on Tuesday. It will be life's response to barbarity."
The world mourns Paris attacks - in pictures

Show all 25
The request to England supporters to join in the singing of the French national anthem before the match has been widely reported and drawn many messages of approval. "For once, our best enemies will be our friends," a contributor wrote on the website of Le Figaro. Another said: "It will be a moment of immense emotion for all those who are French to the core. Thank you to the English."
The attacks have had direct effects on two members of the 23-man French squad. Midfielder Lassana Diarra lost a cousin in the attacks, while a sister of striker Antoine Griezmann was among those who escaped from the Bataclan concert hall.
--
Fans told to expect armed police units at stadium
Armed police will be deployed at Wembley Stadium tonight in the wake of the Paris terror attacks, the Metropolitan Police has said.
The friendly is being played just four days after the strikes across the French capital in which at least 129 people were murdered, and fans going to the game have been told to expect an increased police presence at transport hubs and "in and around" the stadium.
Deputy Assistant Commissioner Peter Terry said: "We've reassessed what security we think we need." While he said no specific threat had been made against the match, he asked fans to be the police's "eyes and ears". Terry added: "We've assessed what happened in France and we've changed what the appearance of the security will look like. In and around the stadium people will see armed officers, which is something they wouldn't normally see."
Police have asked fans to set off early as there will be extra searches conducted at the stadium. The Premier League, meanwhile, will issue new security guidance to clubs on Thursday following discussions with police, the Government and security advisers.
David Mercer
Join our new commenting forum
Join thought-provoking conversations, follow other Independent readers and see their replies