England vs Scotland: Luke Shaw still has leg break pain, says Gareth Southgate after Jose Mourinho's verbal attack
Shaw suffered a double leg fracture 14 months ago and Southgate revealed he still suffers from pain in his right leg, despite Mourinho questioning his commitment to playing for United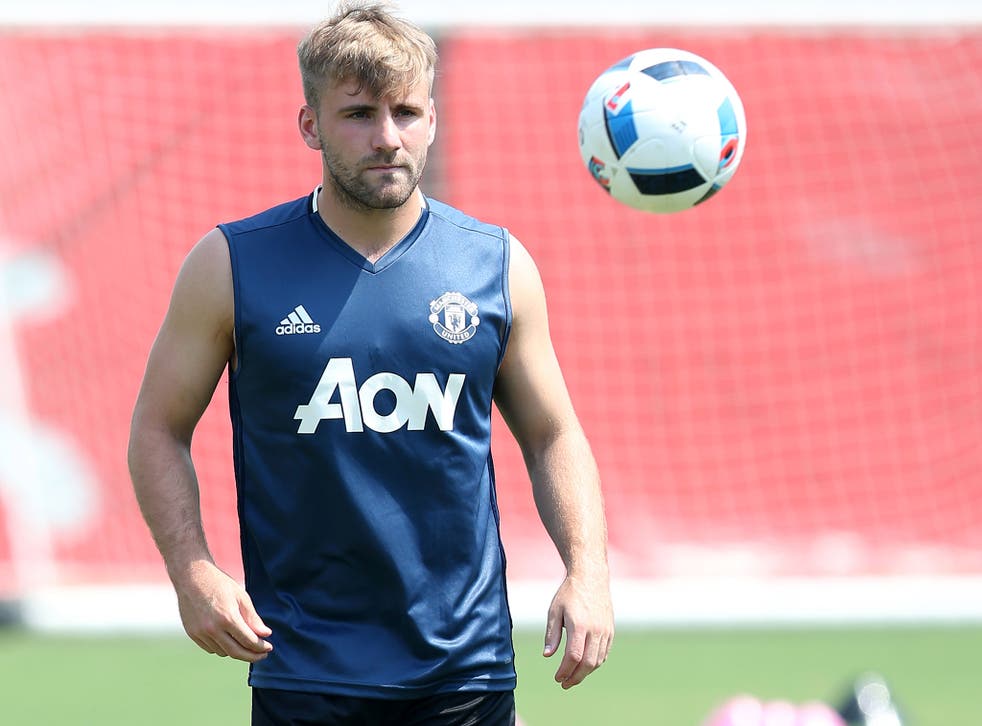 England interim manager Gareth Southgate declared on Monday that Luke Shaw – strongly criticised by Jose Mourinho for dropping out of the Manchester United squad at Swansea – has been struggling with genuine injury problems related to his horrific leg break.
Shaw is still experiencing pain in the back of his leg, 14 months on from the injury he suffered against PSV Eindhoven for United, though Mourinho made it clear he felt the defender and teammate Chris Smalling had let United down by failing to declare themselves fit to face Swansea.
Southgate, whose prospects of becoming permanent England manager are contingent on the performance against Scotland on Friday and Spain in next Tuesday's friendly, said both players had been injured. "Chris hasn't played for quite a while and Luke has played but we've known he's had ongoing difficulties coming back from a very serious injury," Mourinho said.
"Our medical teams – as with all the clubs – have been liaising very closely throughout the week (with United). The decision with Luke was a bit later but we've been aware both have been carrying injuries.
"In terms of what Jose said that's a club matter, it's not for me to comment on in terms of players playing with injuries. There's always a line for a player. I think players want to play, generally. In individual situations you need more information to be able to comment. It totally depends on what an injury – what part of the body, what are the ramifications...it's a very individual thing."
Southgate said his players should be entitled to wear armbands carrying poppies in Friday's games, despite Fifa outlawing the gesture as a political message. The FA and SFA insist the poppy is a symbol of remembrance and respect and should not be regarded as political.
"It's part of the history and tradition of what we are as a nation, the remembrance," Southgate said. "The fact we have the freedom of speech to make statements as we see fit, we owe it to the people that gave their lives in the two world wars in particular.
"I am aware that everybody will have an independent view and one of the reasons we wear the poppy is to remember the fact that we have the freedom to make those decisions in this country and the freedom to comment on things like that, so that's an important fact to bear in mind.
"The reason we have freedom of speech, free press – whether that's good or bad, you can decide that! – but that is I think one of the things we recognise by wearing the poppy. That's what was given by those that gave their lives in those wars."
Jack Wilshere has been recalled to the England squad by interim manager Gareth Southgate, with striker Harry Kane also returning for Friday's World Cup qualifier. Adam Lallana, Danny Drinkwater, Nathaniel Clyne and Raheem Sterling have been brought back after missing Southgate's first two games as caretaker manager, but Ross Barkley has not made the squad.
Register for free to continue reading
Registration is a free and easy way to support our truly independent journalism
By registering, you will also enjoy limited access to Premium articles, exclusive newsletters, commenting, and virtual events with our leading journalists
Already have an account? sign in
Register for free to continue reading
Registration is a free and easy way to support our truly independent journalism
By registering, you will also enjoy limited access to Premium articles, exclusive newsletters, commenting, and virtual events with our leading journalists
Already have an account? sign in
Join our new commenting forum
Join thought-provoking conversations, follow other Independent readers and see their replies