England vs Switzerland match report: Wayne Rooney breaks Sir Bobby Charlton's 45-year goal record as Three Lions ease to victory
England 2 Switzerland 0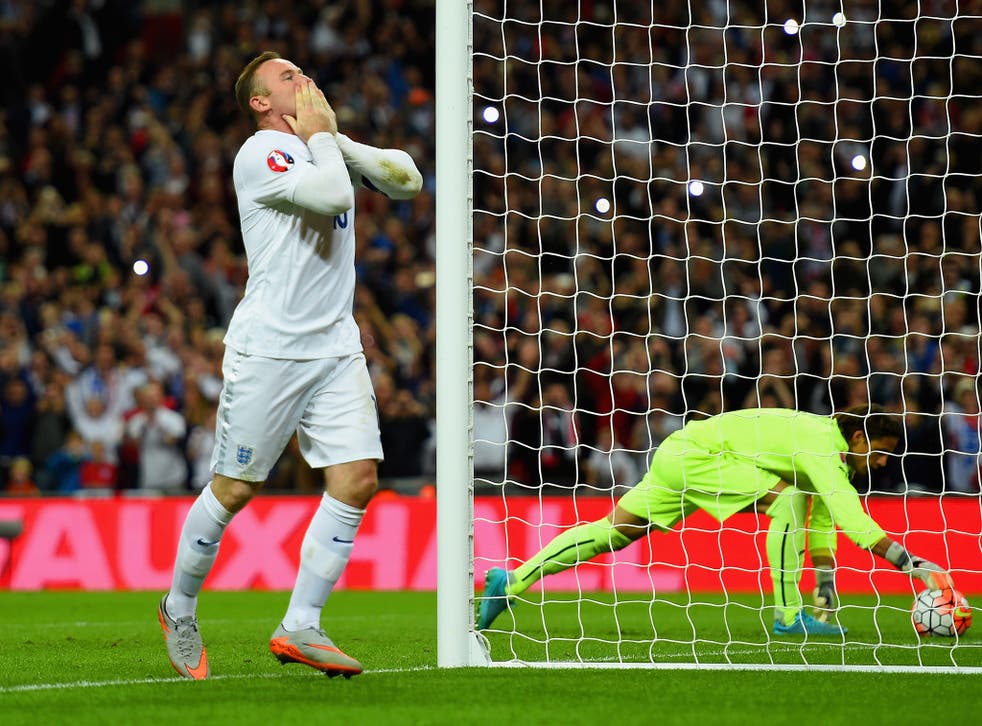 Sir Bobby Charlton's England goalscoring record stood for 45 years, back to a time when the national team were still champions of the world, and the British record transfer fee was the £200,000 that Tottenham Hotspur paid West Ham for Martin Peters. Records are made to be broken, but the longevity of the one that Wayne Rooney surpassed demonstrates the scale of his achievement.
The 50th England goal of Rooney's career has arrived at last and no matter that it was his third penalty in four days or that the Switzerland goalkeeper Yann Sommer got a hand to it on its way in. More than two months before his 30th birthday, Rooney has passed Charlton's 49 England goals, one of the great milestones of English football and that achievement will be his to cherish whatever lies ahead.
Will it be broken within the next 45 years? You might say that if anyone has a chance it is Harry Kane who scored his third England goal in the space of four senior caps and sparked life into a qualifier that was hitherto severely lacking a theme. But the night belonged to Rooney who stepped up to hit his penalty at the eastern end of Wembley with eight minutes left and every one of the 75,751 in the ground about to witness a bit of history.
England 2 Switzerland 0 player ratings

Show all 13
For a few years now it has been clear that Rooney would, catastrophe aside, not fall short in the way that Gary Lineker and then Michael Owen did in pursuit of Charlton's record. For that reason alone it might be that the accomplishment of 50 goals has lost its capacity for wonder. But it should not be that way. Charlton scored his 49th goal in the pre-1970 World Cup friendly against Colombia. This is a record that has stood for more than a generation.
For Roy Hodgson it means that we can all move on to talking about something else as his side begin the preparation for Euro 2016. This victory was the eighth straight qualifying win and it ensures that England will win Group E. It all helps with Fifa ranking points and potential seedings and it means that England remain the only team with a 100 per cent record in qualification for the tournament.
It was a brief night's work for Fabian Delph, nine seconds of the game all told when he pulled up sharp and ran a hand along the back of his right thigh. As England caps go, this one came at a cost to Delph who has managed just 16 minutes over two substitute performances for Manchester City having begun the season injured, and he will be anxious this does not prove a longstanding problem.
It was a year to the day that he had made his first England start against the Swiss in Basel and proved a spectacular success in that critical victory for Hodgson's team. Without him England do lack that briskness in the centre of the pitch that has characterised there best moments over the qualifying campaign.
There was a very early change for Hodgson, bringing on Ross Barkley who had started against San Marino on Saturday only to find himself predictably back on the bench again. To accommodate Barkley's introduction to the game, Hodgson switched from 4-3-3 to 4-2-3-1 with Barkley in the No 10 role and James Milner and Jonjo Shelvey behind him.
Against a quicker, slicker passing team, Shelvey found himself marooned in midfield more often than was ever the case with the Sanmarinese. As for Milner, he was obliged to adopt the passing, playmaking role that Hodgson would ideally have Jack Wilshere fulfilling. It is not like Milner cannot hit a good pass, it is simply that he cannot do it as often as England would like.
Neither was it Rooney's best performance before the break. He swept one wide with his right foot on 17 minutes when Milner had played him in through the left channel. Three minutes later the pair of them combined again and Milner, who has one England goal in 56 caps, struck his shot straight at Sommer. Hodgson's side had started brightly but they got sloppier and Switzerland carved out a couple of chances.
The best of them required Joe Hart to fling himself at the feet of Stoke City's Xherdan Shaqiri to stop him on his way through on goal. Yet for all the struggles England endured in creating a chance in the first half, the Swiss did little more. This was a tired qualifier towards the end of an uninspiring group. For Hodgson, the challenge was always going to be rousing his England side to treat this as more than just a game after the matter of qualification had been settled.
He changed the formation again before the hour, replacing Shelvey with Kane and moving Rooney back into the No 10 position previously occupied by Barkley. From there Barkley dropped back alongside Milner as the pair in front of the back four. It is the position the Everton man is best-suited to in the long term but not one in which Hodgson has been ready to trust him in.
Kane never regards any game as anything less than of the utmost importance and his fresh legs at the leading edge of the England attack gave the game a new energy. His goal owed much to that precious talent of being in the right place at the right time. On this occasion lurking on the right side of the box to hit Luke Shaw's well-judged cut back first time inside the near post, and celebrate with his new Alan Shearer-style open palm salute.
With the lead, England never looked back. The Swiss, on the other hand, seemed to give up hope and there was a very lacklustre attempt to get the ball away from Raheem Sterling on the left side of the area with nine minutes to play. The ball was returned to his feet and in full view of the German referee, who had an erratic night, Granit Xhaka clipped the ankle of the England winger.
This was Rooney's cue, with thousands of mobile phones in the stands behind the goal held up to capture the moment. His goal record in terms of friendly to competitive matches is almost identical to Charlton's, and he has just one more cap, 107, than the older man. His penalty was hit high and while Sommer laid a glove on it there was more than enough power to take it past him. Rooney has played it cool when it has come to talk of the record in recent months, but for a few seconds, even he seemed happy to bask in the magnitude of this accomplishment.
England (4-3-3): Hart 7; Clyne 6 (Stones 68 - 6), Cahill 6, Smalling 7, Shaw 7; Milner 6, Shelvey 5 (Kane 57 - 7), Delph 5 (Barkley 3 - 6); Oxlade-Chamberlain 5, Rooney 7, Sterling 6.
Switzerland (4-3-3): Sommer 6; Lichtsteiner 5, Klose 5, Schar 6, Rodriguez 5; Xhaka 6, Inler 6, Behrami 5 (Dzemaili 79); Shaqiri , Drmic 5 (Embolo 63), Stocker 5 (Seferovic 72).
Referee: G Rocchi (Italy).
Man of the match: Rooney
Rating: 6
Man of match: Smalling
Booked: Milner
Attendance: 75,751
Join our new commenting forum
Join thought-provoking conversations, follow other Independent readers and see their replies