England vs Uruguay match report World Cup 2014: Luis Suarez puts England on the brink of exit despite Wayne Rooney's first World Cup strike in 2-1 loss
Should Italy and Costa Rica draw on Friday, England are out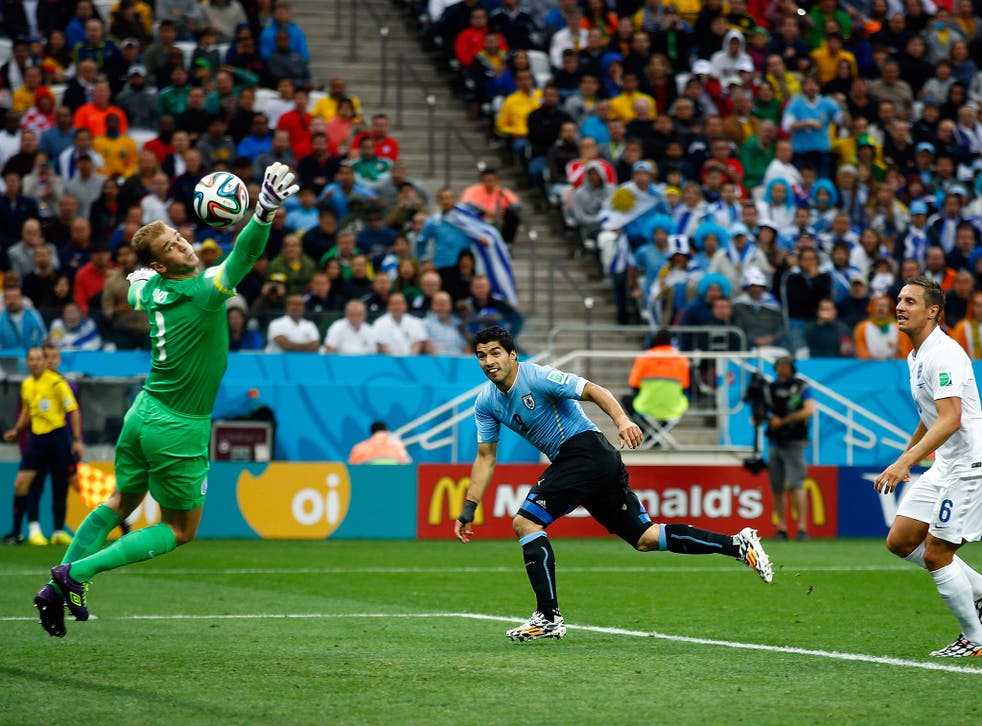 In past tournaments, England's demise has been a slow drawn-out affair, with the handwringing and the tears and the dreadful sense of foreboding. Brazil 2014 promises to be short and sweet. If Italy and Costa Rica draw their game on Friday then Roy Hodgson's men are out six days after they began. That throat-slicing moment from Greg Dyke at the draw back in October will not tell even half the story.
If there was honour in defeat against Italy in Manaus, then this was just a very poor England performance. They never imposed themselves upon the game and they twice allowed Luis Suarez the kind of goalscoring chances that Norwich City would be ashamed to give him. Roy Hodgson's team were out of their depth against a Uruguay side who relied upon a striker who has not played a single game since the end of the season. It is a miserable way to go.
England had even fought their way back into the game with five minutes left to play, a first World Cup goal from Wayne Rooney, his 40 for his country and a moment that felt like it could be significant. England had been ragged, desperate at times, but they were improbably level again. Then they allowed a clearance by the Uruguay goalkeeper Fernando Muslera to carry all the way through to Suarez who, becalmed since his first half goal, pounced on the chance.
Steven Gerrard had said that England's performance would be defined by the way they defended. Well, their defending was shocking and it is primarily that reason why they have lost two opening group games for the first time in their World Cup history. A win for Italy against Costa Rica would leave them with a slim hope of progressing could they then beat Costa Rica on Tuesday by the right margin and Italy beat Uruguay. But it is hard to see where they gather their momentum from now.
From the start Uruguay exerted a ferocious pressing game upon Hodgson's side and for much of the game the men in white simply could not live with it. England do not have a centre-half capable of carrying the ball out of defence and it showed; in fact there were times when even if they had, the list of options open to play the ball was badly limited.
Uruguay 2 England 1 player ratings

Show all 22
Suarez started the game. Was is ever going to be any other way? Other than looking a little out of breath early on, the striker did not seem much diminished for his surgery and five weeks without a competitive game. He chased all along the England back line trying to apply pressure on their defence and, by and large, it worked.
It was a poor start from England. Raheem Sterling gave the ball away. Joe Hart almost got caught by a Suarez corner aimed at his near post. It was only when Rooney and Gerrard quickly combined to get Glen Johnson free out on the right side in the sixth minute that it felt like they could spread their wings a little.
After that England settled, although it was not for long. Diego Godin was booked for handling a chipped ball from Daniel Sturridge through the back four and the Uruguayan captain should really have been sent off after 29 minutes when he flailed an elbow across the same Englishman's throat. The Spanish referee saw it but only regarded it worthy of a free-kick.
The best chances fell to Rooney in that first half but still the World Cup goal eluded him. He narrowly missed with a right footed free-kick on ten minutes that soared just fractionally over the Uruguay bar. Then, on 31 minutes he met Gerrard's free-kick at the back-post and his header from a yard out, connecting just behind the leap of Martin Caceres, struck the bar and came out.
England looked less composed at the back. Phil Jagielka had sliced a cross on 15 minutes that fell invitingly for Cristian Rodriguez to hit, albeit just wide. Gary Cahill miskicked. Then, six minutes before the break came the goal. England lost the ball in midfield to Nicolas Lodeiro; first Gerrard and then Jordan Henderson. It went out wide to Edinson Cavani while Suarez timed his run on Jagielka's blindside.
Just as Mario Balotelli had done in Manaus five days' earlier, so Suarez managed to elude the English centre-halves relatively easily. His header was beautifully placed out of the reach of Hart and, predictably, his response was emotional. This was the goal he wanted.
There was no point denying that it had been coming for England. Uruguay had been taking control of the midfield bit-by-bit and the two English centre-halves had looked skittish in the extreme. England had caused Uruguay too few problems, in spite of the evident weaknesses in that side.
As they had against Italy, England very nearly responded immediately with a shot from the left channel at the near post from Sturridge that was pushed away by Fernando Muslera. But at half-time the pressure was on. They had not found their rhythm and Uruguay's gameplan was working for them much more successfully.
Goodness knows, England were even more out of sorts at the start of the second half. Uruguay should have been two goals up when Cavani planted a shot from the left wide of Hart's reach but wide of the post. Leighton Baines and Glen Johnson had both suffered in the first half and it did not get much better for them after the break. For a second time, Suarez tried to beat Hart at the near post direct from a corner.
Matters got worse for Rooney in front of goal. A cross from Baines on the left fell nicely to him in the area and he had time for a touch but hit his shot straight at Fernando Muslera when either side of the Uruguay goalkeeper would have done. On the touchline, Hodgson took his time to stir. He brought off Sterling, who had struggled to repeat his performance against Italy, and on came Ross Barkley.
Rooney's goal came from a cross from Johnson on the right which fell to the striker alone in the box and he could not miss. Then Uruguay applied the pressure again. Muslera's long ball came off Gerrard's shoulder as he tried to head clear. It carried through to Suarez who took it on his right and lashed a shot past Hart from the right. Later substituted, Suarez was in tears after both goals. At the end, his team-mates lifted him into the air.
Uruguay (4-3-3): Muslera; Caceres, Gimenez, Godin, A Pereira; Gonzalez, Arevalo, Rodriguez; Suarez, Lodeiro, Cavani.
Subs: Lodeiro/Stuani 69; Fucile/Gonzalez 79; Coates/Suarez 88
England (4-2-3-1): Hart; Johnson, Cahill, Jagielka, Baines; Gerrard, Henderson; Sterling, Rooney, Welbeck; Sturridge.
Subs: Barkley/Sterling 64, Lallana/Welbeck 71, Lambert/Henderson 87
Referee: C Velasco Carballo (Spain).
Booked Uruguay Godin England Gerrard
Man of the match: Suarez.
Join our new commenting forum
Join thought-provoking conversations, follow other Independent readers and see their replies