Euro 2012 'means everything' to England midfielder Scott Parker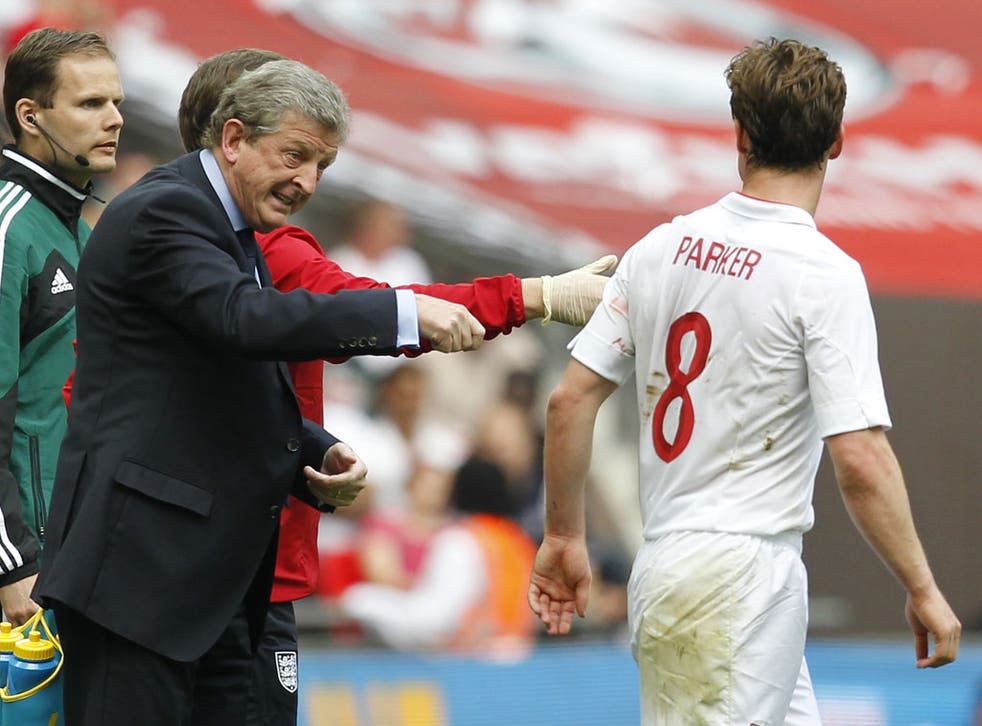 England midfielder Scott Parker has admitted it "means everything" to get the chance to appear at Euro 2012.
With the 23 members of Roy Hodgson's revised squad getting the all clear after suffering a series of niggles, in addition to Gary Cahill's fractured jaw, against Belgium on Saturday, Parker was able to take his place on the flight to Krakow.
Before that, there was the obligatory team photo and a short visit to the headquarters of team sponsors Vauxhall before making the journey to Luton Airport.
For Parker, it is a new experience.
Indeed, he struggled to remember the last time he played in any international competition of any significance.
"I can't remember my last tournament," he said.
"It is probably the European Under-21 Championships but they are so long ago I can't even remember how we did.
"It is a massive gap that's for sure, so this tournament will be a very fulfilling experience in my career.
"It means everything really. It is all I ever wanted as a player and something I am really looking forward to."
In fact, England slumped out of that under-21 competition in 2002, ejected after the group phase despite winning their opening game against Switzerland.
After losing three experienced players - Cahill, Gareth Barry and Frank Lampard - over the past 10 days, and third choice keeper John Ruddy to injury just before that, few would be surprised if Roy Hodgson experienced similar disappointment in his first major tournament as national team boss.
Matters have not been helped by the row over Rio Ferdinand's non-selection, which the coach is still to address and is unlikely to until much nearer the opening game against France in Donetsk on Monday.
Laurent Blanc's men extended their unbeaten run to 21 by beating Estonia last night and after a catastrophic World Cup performance have once again emerged as one of Europe's strongest nations.
They have risen to 14th in the latest FIFA rankings and are favoured to finish above England in Group D, even though the Three Lions are now regarded as the sixth best team in the world.
Even Hodgson regards his side as underdogs.
However, Parker does not feel England go into the game without hope.
"It will be a tough game, as it always is against France," he said.
"France are a very good team full of talented individuals.
"We are going to have to be disciplined and strong defensively to nullify that.
"It will be tight but we have our own threats going forward. Hopefully we can hit them the other way."
After spending their time in splendid isolation, holed up in Rustenburg, during the last World Cup, the Football Association are determined to do things differently.
They are due to arrive at their city centre location in Krakow after a short ceremony at the local airport, with a visit to Auschwitz planned for later in the week.
"Good tourists" was how FA chairman David Bernstein described it.
Of equal importance is to make an impact on the competition, something England have no history of in the European Championships other than that semi-final appearance in 1996.
In fact, aside from the competition they hosted, England have won just four Finals matches in its entire history.
Last week coach Gary Neville said expectations were lower than he could ever remember ahead of a major tournament, although Parker does not believe that is any reason to abandon hope.
"It will be a very difficult tournament," he said.
"But that is what you expect because there are some strong teams.
"You never know. We have seen it this year with Chelsea. When you get to knock-out football, anything can come up.
"With a little bit of luck, you never know how far you could go."
PA
Join our new commenting forum
Join thought-provoking conversations, follow other Independent readers and see their replies