Euro 2016: 36 fans arrested as England supporters clash with French police in Lille but UK officers prevent escalation
36 arrests are made in Lille as English fans and French locals are involved in violent clashes with French police, as British 'spotters' play vital role in preventing the use of water cannon
Ian Herbert
Lille
Wednesday 15 June 2016 21:08 Comments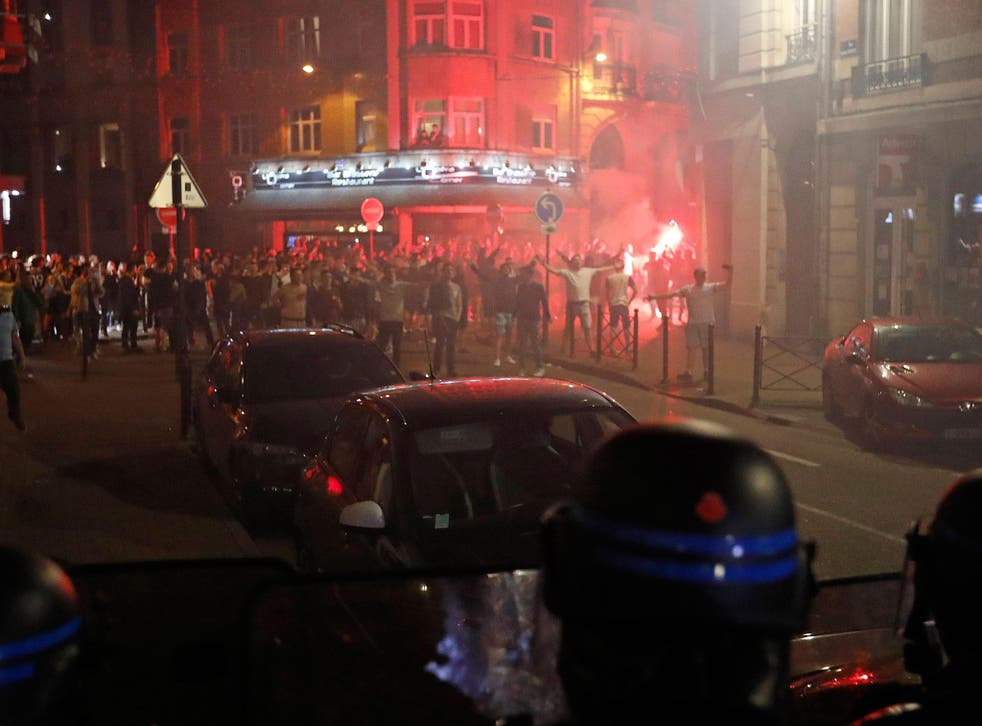 England fans ignored pleas from the Football Association on Wednesday night by becoming involved in clashes and running battles with French police, bringing shame to the nation and football.
British police officers played a vital role in preventing situation from escalating even further – persuading the French to let them use diplomacy and negotiating skills to reason with English drunks as the situation escalated. French riot police told senior British officers that water cannon would be deployed if they could not deal with unruly English, including one group who had been unhappy when a bar stopped serving alcohol earlier than anticipated. The British negotiators – or 'spotters' – managed to de-escalate that situation.
But despite a marked French willingness to involve British officers more than on previous nights of clashes, the CRS Police Nationale ultimately lost patience. They used tear gas as they chased groups of English and French supporters around the streets of Lille, with England playing Wales in their Euro 2016 Group B encounter on Thursday in nearby Lens.
16 fans were taken to hospital and there were 36 arrests throughout Wednesday. Some English fans were clearly provoking the French and cannot claim they were merely the victims of heavy-handed tactics. They let off flares in front of CRS and visibly taunted them. Some of those English caught up in the clashes were innocent bystanders, as bar-owners' decision to stop serving alcohol left many fans wandering aimlessly through the town with nothing to do.
It is highly unlikely that the latest clashes will bring an increase in the number of 'spotters' deployed by the UK Football Policing Unit [UKFPU] because senior British officers do not believe they are dealing with large, high-risk groups of individuals intent on causing violence. They are actually mediating with drunks.
The picture was complicated on Wednesday night by the presence on the streets of large numbers of unruly French youths. The late-night stampede around the streets of Lille entailed at least as many French fans as English.
Tens of thousands of French were out socialising after their team had beaten Albania 2-0. The situation deteriorated after several hundred riot police formed a human barrier between English and French fans around midnight, just before the chase. Fireworks were thrown from the French side and that appears to have prompted the initial CRS use of tear gas.
In pictures: Euro 2016 violence in Marseille

Show all 12
In keeping with the trend of the last week, some English fans then assumed that they were being singled out by the French officers and reacted aggressively. British officers believe around 60 British fans were initially caught up in the middle of the far bigger French group that was being chased and tear-gassed.
Assistant Chief Constable Mark Roberts, head of the UKFPU told The Independent that the French willingness to use of his own officers had helped the situation, despite the running battles which ultimately ensued. "The cooperation with the French has been excellent and our officers have been able played a key negotiating role," he said. "It did prevent an escalation of the situation."
At midnight, British police said there had been no arrests of English fans during the evening clashes, though that picture may have changed. There were 36 arrests in all in Lille during Wednesday. The French initially used tear gas when a group of English fans 'hooded up' early in the evening and began to behave threateningly. The feared large scale clashes between English fans and Russian gangs did not materialise.
The scenes will be a severe disappointment to the FA. The governing body had asked fans not to react to provocation, said "anti-social behaviour will not be tolerated" and broadcast a video in which captain Wayne Rooney made a similar plea.
Earlier in the evening, a minority of English sang anti-Russian songs, having commandeered a corner of Lille's town square and territory near the main railway station. Singing included the '50 German bombers' anthem.
The clashes with Russians seemed to occur after the latter arrived where 200 fans were drinking near the main square. English fans had been in the majority all day and though their chanting had been harmless throughout the afternoon, the anti-Russian element began in the early evening.
Register for free to continue reading
Registration is a free and easy way to support our truly independent journalism
By registering, you will also enjoy limited access to Premium articles, exclusive newsletters, commenting, and virtual events with our leading journalists
Already have an account? sign in
Join our new commenting forum
Join thought-provoking conversations, follow other Independent readers and see their replies