Euro 2020: England might have to play games at Hampden Park
The semi-finals and final will be held at Wembley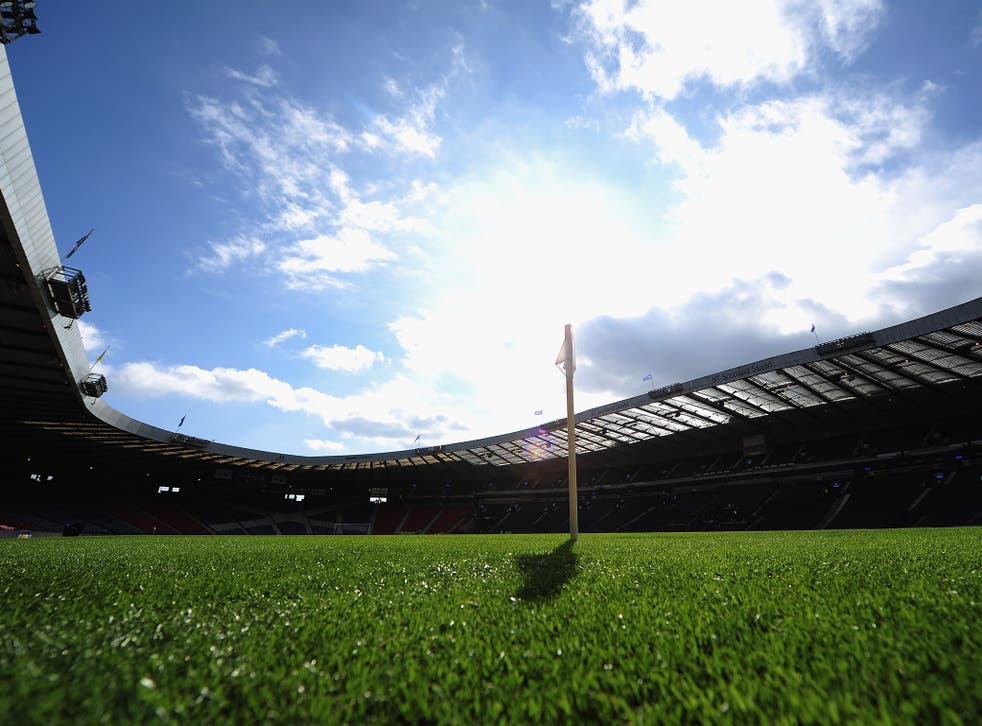 England were finally confirmed on Friday as the hosts of the semi-finals and final of Euro 2020. But no sooner had Football Association officials started celebrating the awarding of the showpiece matches to Wembley than they were surprised to learn that England may have to play group games at the home of the Auld Enemy, Hampden Park.
"I'm sure the players will be delighted to come to Hampden and experience the fervour of the Scottish crowd," said England manager Roy Hodgson diplomatically.
He then praised the decision by Uefa's executive committee to choose Wembley ahead of Munich, the only rival contender to the stage the final. "It's a great reward for a lot of hard work," he said. "It is a major honour and great boost for us."
Putting the decision in its historical context, Hodgson added: "In 1966 it went very well for us when we hosted a tournament and in 1996 we were very unlucky to lose the [European Championship] semi-final on penalties and we could quite easily have gone on to win it with Terry Venables' team. Young players of today have got to be thinking this is a great opportunity for us to not only to be a part of a wonderful tournament but maybe be there at the end when the prizes are dished out."
Specific dates for the 13-city pan-European tournament, conceived by Uefa president Michel Platini to celebrate the competition's 60th anniversary, have yet to be worked out. With no single host nation, Uefa has yet to decide where to stage the opening game or where England would play in the group phase, which will be decided by a free draw.
It could be Hampden Park – should they qualify. But there was no disguising the delight among FA officials at yesterday's announcement, in contrast to the shock that accompanied the double humiliation of failing to secure either the 2006 or 2018 World Cup.
Having been awarded two Champions League finals in three years and seeing its vice-chairman, David Gill, gain a place on the Uefa executive committee, this was the FA's biggest political victory in years. "It's nice to win one for a change," said FA chairman Greg Dyke.
Many of the other European venues selected are experienced hosts of major sporting events but this is the first time Baku, Budapest or Bucharest will host such a big tournament. The stadiums in Budapest and Baku, capital of Azerbaijan, are not yet built.
"This is a historic moment because we'll be able to bring this competition to all the countries of Europe and especially to countries that would never otherwise have the chance to host such a competition," Platini said as he announced the winning bids. In all, 19 candidate cities put their names forward; of the six which missed out, the greatest surprise was Cardiff, which recently staged the Super Cup and had been widely expected to get the nod ahead of Glasgow after an almost flawless technical report.
Euro 2020 - the stadiums

Show all 13
Glasgow was the final envelope opened by Platini and brought a gasp of surprise from the packed audience. While the Scots celebrated, paying tribute to Sir Alex Ferguson's late lobbying, the Welsh delegation appeared crestfallen. "We are naturally bitterly disappointed," said Welsh FA chief executive Jonathan Ford.
By contrast, Scottish FA chief executive Stewart Regan said: "Everyone saw what Glasgow was capable of during the Commonweath Games. It was a huge factor and so was Sir Alex, who recently spoke passionately about our bid."
Join our new commenting forum
Join thought-provoking conversations, follow other Independent readers and see their replies