Fifa corruption: Could Fifa's president Sepp Blatter face arrest as part of the FBI investigation into alleged corruption?
The $10m payment by a 'high-ranking Fifa official' made to disgraced former vice-president Jack Warner could lead 'straight to the top'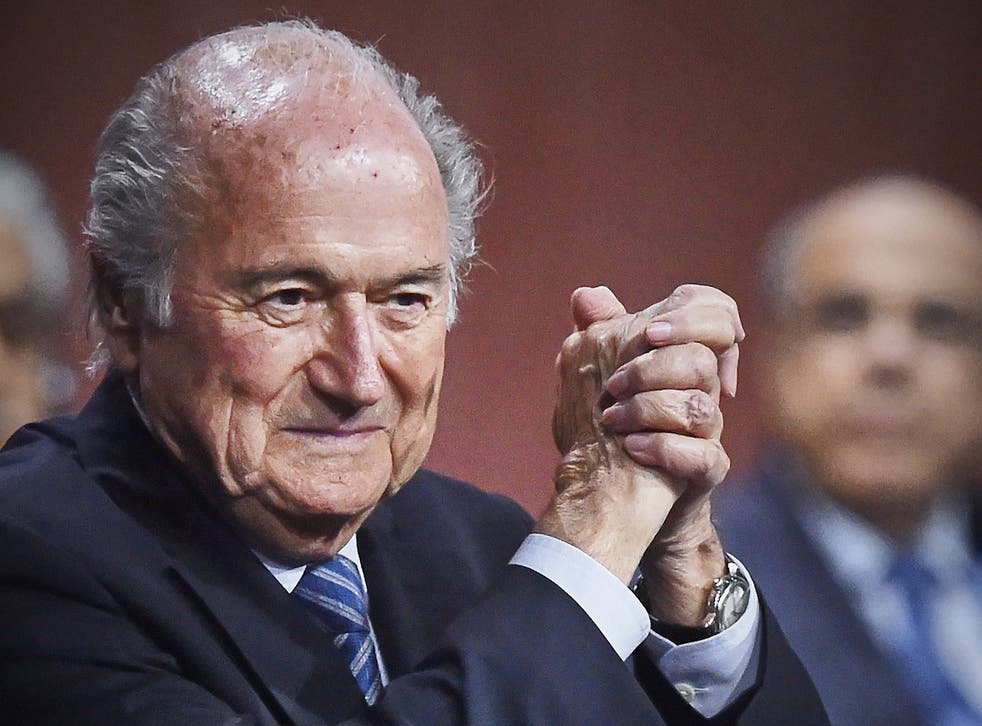 Could Sepp Blatter be arrested?
"Arrested for what?" he said, when the question was put to him, but it's possible. Paragraph 192 of Fifa's indictment specifically mentions a $10m payment made by a 'high-ranking Fifa official' to Jack Warner, the disgraced Trinidadian former Executive Committee member.
Manchester United's Chief Executive David Gill, who resigned from the Executive Committee two hours after joining it, in the wake of Blatter's re-election, said "In any organisation I have worked for a payment of that magnitude would go straight to the top."
When asked specifically, Mr Blatter denied having made the payment, saying: "Definitely, that is not me."
But when asked whether it was either incompetent, or deliberately negligent for him not to have known, he refused to answer, saying only that it was a matter for the authorities.
The Fifa bigwigs facing charges

Show all 14
Could Uefa really boycott the World Cup?
No chance. Uefa President Michel Platini has said "all options" will be discussed at their meeting next week before the Champions League Final in Berlin.
But in Friday's Presidential vote both France and Spain voted for Sepp Blatter, the head of the German Football Association Wolfgang Niersbach has said it is not the right course of action, and Greg Dyke, the FA Chairman, says England doing it on their own "would not achieve anything."
And the next World Cup is in Russia, who voted for President Blatter, a Uefa member, so a complete boycott is impossible.
Will the Qatar and Russia World Cups go ahead as planned?
Probably. Nothing in the US investigation mentions the bidding process in 2010 that awarded those two tournaments, but they have indicated there is more to come.
The Swiss investigation investigating "money laundering" and "criminal mismanagement" in those bids is based on Fifa's own investigation, by US Attorney Michael Garcia, which has still not been published but was handed to the Swiss authorities. Fifa's own conclusion, by a German judge, was that wrongdoing had been found, but not enough to warrant removing the tournaments.
But Fifa's investigator didn't have the same powers as the FBI and IRS investigators. They may discover more. In any case, short of drastic and complex legal intervention, only Fifa's Executive Committee can remove hosting rights, and it is something they will simply never do.
What next for the US and Swiss investigations?
Six of the seven men dragged from their beds in the Baur Au Lac hotel are fighting extradition requests to the US, with the IRS chief Richard Weber telling the New York Times "I'm fairly confident of another round of indictments."
The Swiss investigation is arguably more uncertain. The Swiss Attorney General's office this week questioned has the ten members still on Fifa's Executive Committee who voted on the Russia and Qatar decision in 2010. So far, no charges have been made. If any are, it will be an unexpected development.
Join our new commenting forum
Join thought-provoking conversations, follow other Independent readers and see their replies