France 3 Honduras 0: Luis Suarez defends Honduras physicality and blames referee Sandro Ricci for being influenced by French reports that his side were 'overly aggressive'
The Honduras manager did concede that Wilson Palacios deserved to be sent-off in the 3-0 defeat but defended his side against claims that they were 'violent'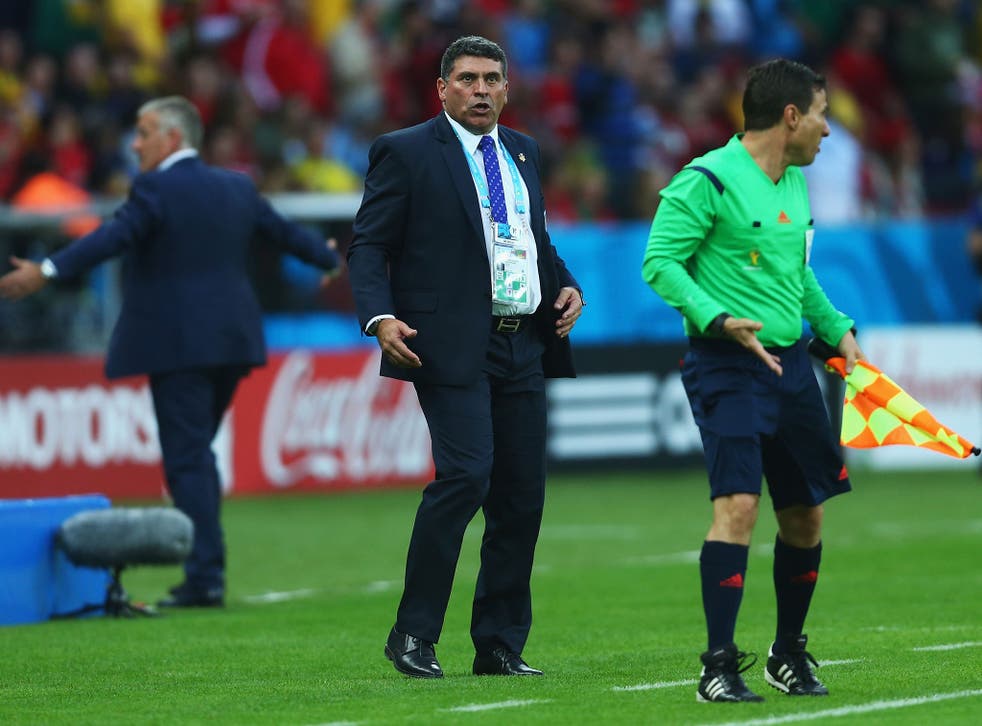 The Honduras manager has created a new refereeing controversy at the World Cup by declaring that the Brazilian referee for his team's game 3-0 defeat to France had been influenced by French journalists' reports that his players are "violent."
Luis Suarez was asked to comment before last night's match on reports by the Canal Plus TV network that the central American team were overly aggressive. Three days after the Croatia manager said Japanese referee Yuichi Nishinura was biased in favour of Brazil to compensate for sending off one of their players at the 2010 World Cup, Suarez said those reports had influenced official Sandro Ricci, who sent off Wilson Palacios.
"It's the first red card we had in an official game," Suarez said , referring to his three-year tenure as Honduras boss. "We had none in all our qualifiers. So some comments might have influenced the decision of the referee."
However Suarez still said Stoke City midfielder Wilson Palacios deserved to be sent off for his two bad challenges on Frenchman Paul Pogba in the Estadio Beira-Rio. Palacios was dismissed after a second yellow card, for pushing Pogba in the back in the penalty area, minutes after stamping on him.
France 3 Honduras 0 player ratings

Show all 22
"The referee has to take a decision and he thought it was right. Playing with ten men made it very difficult for us," Suarez said. "Sometimes you lose and of course we have to learn from this. Today the result would have been different if we hadn't played with ten men for so long."
As French manager Didier Deschamps celebrated his side's victory in the face of "high aggressivity" from the central American team, Suarez insisted his team had not overstepped the mark.
"We didn't cross the line," he said. "We always respect the rules. We have a strong, intense style but we always respect the rules of the game. If at some point we don't then the ref has to take a decision and give us a red card. And we have to accept the consequences."
Deschamps has criticised Fifa for confusing goalline technology which correctly ruled ruling that the Honduran goalkeeper Noel Valladares had scrambled the ball over the line after Karim Benzema's shot rebounded off the post, along the goalline towards him. The confusion was caused by the machine registering two decisions in quick succession.
The big screen message initially stated 'no goal' because the ball did not rebound from the post across the goalline after striking the post. It changed to 'goal' when Valladares juggled the ball over the line.
Join our new commenting forum
Join thought-provoking conversations, follow other Independent readers and see their replies