France v Honduras: Drones and headphones - challenges for France as they put 2010 mutiny in the past
Dissent at the last World Cup has seen France coach Didier Deschamps put team spirit ahead of individual egos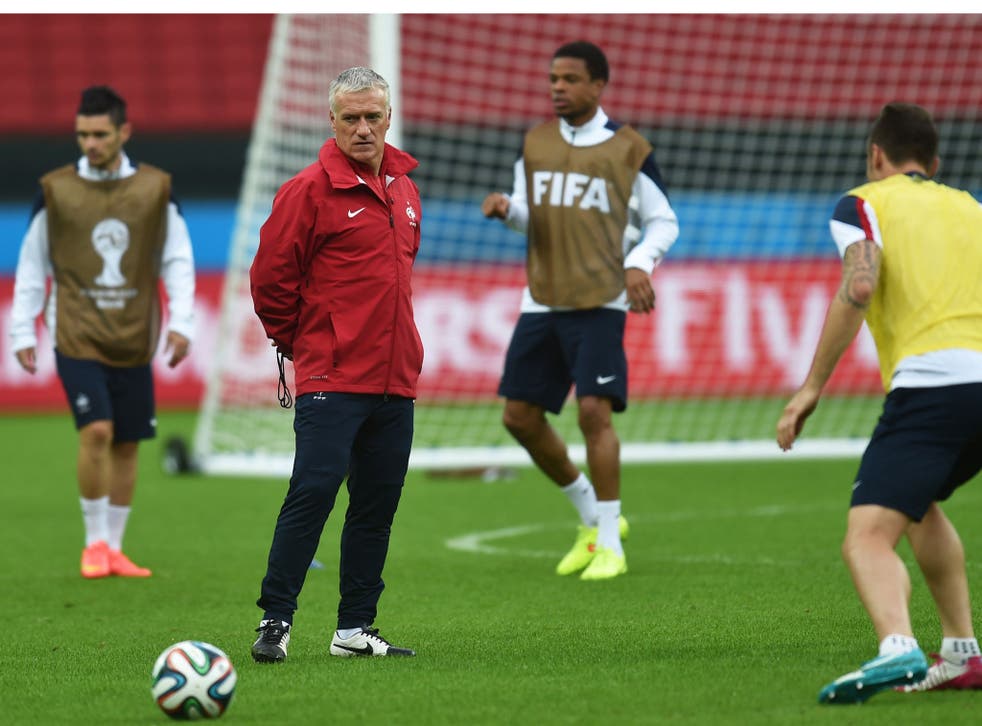 The words on the window of the French national team bus state 'Impossible n'est past francais' – 'impossible isn't a French word' – and though the squad have young talent to burn this time, there was no such breeziness about the manager who is charged with bringing union to a squad which has known only discord in recent tournaments.
Didier Deschamps' unease about the drone plane which was spotted hovering over French training on Tuesday, halting the session as his players stared up at it, was self-evident. "Apparently drones are used more and more," he said. "It's not up to me. FIFA handles this and has been carrying out an inquiry. We don't want an intrusion into our privacy but it's very hard to fight this these days."
FIFA did not respond to this newspaper's inquiries about the drone, late last night.
The 45-year-old was no less comfortable to be asked, by English journalists, about the question of French World Cup civil wars. Cliques resulted in Raymond Domenech's players' infamous bus sit-in at Knysa, South Africa, four years ago and Hatem Ben Arfa and Jérémy Ménez's state of open warfare with Laurent Blanc in 2012.
FRANCE: Group E team profile

Show all 5
We know that Deschamps is pessimistic about the self-absorption which characterises some of France's younger generation because he talked openly about it - to France Football, months before taking the national job. An Italian will accept omission from the team if he is told it is for the greater good, Deschamps said. "But it doesn't happen that way in France. Try telling a player here that he's better than the guy who will start but that the balance of the team is better when that [other] guy is playing. It's very French: they all accept competition so long as they're not being subjected to it. Making 25 guys subscribe to a collective project remains simpler outside of France than within our borders..."
He was not emphatic about his ability to prevent factions forming, when answering questions on the subject which he only half comprehended because he refused to listen to a translation through headphones. "Clique is a rather technical word for me," he said. "There are likes and dislikes. There are people who like each other and others who don't. We have to live in common. Some enjoy each others' company and like to go out together. Others don't."
When it was put to him by an English journalist that doing foreigners the courtesy of wearing headphones would be gracious, he wrestled a pair around his ears. "You happy? I'm wearing my earphones now," he said in French, but then couldn't get them working. "New technology…" he grumbled.
Despite the prickliness, Deschamps has imbued his squad with a greater togetherness and there is a professionalism in his attention to detail which is also valued. A TV channel dedicated to France's opposition is available in the players' rooms at their palacial Ribeirao Preto base, 190 miles north of Sao Paulo. The inclusion of the players who did not make the final squad in the bonus pool is designed to nurture union.
Though Franck Ribery's back injury has left him at home - creating a state of civil war between the French and Bayern Munich over the effectiveness of the German club's injections which continued to rage yesterday - there is a confidence borne of the belief that France have two of the tournament's best 21-year-olds. One, Paul Pogba, will be at the heart of midfield, with another - Rafael Varane - at the heart of a defence in which Laurent Koscielny may bafflingly make way for Mamadou Sakho.
Captain Hugo Lloris admitted harmony was not guaranteed. "You know the equilibrium inside a team is always a bit fragile and if we get victories and performances everything will stay as it is," he said. Fortunately, the French are in an incredibly generous group, with Switzerland and Ecuador to follow; such an itinerary that FA chairman Greg Dyke has said they "will be committing suicide" if they fail to progress from Group B.
Dyke was only man with whom Deschamps did not want to pick a fight. "If it was Roy Hodgson [commenting] I may have answered but it's not the case," he said.
France v Honduras is live on BBC1 today, kick-off 8pm
Join our new commenting forum
Join thought-provoking conversations, follow other Independent readers and see their replies