France v Honduras: France regroup after the mutiny of 2010
Dissent at the last World Cup has seen coach Didier Deschamps put team spirit ahead of individual egos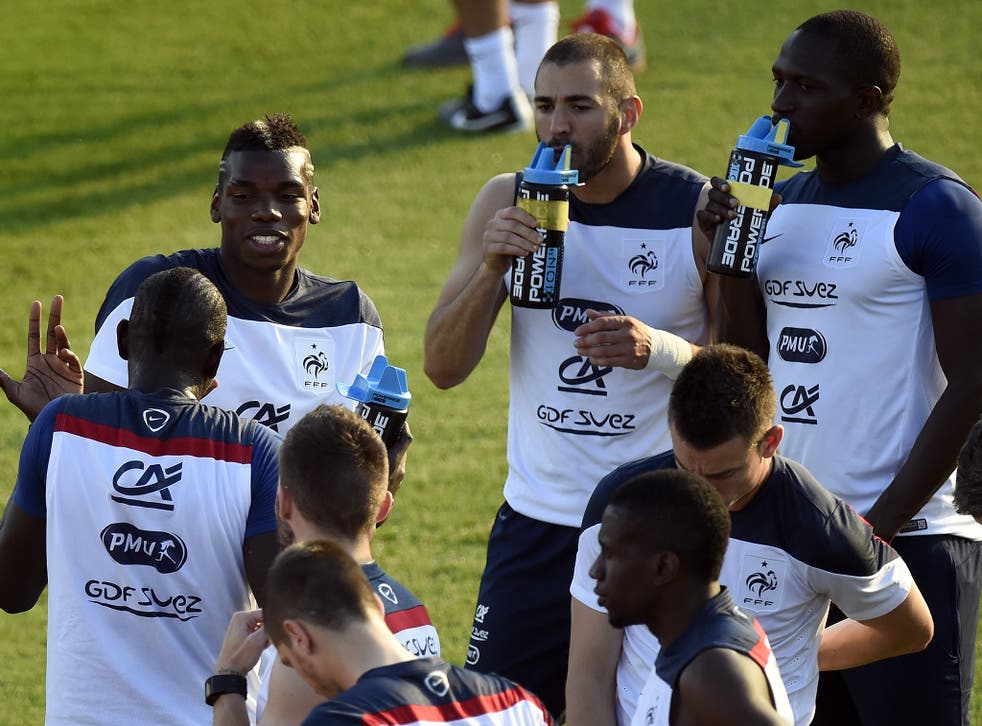 Any team would be bound to miss a player of the calibre of Franck Ribery. But even without their mercurial midfield talisman, injured just days before the start of the World Cup, France have so much talent at their disposal that a decent run in Brazil is surely on the cards.
Louis Saha knows only too well, however, that with France, what happens off the field can so often dictate what happens on it.
Saha, who won 20 caps for the his country, still cringes when he remembers South Africa four years ago and that infamous spat which resulted in the French humiliatingly being sent home in disgrace after finishing last in their group.
Ribery was part of that mutinous squad, along with the likes of Thierry Henry and Nicolas Anelka, a talented unit that went in with high expectations but self-destructed on the biggest stage of all as egos clashed and players rebelled against coach Raymond Domenech.
It was one of the darkest periods of French football and it's now up to Didier Deschamps, who captained France to World Cup victory on home soil in 1998, to try to recapture past glories and produce a team the nation can be proud of again.
The onus now, says Saha, who was part of the France squad that reached the 2006 World Cup final, is very much on the players to prove they have the correct mentality. Any repetition of past shenanigans is unthinkable.
"It's a difficult and sensitive topic for all of us, still," says Saha, one of the most recognisable of all overseas players to have graced English football having played for no fewer than six top-flight clubs. "I wish I knew why things happen like that with France. This time, the players have to show total commitment. It's all about creating the right atmosphere and bonding as a unit. We haven't always found that too easy but the star players and the younger ones must all pull in the same direction."
On paper, getting out of a group that features Switzerland, Ecuador and Honduras – who France play today – should be relatively straightforward, but as France only sneaked into the finals via the play-offs, thereby narrowly avoiding its first World Cup absence in two decades, nothing is guaranteed.
Indeed, Saha paints a less-than-optimistic picture of how France might fare now that Ribery has been ruled out. So why is that, given the dynamic quality at Deschamps' disposal? After all, you don't leave out someone of the calibre of Samir Nasri unless you have extremely gifted replacements.
One reason is that under Deschamps, France have been a mixed bag, winning roughly half their fixtures. Another is that, like England, they have a young-looking squad building for Euro 2016 – the finals of which are in France. The third is the Nasri factor. The omission of the Manchester City midfielder, apparently because of his unpredictable dressingroom conduct even though he wasn't there in 2010, is proof, says Saha, that there are residual disruptive influences which Deschamps is having to deal with.
FRANCE: Group E team profile

Show all 5
The public on both sides of the Channel may be staggered that Nasri, who played such a huge role in City's title success last month, was sacrificed by Deschamps but teamwork clearly counts for far more than individual talent – and Saha recognises that need for harmony.
"It's been going on for a while with Samir," revealed Saha. "It's quite clear that what the coach has done is try to put together a squad that can live in harmony for two months. But I still can't see them among the favourites. I appreciate they had Spain in their qualifying group, but to me this looks like a squad that will be far better equipped for the Euros in 2016 at home."
If there is one player he is backing to succeed, it is Hugo Lloris despite the number of times the Tottenham keeper had to pick the ball out of his net last season. "I don't think that will affect Hugo's confidence, he said. "He's a hugely important figure for France, quiet but confident."
But while Ribery's absence is bound to hurt, it is not just about having top players, says Saha. "You can have players playing at their peak but if there is no team collective and spirit, you won't win the World Cup. On paper France are as good as almost anyone but do we have the same patriotism as, say, Brazil or Argentina?"
Saha hopes his country prove him wrong, that all the hard work over the last four years, first under Laurent Blanc and then under Deschamps, bears fruit and erases a national disaster that still ranks as one of the most infamous debacles in recent World Cup history.
Join our new commenting forum
Join thought-provoking conversations, follow other Independent readers and see their replies