Gemma Davison's sparkling Chelsea form earns her good chance to take wing with England again
England boss Mark Sampson to name World Cup squad on Monday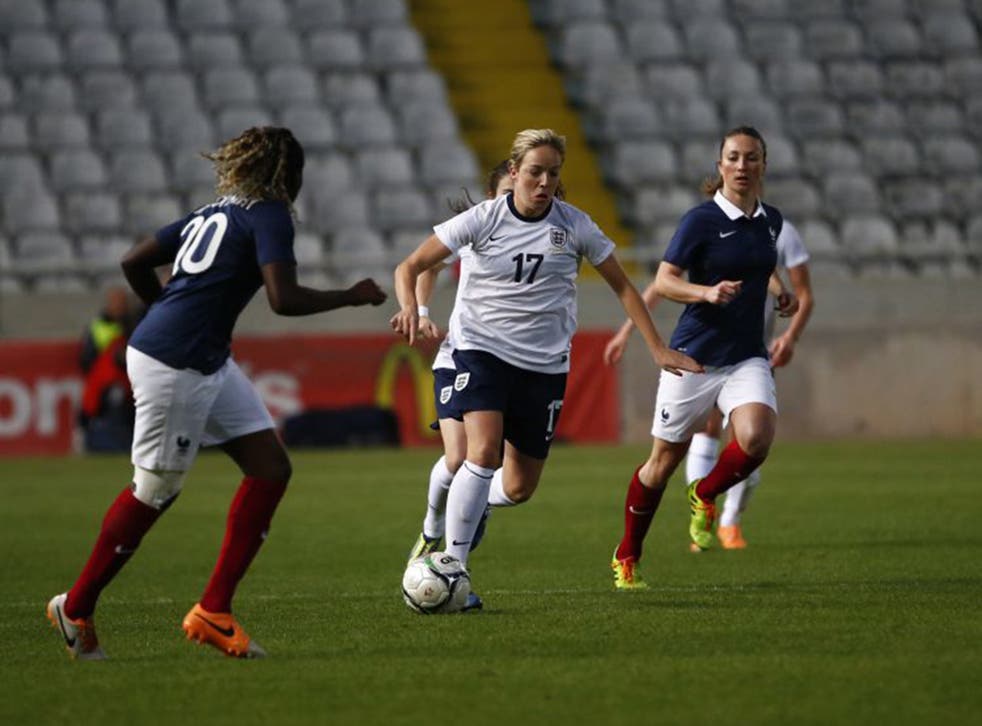 Mark Sampson will name the 23 players in England's squad for next month's Women's World Cup on Monday.
That he has delayed his selection until after this weekend's Women's Super League matches, the last round before the finals, suggests places remain up for grabs.
One of the players hoping to catch the England manager's eye is winger Gemma Davison. Her form has helped propel Chelsea to the WSL summit and into the Women's FA Cup final. The latter was achieved on Monday with a narrow win over a City side that will be seeking instant revenge.
Davison won the title with Liverpool last season, but was ignored by England. She moved to Chelsea to work again with coach Emma Hayes and began this season in goalscoring form. Nevertheless, she was not called up for the final home warm-up friendly, against China last month. Having won her fifth and last cap in March 2014 it seemed her chance had gone.
However, Sampson then added her to the squad and though Davison did not figure in England's 2-1 win it showed the door is ajar.
"You can only control what you do and I do feel I have had a good season," Davison told The Independent. "I'm sure he takes every game into consideration but you can't think about it too much. Whoever is in it it will be a good squad, we have more depth now."
So does her club side who lost the title on the final day of last season with a defeat in this corresponding fixture. That day Davison wanted Chelsea to lose as it meant Liverpool pinched the title. "It was difficult to leave a team that had won championships in a row, and where I learned a great deal, but Emma is one of the best managers I ever had and I knew I would learn even more with her.
"I also knew quite a few of the players from playing with them at Arsenal, like Katie Chapman who has always looked after me. We have a lot of talent in the squad, not just an XI, and the players are mentally stronger too. We've performed week-in, week-out, even when the going gets tough, which is something Chelsea were not known for."
The men's side of the club has, of course, long had this reputation but their colleagues are matching them now.
Chelsea ladies are unbeaten in their seven league and cup games this season, winning six and conceding two goals.
They had to show resilience on Monday with City's England captain Steph Houghton insisting City had been 'the better team' while City manager Nick Cushing said, "to dominate them and put them to the sword is pleasing".
Given the result this has echoes of then-England manager David Lloyd claiming Zimbabwe had been 'flipping murdered' after a drawn cricket Test match, but it reflected City's chances.
"They are a really good side and it was a tight game but we put the ball in the back of the net," said an unperturbed Davison. The 28-year-old has never played at Wembley – she went to England's November game against Germany as a spectator – and added of the August final v Notts County: "To go and play at Wembley, as a women's footballer, for a trophy that is so big will be amazing."
Manchester City Women v Chelsea Ladies, Academy Stadium, 6pm, £6 (£4 concessions).
TV: Live, BT Sport 2, 5.45pm. Highlights, FA WSL Review Show, 10pm, BT Sport 1.
Join our new commenting forum
Join thought-provoking conversations, follow other Independent readers and see their replies