Germany braced for 'Debt Derby' against Greece at Euro 2012
Greeks keen to eliminate nation they see as responsible for austerity back home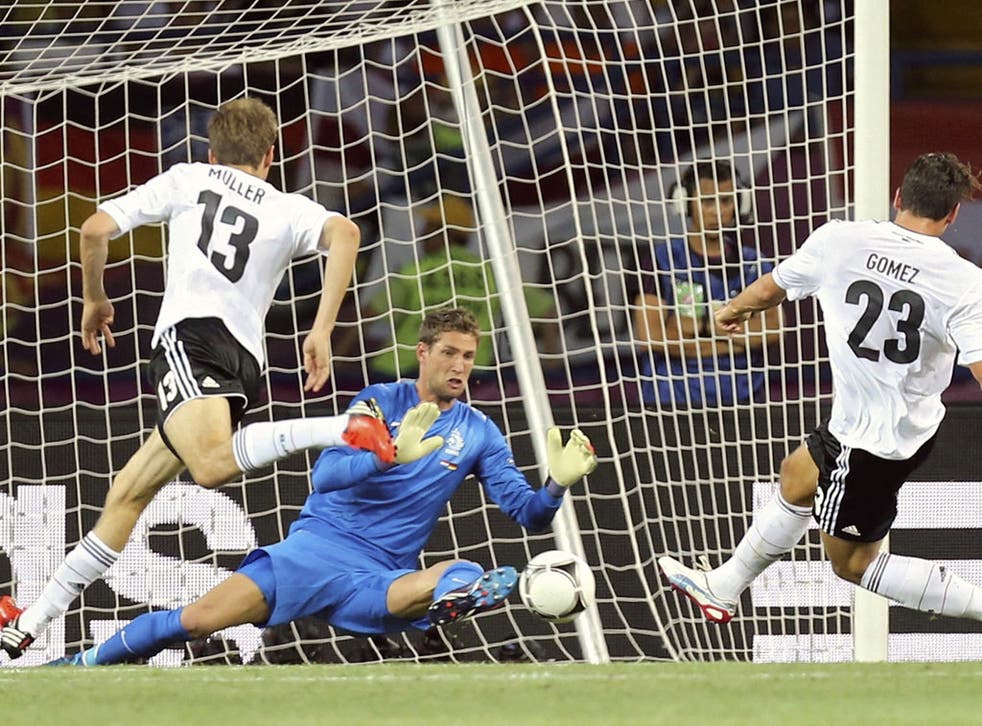 There was always likely to be awkwardness about whom the Germans would face in the quarter-finals. Many imagined they would play Poland in a city that until 1945 always thought of itself as German. They might have encountered the Russians on 22 June, the anniversary of Operation Barbarossa, the great invasion of the Soviet Union.
Instead, having waltzed through the Group of Death with three straight victories, Joachim Löw's side have run into a much more pertinent piece of history, the game that will become known as the 'Debt Derby'.
In football terms, the odds may be horribly stacked against them, but the Greeks have not attempted to disguise their glee that, in Gdansk, they will face the nation they hold responsible for the austerity regime that has brought their economy to its knees.
Lars Bender, whose winner against Denmark on Sunday night maintained Germany's perfect record in the competition, said his team-mates had discussed the Greek elections. There would be few other training camps where this kind of conversation occurred over breakfast.
"I think we are all aware of the political situation as far as the Eurozone is concerned and what it means," said the Bayer Leverkusen midfielder. "There are elections in Greece and the fact that they have gone through to the knockout phase is fantastic. It might make them forget, even for a few minutes, everything they have had to go through. However, I do think that on the day of the match, politics will have to give way to football."
This will not, however, come without a struggle. The Greece goalkeeper, Michalis Sifakis, remarked that this was an opportunity his team were looking forward to "after the way we have been hacked to pieces".
The Greek press has been even more forthright, directing most of its bile at the German Chancellor, Angela Merkel. "So your debtors have made the quarter-finals. I hope you're ready Angela," said Sport Day while Metro Sport commented: "You've given us the IMF, now we'll give your Euro some TNT."
Nevertheless, although most believe that a quarter-final against Greece represents almost a bye for Löw's side, some including Franz Beckenbauer believe they will have to up their game if they are to win the tournament. "We will have to play better against Greece than we did against the Danes," said the man who captained them to the 1972 title. "If we are to win this, we have to start upping our game."
Join our new commenting forum
Join thought-provoking conversations, follow other Independent readers and see their replies