Graeme Le Saux puts Antonio Cassano's homophobic remarks down to ignorance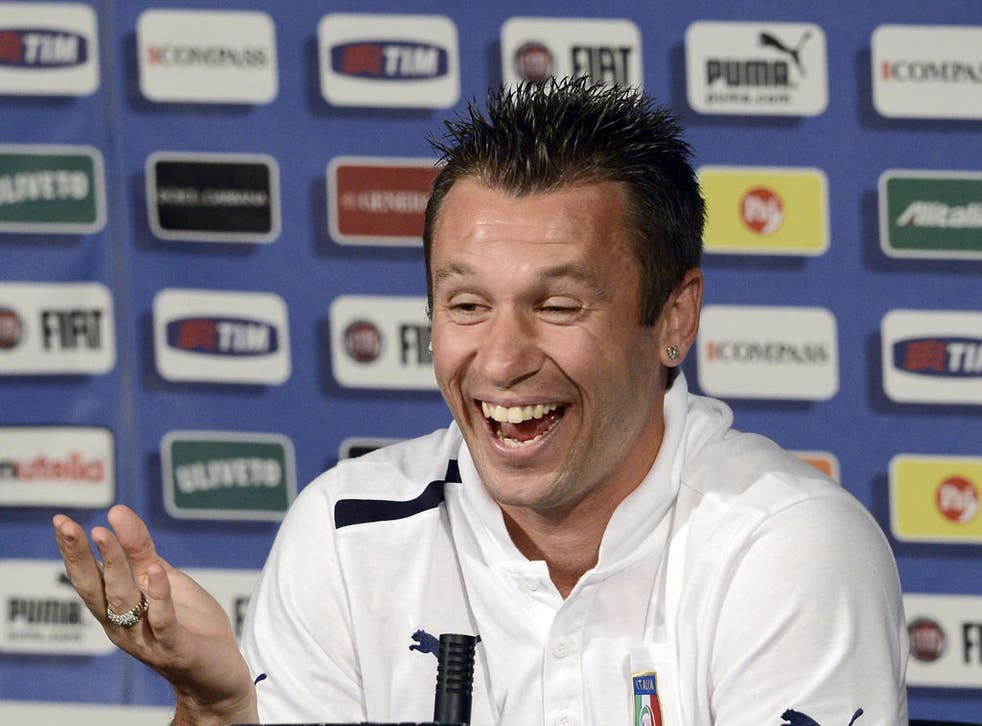 Graeme Le Saux believes that Antonio Cassano's ill-advised remarks about gay footballers are more likely to be because of a lack of understanding rather than a deliberate attempt to be offensive.
Following rumours in the Italian media that two players in the Italy squad were "secretly" homosexual, Cassano said in a press conference on Tuesday that, if they were, it was "their problem (but) I hope there isn't one (a homosexual) in the national team".
The 29-year-old AC Milan forward later apologised for his comments, following an angry backlash from gay rights campaigners.
While the European Championships have been marred by the threats of racism and hooliganism as shown in BBC's Panorama, Le Saux was the victim during his career of homophobic abuse from the terraces. Despite the accusations being baseless, and also having a wife and two children, Le Saux was often targeted for abuse from fans and even by opposition players for not leading the "traditional" footballer lifestyle. At its worst, Le Saux uncharacteristically lashed out at Robbie Fowler after he was taunted consistently in a fixture between Chelsea and Liverpool in 1999.
Speaking about Cassano's remarks, Le Saux said that "it just shows the level of misunderstanding in the world that we live in. A lot of attitudes are born out of ignorance." Cassano's quick retraction of the statement he made on Tuesday shows what is and what is not acceptable in the modern age. "So often", Le Saux argues, "it is more a lack of understanding rather than being offensive".
The former England international is in confident about his country's chances tonight against Sweden, especially with the encouraging news that Ashley Cole will by starting for his 96th international cap. While England have been fortunate in the last decade to have the services of Cole at left-back, before him the position was problematic to fill.
Le Saux was one such player before Cole's time to have played the position for England; he collected thirty-three caps during his career and started all four matches England played in the 1998 World Cup in France.
Although Cole has been the victim of a reoccurring ankle injury this week, the Chelsea left-back is expected to start. "I don't think that he (Cole) is underrated, his level of consistency is excellent", the former Chelsea, Blackburn Rovers and Southampton player commented. "With players like him who play at that standard it is easy to take it for granted".
Even if the niggling ankle injury strikes once more as it did in Tuesday's training session, Le Saux feels that the cover at left-back that England possess in Leighton Baines is more than sufficient to combat the threat posed by Sunderland winger Sebastian Larsson on the Swedish right flank tonight. "I remember the debate a few years ago when Fabio Capello was manager about whether Baines should be picked or Stephen Warnock".
Le Saux believes the Capello, and subsequently Roy Hodgson, made the right choice. "He's a very good defender, but he is also very gifted going forward. He's very similar (to Cole) in that he's a much better player than what people give him credit for."
Capital One are the new title sponsors of the League Cup. The draw for the first round of the Capital One Cup is out now, and ties will be played week commencing August 13. Visit football-league.co.uk for more details.
Join our new commenting forum
Join thought-provoking conversations, follow other Independent readers and see their replies