Henry's replay call wrong-foots French
France captain's stunning statement comes just hours after Fifa rule out possibility of second match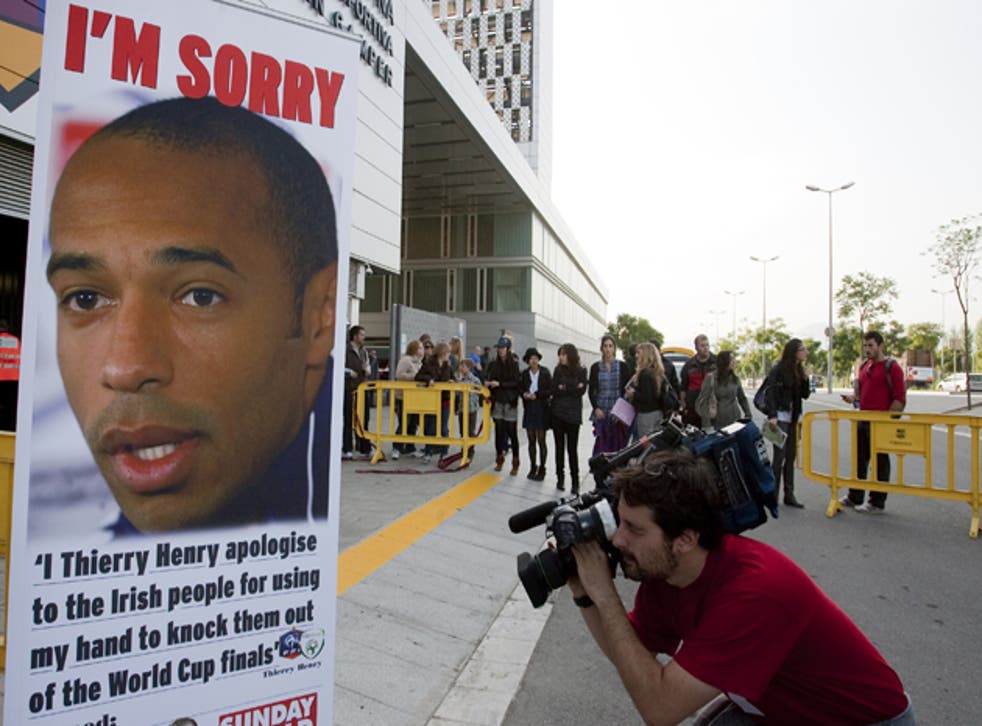 Thierry Henry's extraordinary admission yesterday that France's World Cup qualifier against the Republic of Ireland should be replayed wrong-footed the French football federation (FFF): officials in Paris had not authorised it and they have no intention of supporting his sentiments.
Henry's former manager Arsène Wenger yesterday urged the FFF to support their captain and volunteer to Fifa to replay the game, although the governing body has said that it will not sanction a replay. As for the FFF, it decorated its Paris headquarters yesterday with the slogan "Un nouveau Départ" (A new start) and "Destination Johannesburg" – indicating that it has no intention of changing its mind.
Henry admitted yesterday in a statement released to English and Irish media that "the fairest solution would be to replay the game but it is not in my control". He did so because, although he owned up to handling the ball after the game to the Irish players, staff and the press, he felt that his words had been drowned out in the roar of disapproval at his handball that led to France's decisive goal on Wednesday night.
The France captain also felt that the FFF did little to help him in the aftermath of the game or on Thursday when he was travelling back to Barcelona and was unable to speak to his advisers to release a statement. Last night there was no mention of the Henry statement on the website of the FFF, which is its preferred method of communication.
FFF officials said in private they had been given no warning that their captain was about to suggest replaying the game. In yesterday's 220-word statement, Henry said that his handball in the build-up to William Gallas' goal had been "an instinctive reaction to a ball that was coming extremely fast in a crowded penalty area".
He added: "I have said at the time and I will say again that, yes, I handled the ball. I am not a cheat and never have been. As a footballer you do not have the luxury of the television to slow the pace of the ball down 100 times to be able to make a conscious decision.
"People are viewing a slow-motion version of what happened and not what I or any other footballer faces in the game. If people look at it in full speed you will see that it was an instinctive reaction. It is impossible to be anything other than that. I have never denied that the ball was controlled with my hand. I told the Irish players, the referee and the media this after the game.
"Naturally I feel embarrassed at the way that we won and feel extremely sorry for the Irish, who definitely deserve to be in South Africa. Of course the fairest solution would be to replay, the game but it is not in my control.
"There is little more I can do apart from admit that the ball had contact with my hand leading up to our equalising goal and I feel very sorry for the Irish."
In response, the Ireland captain, Robbie Keane, whose team lost 2-1 on aggregate in the World Cup play-off, cranked up the pressure on the FFF to replay the game on the back of Henry's statement. Keane said: "As captain of the French team, to make such a statement [from Henry] took courage and honour, and all of us recognise that. We can only hope that the FFF might accept the wishes of both captains in the best interests of the game."
The ultimate decision rests with Fifa, which said again yesterday that there was no chance of the game being replayed under the "laws of the game". Ireland's only hope would be if the Fifa president, Sepp Blatter, takes the political temperature and decides that is in his best interests for the game to be replayed. That is highly unlikely.
Wenger launched a spirited defence of Henry, claiming that his former player had been unfairly targeted and that the FFF should offer to play the game again as he did with Sheffield United over a disputed goal in an FA Cup tie 10 years ago.
Wenger said: "It is feasible to think [Henry should have owned up after the goal]. Is it realistic? No. Because players cheat every week. I could give you 10 every week in the Premier League. It's not right to say to the player, 'You have to win and qualify at all costs', and then turn on him when he does that. He's said he made a mistake, he touched the ball with his hand. Let's make sure it doesn't happen again.
"You have also to consider how he has behaved throughout his career. He has made one mistake. Who has not made mistakes in life? The fair play of his behaviour is absolutely remarkable. This guy has been kicked and he has never responded. That is absolutely remarkable throughout his whole career."
Wenger said that the "credibility" of French football rested on the game being replayed. "France, as a country, has to do something for Thierry and not leave him out there alone against the whole world," Wenger said. "We want to beat Ireland properly, and that didn't happen."
The Arsenal manager refused to discuss Raymond Domenech, the France manager whom he cannot abide, but he did say that he was proud of the response of the French nation to their hollow victory. "The whole of the population, the journalists, and football people, all reacted very positively," Wenger said. "The only people who were less convincing were political people."
Is Henry a cheat? Premier League managers have their say
*"[Henry] was the big loser. If he had come out and said handball, half of France would say: 'how crazy is he?' If he does not say it, he is also guilty. I support France and it is embarrassing to qualify the way we qualified.We want to beat Ireland properly and that didn't happen. At the end of the day you can talk and talk and talk, or you replay, or you don't replay."
Arsenal manager Arsène Wenger
*"People are blaming Henry but everyone has done it. I've done it and if you can get away with it, you will."
Bolton manager Gary Megson
*"This will be a stain on his character without a question of a doubt, but I feel it was more instinctive than anything else."
Stoke City manager Tony Pulis
*"World Cups have been won by balls that didn't cross the line. If we change the game much we take a lot out of it."
Wigan manager Roberto Martinez
*"It was wrong but you employ the best referees for the best games. It was almost impossible to miss the handball but they managed to miss it."
Tottenham manager Harry Redknapp
*"My thoughts were for Trapattoni. He has prepared a team magnificently. It was a fantastic performance by them. Then it was taken away from him."
Manchester United manager Sir Alex Ferguson
*"Henry should have said something but it's a matter of moments. There was a lot at stake. It's not easy but probably he should have said something."
West Ham manager Gianfranco Zola
Register for free to continue reading
Registration is a free and easy way to support our truly independent journalism
By registering, you will also enjoy limited access to Premium articles, exclusive newsletters, commenting, and virtual events with our leading journalists
Already have an account? sign in
Register for free to continue reading
Registration is a free and easy way to support our truly independent journalism
By registering, you will also enjoy limited access to Premium articles, exclusive newsletters, commenting, and virtual events with our leading journalists
Already have an account? sign in
Join our new commenting forum
Join thought-provoking conversations, follow other Independent readers and see their replies