If it goes to penalties, then Hart is ready at either end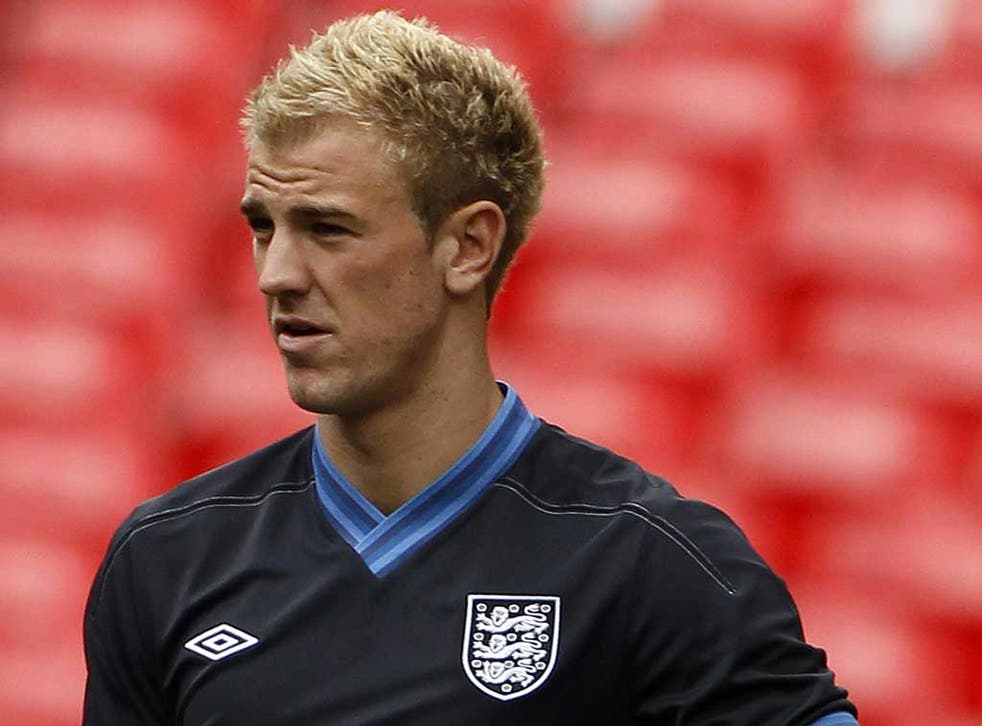 As penalty kicks and England tend to go together, there is every opportunity for Joe Hart to make an even bigger name for himself at the European Championship over the next few weeks. At both ends of the pitch too, for like Bayern Munich's Manuel Neuer, who smashed one past Petr Cech in the Champions League final, the Manchester City goalkeeper is just as happy taking them as stopping them.
At the 2009 European Under-21 Championship he was second on England's list, which had been scientifically calculated on success-rate in every training session, and became the first player to score in the semi-final shoot-out before saving one to help Stuart Pearce's side beat the host country Sweden. It was an act of defiance all the more impressive because he had just suffered a yellow card that he knew would put him out of the final; something he is prepared to risk again if some gentle sledging from the genial giant is called for.
"I've never said anything disrespectful at all," he insisted before yesterday's final friendly against Belgium. "I would not even tell people they are going to miss. But you are allowed to talk and you've got to talk loud to be heard. It's just letting people know that I know what they are going to do. If I think I know [which side] the player is going, then I'll do it in the tournament. My French and Ukrainian is very average, but hopefully they'll get the message. I just try to get as close as I can, so they know I'm big. There is so much time with penalties, I've got to make some use of the time. If it's within the rules, then I'll do whatever."
As of last week Roy Hodgson, given so little time to plan everything, had apparently had enough on his plate without penalty shoot-outs, but he will doubtless be pleasantly surprised to find his goalkeeper volunteering. "I practise taking penalties," Hart added. "If it came to a shoot-out, then one million per cent I would put myself forward to take one. The new manager hasn't got on to penalties yet because he's got messages he needs to get across, but I'm sure near the tournament it will be more relevant."
If there is a difference at the highest level in this video age, it is that there can be few secrets. All of which, as he points out, makes the whole thing more of a lottery. "Research goes out the window because they know that you know and it becomes a big game of bluff. I think it used to work, but now everyone knows everything."
The one commonplace notion that he does not go along with is that a goalkeeper cannot lose. Similarly he is unimpressed by the belief that this time there is no pressure on England because the nation is for once expecting so little: "We don't go there thinking 'people don't think we're going to win so we won't win'. We go there because we want to win. We want to play for our country. We want to bring something back for the great supporters. I know how much it means because I was one of them. Any time England played I was a massive fan. I looked forward to the tournaments and it hurt when England went out or didn't play well."
That was in his days as a Shropshire lad who came late to playing football seriously, preferring cricket. After pulling on the gloves, however, natural ability propelled him so fast that at 15 he was having time off school to sit on the substitutes' bench for Shrewsbury Town. Sir Alex Ferguson has spoken with regret about missing the chance to take him to Manchester United, and so it was as a City player that he endured that dramatic finale to the domestic season, feeling himself to be the most helpless player on the pitch as his team-mates pounded away at the Queens Park Rangers goal. "I was a lost soul at 2-1 down," he said. "I didn't know what to do. I had no input whatsoever, I was trying to get myself up front. It's a good job I didn't because I would have probably got in the way. I was just a fan on the pitch willing the ball to go in the goal, and when it did all hell broke loose."
So he goes to Poland on Wednesday as a League champion, joining Chelsea's Champions League winners and with "everyone very positive" under a new regime that even knows his name (the previous Italian coaches tended to call him John). No promises, however, except: "They are going to be exciting games. We're going to go into them positively, looking to win all three.
"There are no guarantees but I think we go in there with people in good spirits and we're all united together to go and do what we can."
Join our new commenting forum
Join thought-provoking conversations, follow other Independent readers and see their replies