Italy 2 England 1: Another large step forward for Daniel Sturridge after first World Cup goal
The striker now has three goals in his last four starts for England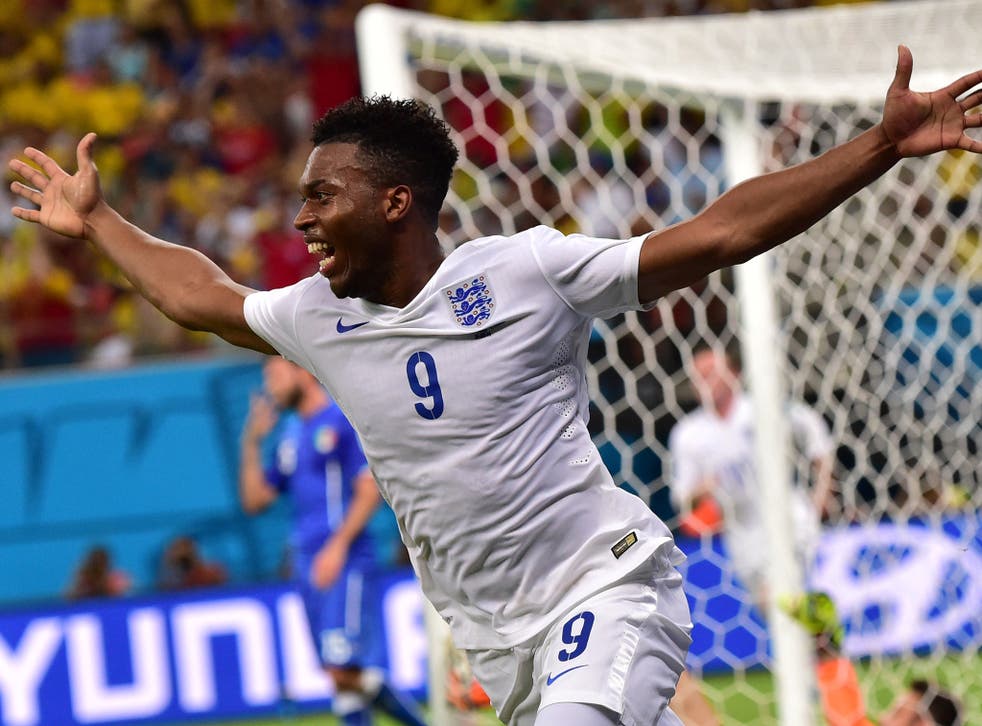 Before the World Cup began, Daniel Sturridge was acquainting himself with Gary Lineker's record of 10 goals in two tournaments and wondering if he would ever get close for England. He has at least got off the mark with the goal against Italy in England's 2-1 defeat.
The Liverpool striker scored his fifth international goal to level the score nine minutes before half-time, a sweetly taken right-foot half-volley from Wayne Rooney's cross. It marked another step in his development into England's first-choice No 9, another stage in his remarkable progress since joining Liverpool from Chelsea in January of last year.
Sturridge now has three goals in his last four starts for England going back to March. Comparisons by Roy Hodgson between Sturridge's potential and the impact Pele made as a 17-year-old in the 1958 tournament had filtered back to the man himself, although they might be best parked for the meantime.
Sturridge said: "My uncle and my dad did tell me some things about what he said and obviously it's great. It's a great platform, a huge platform for everybody.
"I was nervous before, well I wouldn't say it was nerves, it was more adrenalin, I had so much adrenalin before the game, I was trying to calm myself down. The night before the game I was trying to calm down.
"I had moves running through my head, thinking about doing this or doing that, so many things going through my mind before the game and throughout the week. It seemed such a long week leading up to it."
England 1 Italy 2 player ratings

Show all 22
Sturridge came off with a limp in the 79th minute to be replaced by Adam Lallana. "[Giorgio] Chiellini gave me a knee in the thigh and it was quite painful. I tried running it off and kept going, and I looked up and saw my number and I was a bit disappointed to come off because I was trying to carry on. These things happen and I'll be ready, I'll be all right for Thursday. I'll get treatment, so I'm sure I'll be fine.
"We played very good football, we were exciting, we looked great going forward, we did defend well. It was just one of those nights, sometimes you don't get the breaks and those fine inches where the keeper makes a save or rebound doesn't go to you. There are no excuses, we played well – we just didn't get the result.
"[The goal] was a good move, a great ball from Wazza and I just had to put it in the net. I'm disappointed and heartbroken because I do feel we deserved something out of the game. But there are two big games [left], I'm positive, I have got a positive attitude, I'm going into them excited, I'm going into the games knowing we can get something out of them."
Join our new commenting forum
Join thought-provoking conversations, follow other Independent readers and see their replies