Jamaica hoping to poach Liverpool's Andre Wisdom, Tottenham's Danny Rose and Crystal Palace's Jason Puncheon for Copa America
Caribbean nation hoping to replicate success of France '98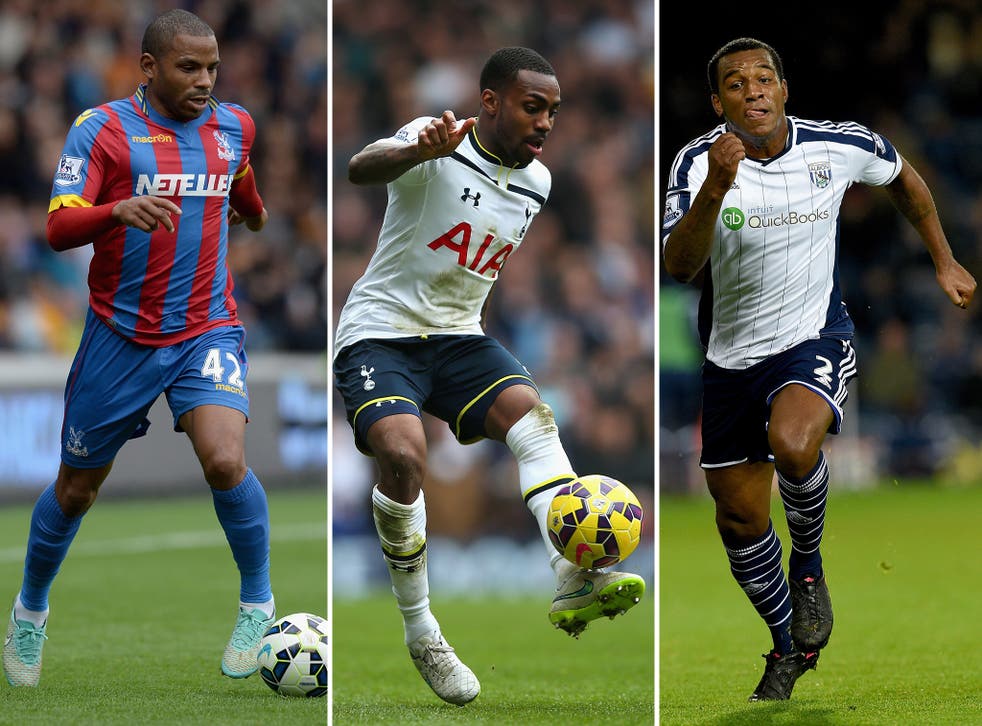 Danny Rose heads a list of English-based players that Jamaica are keen to recruit for this summer's Copa America, reveal the Evening Standard.
The Tottenham defender, who qualifies for Jamaica through his grandfather, would have the chance to play senior international football against Argentina, Uruguay and Paraguay in the group stages of the competition, which will be held in Chile in June and July.
This is the South American equivalent of the European Championships, with Mexico and Jamaica also invited to this edition.
Rose has represented England at Under-17, Under-19 and Under-21 level, as well as playing for Great Britain at the 2012 Olympics but has never won a senior cap.
Standard Sport understands intermediaries have been attempting to make contact with Rose to discuss playing for Jamaica. Although the 24-year-old was named in Roy Hodgson's squad for the matches against Norway and Switzerland earlier this season, he did not make it on to the pitch and has not been selected since. Jamaica are keen to explore English football in greater depth to try to create a stronger squad, first for the Copa America, but then to qualify for the World Cup in Russia in three years' time.
The Caribbean side reached the finals in France in 1998, with their squad containing players like Robbie Earle, Frank Sinclair and Marcus Gayle, who had substantial experience in the English top flight.
Under German coach Winfried Schaefer, who led Cameroon to Africa Cup of Nations success in 2002, Jamaica believe they can return to that level and plan to speak to many of the eligible players in England.
Jason Puncheon, the Crystal Palace winger, is also believed to be on the radar along with Liverpool defender Andre Wisdom, who is on loan at West Brom. Rose has been playing regularly for Spurs at left-back and his good form puts him in contention for England — although the man in question believes he has little chance of making the squad for the fixtures against Lithuania and Italy later this month.
Speaking recently, Rose said: "I'm going to be honest: I don't see myself anywhere near the international squad. It's just how it is.
"Leighton Baines is quite rightly the first choice, then Ryan Bertrand is doing very well at Southampton. Kieran Gibbs and Luke Shaw are ahead of me, too, and I'm a big fan of Aaron Cresswell at West Ham.
"I don't see myself anywhere near. I was there at the start of the season through other people's injuries. It doesn't bother me. Tottenham is my top priority and as long as I do well for them I'll be very happy.
"Am I playing well enough to be in the squad? I'm not sure. I know I'm more consistent than last season, when I was a bit hit and miss, and I'm trying to put that right.
"I can do that by limiting the mistakes I make or trying to chip in with a goal or an assist here and there, so I've improved from last season. If I can get better season after season, then I will have a good career."
Register for free to continue reading
Registration is a free and easy way to support our truly independent journalism
By registering, you will also enjoy limited access to Premium articles, exclusive newsletters, commenting, and virtual events with our leading journalists
Already have an account? sign in
Register for free to continue reading
Registration is a free and easy way to support our truly independent journalism
By registering, you will also enjoy limited access to Premium articles, exclusive newsletters, commenting, and virtual events with our leading journalists
Already have an account? sign in
Join our new commenting forum
Join thought-provoking conversations, follow other Independent readers and see their replies