Jermain Defoe remains hopeful of World Cup 2014 inclusion despite switching Tottenham for Toronto
The striker says the most important thing is to be playing regularly and scoring goals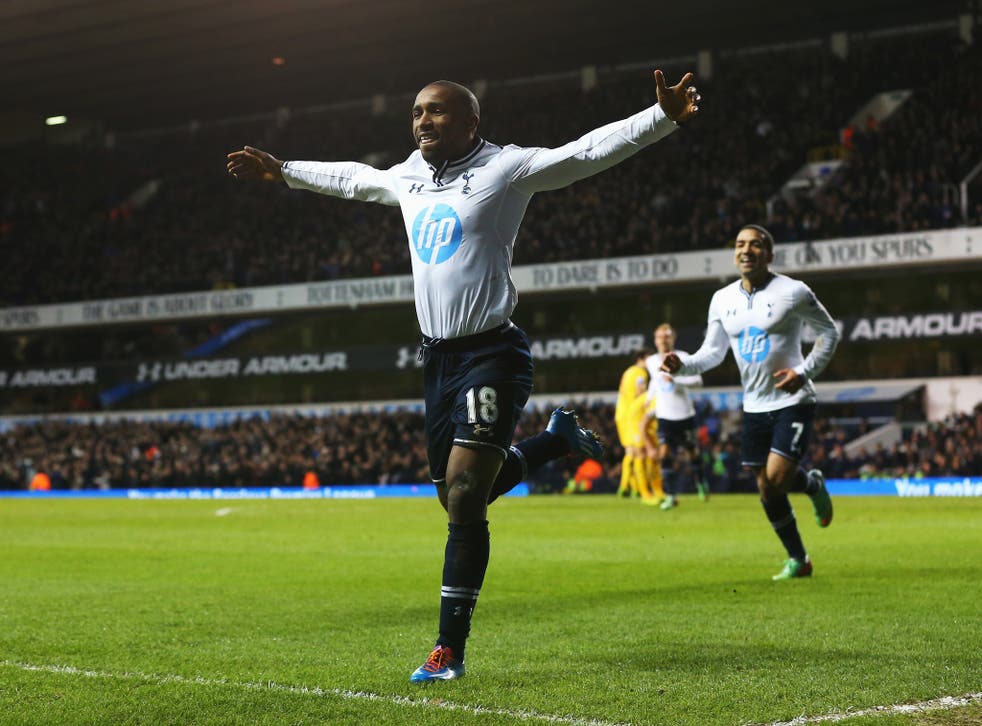 Jermain Defoe admitted there are concerns a move to Major League Soccer side Toronto FC could damage his hopes of earning a place in England's World Cup squad, but felt he could not turn down the chance to showcase his talents to a new audience.
The 31-year-old had been the subject of interest from the Canadian franchise for some time, and on Friday morning Tottenham confirmed the forward was leaving.
The deal - said to be around £8million which also includes an advertising and marketing agreement with Maple Leaf Sports and Entertainment, who are Toronto's owners, and a friendly match on July 23 - will be effective from February 28.
Defoe scored for Spurs in their 2-0 win over Crystal Palace on Saturday before heading out to Canada for Monday's official unveiling at Real Sports Bar & Grill, which was packed out by expectant supporters.
Despite the warm reception at the Toronto venue, it remains to be seen how this move away from the Barclays Premier League will affect Defoe's future international ambitions.
Former Tottenham captain Robbie Keane has remained a regular with the Republic of Ireland since moving to Los Angeles Galaxy, but David Beckham found selection harder to earn after he swapped England for the United States in 2007.
"I have to be honest, I did think about the chances of going to the World Cup. It is always important to play well for your club, " Defoe told the news conference.
"Having played in a World Cup before it is just the greatest thing in the world, it is a dream come true, that is why you play football, to play in a major tournament and at that level.
"Yeah, it did cross my mind, but at the same time I believe the MLS is going to be fantastic for me, and it is important to be playing.
"To get into any World Cup or European Championship squad for your country, it is based on merit, which means you have to play well, be fit and ready.
"The most important thing for me is playing football, scoring my goals and doing well for the team. Hopefully I can be on the plane.
"I have played in the Premier League all of my career, scored a lot of goals and at the age of 31 I would like to think the England manager and everyone in England knows what I can do, can bring for the country, and if selected, I will be ready."
Toronto have also brought in United States international Michael Bradley as manager Ryan Nelson - the New Zealand defender who played at Spurs for a spell in 2012 after leaving Blackburn - looks to build a squad capable of challenging for the MLS championship.
"In life when a massive opportunity comes your way, sometimes it is not always easy, leaving your home town and the club you have been with for nine years - to come here and have a reception like that is such a great feeling. I feel at home already," Defoe said.
"I come here and know I will give something, not for the wrong reasons, but to do my best for the club to win trophies.
"It is important for me that I still feel sharp and strong.
"I will give 100 per cent every game, work hard like I have always done and hopefully bring a lot of goals to the team, to win trophies (because) that is what it is about."
Defoe continued: "I cant wait to get started and to showcase my skills in a different league.
"For me it it is a dream come true because it is always something I wanted to do (play in the MLS), even before I was aware of the interest (from Toronto).
"I feel blessed and honoured. I am looking forward to it so much."
Spurs have at least a further eight fixtures to play before Defoe's scheduled departure.
He said: "It is a fantastic journey that I am looking forward to, but I understand I have to go back to Tottenham and continue to work hard for the team, but that is in my nature.
"When I actually come to Toronto and put the shirt on, it will be nothing, but hard work and dedication."
PA
Video: Defoe explains MLS switch
Join our new commenting forum
Join thought-provoking conversations, follow other Independent readers and see their replies