Luis Aragones, who led Spain to Euro 2008 victory, announces retirement
The manager had not worked in four years anyway
Thursday 05 December 2013 13:46
comments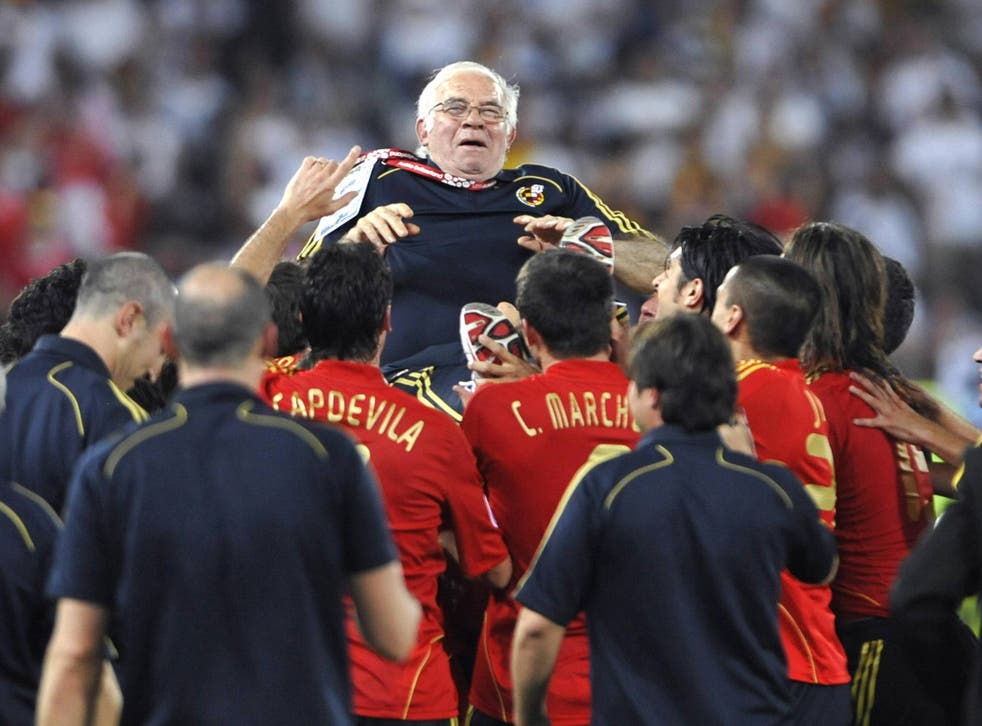 Luis Aragones, the man who led Spain to victory at Euro 2008, has formally announced his retirement - four years after leaving his last coaching role.
Aragones, 75, coached extensively in Spain for 30 years before taking the reins of the national team in 2004.
He led Spain to their first major title in 44 years at Euro 2008, the start of a hat-trick of tournament triumphs that continued under his successor Vicente del Bosque at the 2010 World Cup and Euro 2012.
An ill-fated spell at Turkish side Fenerbahce came to an end in the summer of 2009, since when Aragones has been out of work.
And in an interview with Vozpopuli, Aragones admitted he had no plans to return to the game.
"Luis is past, it's over, I do not coach any more," he said.
"It has not been hard to decide. Before retiring, when I left Turkey, I knew it would be difficult to keep at it. And today I know that's final.
"There are many circumstances - age, where you can coach, how you can coach... There are many things that lead you to say: it's over."
Aragones began his playing career at Getafe in 1957 before spells at Real Madrid, Real Oviedo and Real Betis, but is best remembered for his decade with Atletico Madrid between 1964 and his retirement in 1974, during which time he won three La Liga titles and finished as joint top scorer in the 1969-70 season. He also won 11 caps for Spain.
After retirement Aragones took over as coach of Atletico, leading the club to the league title in 1977. He left in 1980 but returned for further spells between 1982 and 1987, 1991 and 1993 and 2001 to 2003. He also managed the likes of Barcelona, Sevilla, Valencia, Betis, Espanyol and Real Mallorca.
In 2005 he was fined 3,000 euros (£2,060) for making racist remarks about Thierry Henry.
Aragones subsequently apologised for using offensive language to describe the then Arsenal striker to Jose Antonio Reyes, who was a club team-mate of the Frenchman, claiming he had simply been trying to motivate the Spain forward.
PA
Join our new commenting forum
Join thought-provoking conversations, follow other Independent readers and see their replies