Luis Suárez bite: Suarez 'tried to bite' Giorgio Chiellini a year BEFORE he bit Italian defender during 2014 World Cup
The pair clashed during a match between Uruguay and Italy at the 2013 Confederations Cup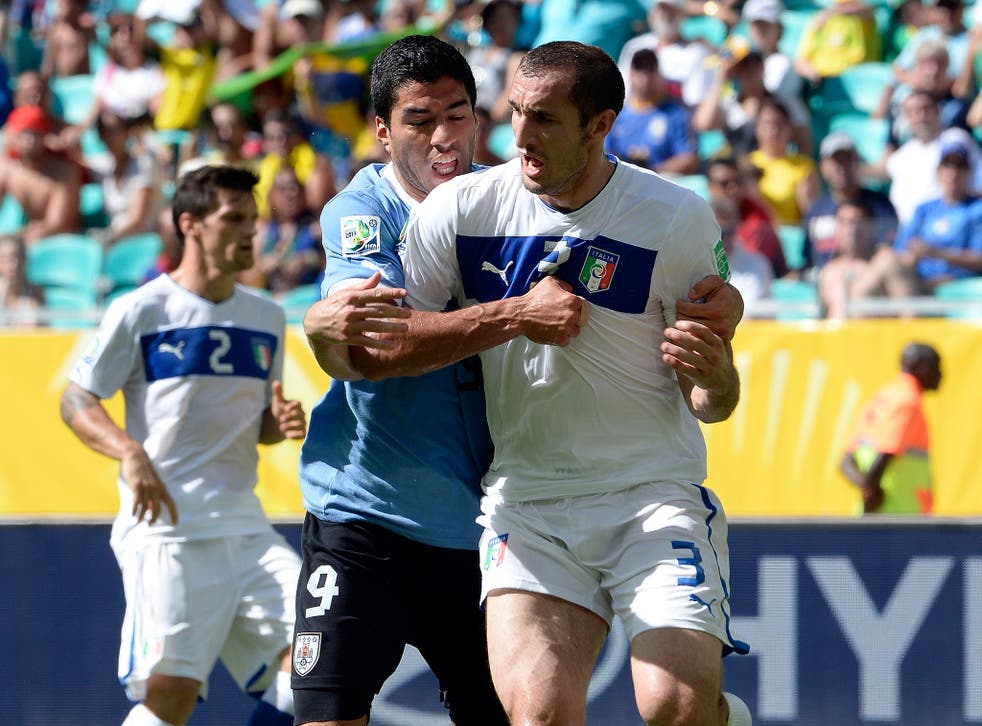 Luis Suarez was accused of biting an opponent for the third time after he clashed with Italy's Giorgio Chiellini, but pictures have emerged that appear to show Suarez trying to taking a chunk out of the same opponent a year earlier.
Uruguay and Italy met in the 2013 Confederation Cup – also held in Brazil as a precursor to this year's World Cup – in a play-off for third place, which Italy would go on to win on penalties after the score was level at 2-2 after 120 minutes.
But it appears that during the game, Suarez was dangerously close to biting Chiellini on his right shoulder, the opposite on to which he is accused of biting on Tuesday night.
Video: Luis Suarez bites Giorgio Chiellini at World Cup
The Italian defender had kept Suarez out of reach of the ball before clearing it, but Suarez appeared to let his angry streak get the better of him as he attempted to bite Chiellini, who responded in an equally aggressive fashion as he did in Natal yesterday evening.
Neither Suarez nor Chiellini were sanctioned by referee Marco Rodriguez, but he could yet be banned for the rest of the World Cup after Uruguay secured the 1-0 win they needed to reach the second round and knock Italy out of the 2014 World Cup.
Luis Suarez: His controversial career in pictures

Show all 28
Suarez will face a disciplinary case held by Fifa, in which he could be handed anything from a two-match ban to a 24-game suspension or a two-year ban, which is the maximum the governing body can slap on a player.
Join our new commenting forum
Join thought-provoking conversations, follow other Independent readers and see their replies