Luis Suarez has hissy fit as Uruguay exit Copa America with defeat to Venezuela
The Barcelona striker appeared furious at not being brought on, however he was not eligible to do so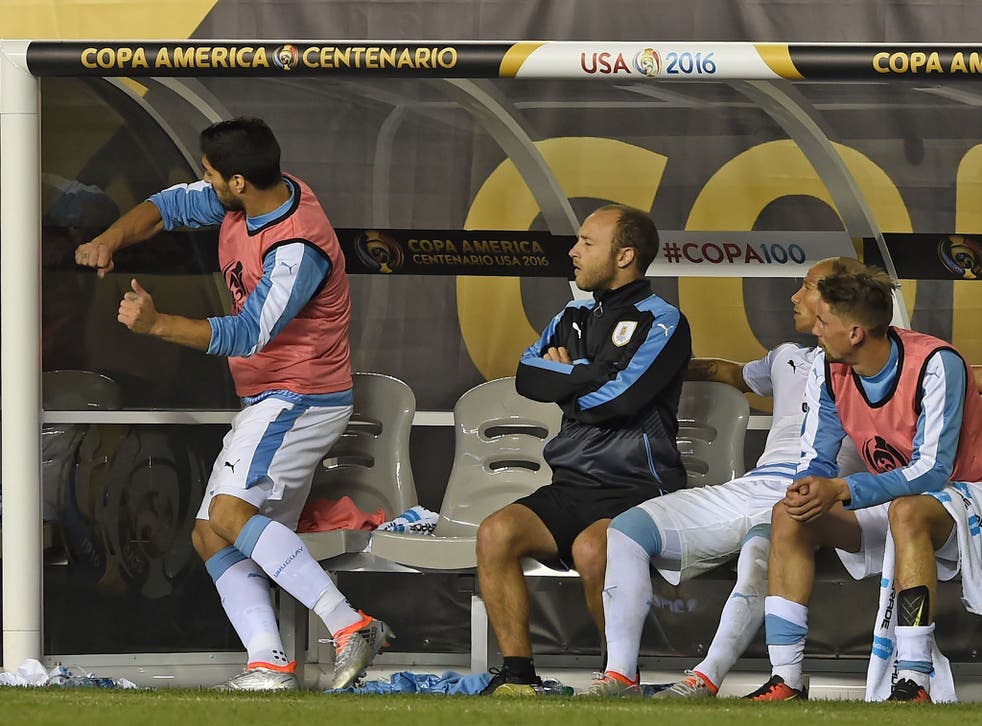 Luis Suarez flew into a furious rage last night as Uruguay exited the Copa America.
The Barcelona striker was sitting on the bench for the 1-0 defeat to Venezuela, a result that meant Uruguay were knocked out of the competition just two games into the tournament.
Salomon Rondon scored the only goal of the match, reacting to Alejandro Guerra's incredible 50 yard effort which rebounded off the cross bar after goalkeeper Muslera managed to get the slightest of touches.
With Uruguay trailing, Suarez began to warm up on the sidelines but was overlooked by manager Oscar Tabarez, who brought on Diego Rolan, then Nicolas Lodeiro and finally Matias Corujo.
Suarez was incensed. The former Liverpool player remonstrated with his manager before punching his fist against the perspex glass on the side of the dugout. He then ripped off his bib and threw it to the ground.
However despite Suarez's apparent frustration at not coming on, he was unavailable for selection anyway. He had not been included on the official team-sheet due to an ongoing injury problem.
Tabarez explained afterwards: "Suarez is not ready to play yet, that's a matter for the doctors. However much he might get annoyed - and he didn't tell me anything - I'm not going to play a player who is not 100 per cent."
Mexico and Venezuela will advance from Group C to the quarter-finals having both won their opening two games. Uruguay will play Jamaica in a dead rubber on Monday before returning home.
Join our new commenting forum
Join thought-provoking conversations, follow other Independent readers and see their replies