Mark Sampson's future as England manager under pressure after alleged 'Ebola' comment to Eni Aluko
The incident happened in 2014 before a match against Germany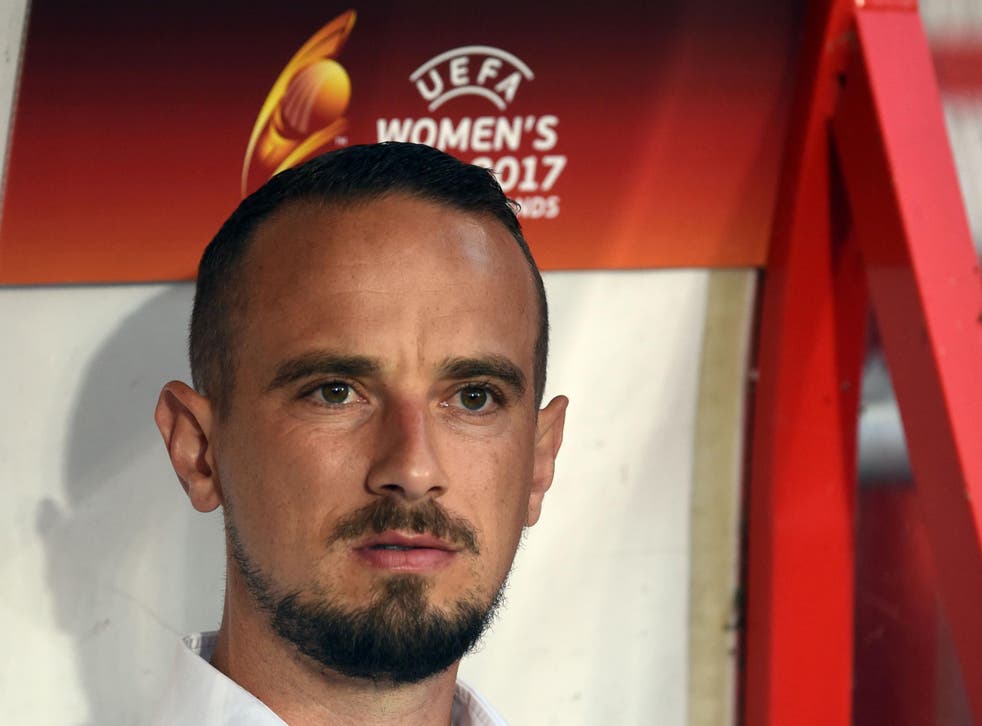 Mark Sampson is facing renewed pressure as England manager, after international Eni Aluko on Monday claimed the 34-year-old had told her to make sure her Nigerian family "don't bring Ebola with them" to a game.
Aluko, who has 102 caps for England and 33 goals, also spoke about the "bullying and discrimination" she alleges she was subjected to by Sampson, in interviews to the Guardian and BBC.
Sampson and figures within the Football Association are understood to reject the claims, but the situation is charged by further comments by Aluko that an international investigation that cleared the head coach of wrongdoing in previous allegations of racial remarks was "flawed" and a "farce" due to the fact key witnesses were not interviewed.
A subsequent independent enquiry commissioned by the FA and overseen by barrister Katharine Newton subsequently cleared Sampson, too. In that case, Sampson was alleged to have asked a mixed-race player "Haven't you been arrested before? Four times isn't it?" but the player was not then interviewed for either investigation.
A video of the meeting - recorded by FATV - did not show Sampson making the remark, and was used as evidence in the independent review.
Aluko, a lawyer, had in 2016 been asked to participate in a confidential cultural review of all England teams by the FA's technical director Dan Ashworth and then first made complaints about "bullying, harassment and discrimination" and that Sampson allegedly made a "highly inappropriate remark" with "derogatory, racial and prejudicial connotations" to another player.
Aluko has not played for England since making the complaint, and subsequently reached a settlement of around £80,000 with the FA. The governing body say this was to avoid the possibility of a tribunal just as Sampson's team were preparing for Euro 2017, where they reached the semi-finals.
Regarding the most recent allegation, of the comment Aluko claims Sampson made before a match against Germany in November 2014, she told the Guardian: "We were in the hotel. Everybody was excited. It was a big game.
"On the wall, there was a list of the family and friends who were coming to watch us and I just happened to be next to Mark. He asked me if I had anyone who would be there and I said I had family coming over from Nigeria. 'Oh,' he said. 'Nigeria? Make sure they don't bring Ebola with them.'
"I remember laughing but in a very nervous way. I went back to my room and I was really upset. It might have been easier to take if it was about me alone. Lots of things had been said about me over those two years but this was about my family. I called my mum and she was absolutely disgusted."
Aluko also told the BBC that she was primarily speaking out because of the danger that players don't raise concerns in future.
"If anybody, God forbid, was going through something difficult in the team right now, would they speak out? Judging on what's happened to me over the past few weeks, I don't think they would," she said.
"That is the most damaging thing about this because if you think of a young player, for instance, who wants to play for England in the future - let's say a young black player - she's going to look at this and go: 'If anything ever happens to me, what happened to Eni Aluko? I can't say anything.' That to me is the most heart-breaking thing.
"I do not think players are going to feel confident sharing grievances with the FA again. That's dangerous, if players feel like they cannot speak out about certain things."
Join our new commenting forum
Join thought-provoking conversations, follow other Independent readers and see their replies